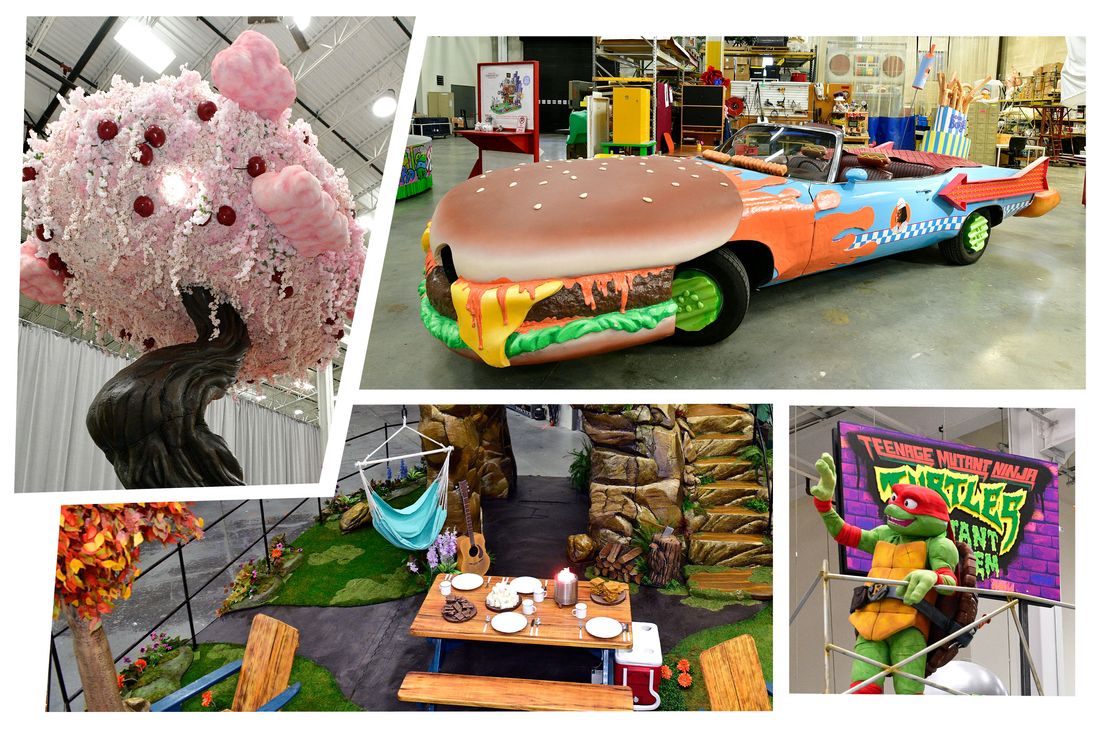 The Macy's Parade Studio warehouse in Moonachie, New Jersey.
Photo: Macy's Inc.
Painting fake leaves is more emotionally taxing than you might think. "I was crying," says Cameron Carnivale, a lead sculptor at Macy's Studio, holding up an armful of them and describing the process of spray-painting layer after layer to get the color saturation and detail just so. Massive blocks of styrofoam still needed to be sculpted by hand to look like giant mushrooms for a magic candy forest. A life-size camper van, with fake ventilation panels and window trimmings that will advertise a brand of smokeless fire pits (theme: "Igniting Memories"), was still waiting for final touches.
The balloons tend to get the most attention at the Macy's Thanksgiving Day Parade, but the truly deranged, oddly perfect stuff happens at the ground level, where corporate sponsors and pop stars you've never heard of come together to move at slow speeds from 77th and Central Park West to Herald Square. (Last year, Olay's float was called "Her Future Is STEM-Sational" and featured a towering sculpture of a woman astronaut wearing a "space-themed" bomber jacket accompanied by Australian pop star Betty Who. Both the giant astronaut and Who were wrapped inside a double helix, which was meant to show that "women can face anything.") In all that campy spectacle, there are countless hand-crafted details constructed by a team of sculptors, painters, engineers, and carpenters at a sprawling warehouse in Moonachie, New Jersey. It's a year of planning and labor, all meant to be viewed once, for a few minutes, in passing.
In the era of Amazon and Alibaba, a surprising amount of what you see at the parade is made from scratch; Carnivale told me that she tried to purchase fake cherries for the tree on the Timothee Chalamet–fronted Wonka-themed float she's working on but couldn't find any that were big enough to be seen by gathered crowds on Sixth Avenue, 28 million viewers at home, and Hoda and Savannah dancing in a little booth. She made 80 of them at a rate of about five per day.
Some of the studio workers are part time and switch between gigs, but other artisans have made the parade their life's work: John Cheney, a 76-year-old carpenter, started at the studio almost five decades ago. He's also the parade's unofficial archivist — almost every float in those years has passed through his hands. When I ask what's changed over the years, he tells me with a laugh that the conditions have improved. Early on, they used to have to take lunch at the top of 40-foot ladders to save time when deadlines were tight. "They sent up a little bucket with lunch and a magazine and you'd have to sit there," Cheney said. "We don't have to do stuff like that anymore."
At the balloon workshop, another cavernous room adjacent to the float zone, Will Coss, the parade's executive director, shows me a half-inflated Pillsbury Doughboy resting on his stomach with his two feet sticking up in the air. Each of the massive balloons — I can spot a balloon-shaped balloon that is part of the Bluey balloon's float on the other side of the room — are patterned out from a machine that cuts the polyurethane into exact pieces, which are then run through another machine that melds the seams using heat to fuse them together.
The balloons are about 30 to 60 feet tall. The floats can be up to 50 feet long and two or three stories high. All of it will be broken down — the floats into their various components, the balloons rolled up to the size of an industrial-sized hamper — and carted off, convoy-style, through the Lincoln Tunnel en route to the Upper West Side. When I ask if any crucial parts had ever been accidentally left behind, Coss insists it's never happened. Nearby, a countdown calendar hanging on the wall marks off two days to "Pack Trucks." Then it's showtime for Cher and the very large cherries.