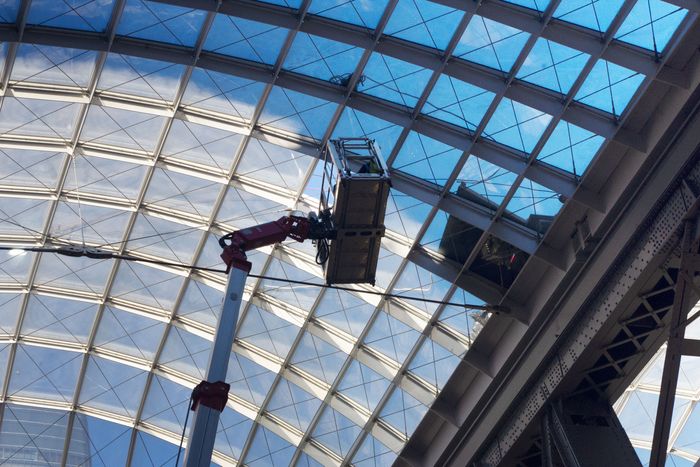 Photo: Christopher Bonanos
Is someone taking potshots at Penn Station? Last week a big array of scaffolding — akin to a sidewalk shed, but indoors — and a crane went up in Moynihan Train Hall over the escalators leading down to Tracks 13 and 14. They were installed, Hell Gate explained yesterday, so a crew could repair broken panes in the skylight above. "We think someone shot it with a BB gun," a construction worker told Hell Gate's reporter. A separate source confirms to us that pellets were indeed found, adding that an investigation involving the NYPD and Amtrak's own police has, so far, been inconclusive.
Matthew Gorton, a representative of Empire State Development Corporation, which oversaw construction of the station, clarified that seven windowpanes — not six, as previously reported — were damaged, and that only the outermost panels of the multilayered skylight were dinged, so there was no air or water leaking through. That means the BBs came from outside, presumably from a nearby taller building, rather than from within the station — which makes sense given the many cameras and high level of security on the concourse, which was quite visible today.
The work is nearly done, and the temporary scaffolding, Gorton says, should be gone by the weekend. New glass, at least from what I could discern from floor level this morning, has replaced the broken pieces already.