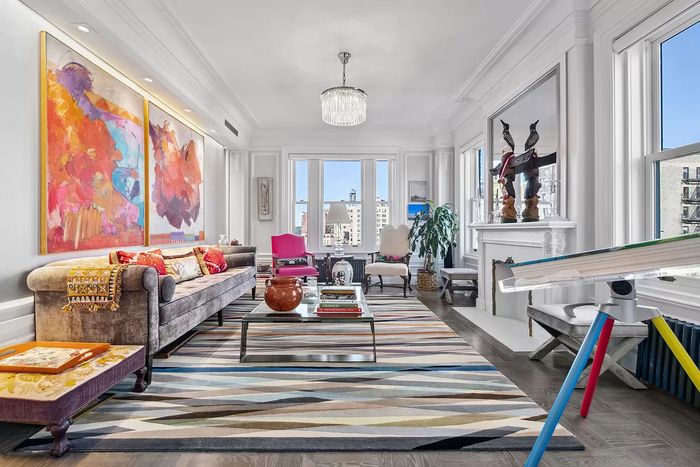 When the former CEO of the New York
Times
bought a $3.4 million condo, amid cost-cutting at the paper, it started a Twitter frenzy. But now that Mark Thompson is selling, listing photos seem unafraid of sharing the home's opulence — including a chandelier and fireplace.
Photo: Douglas Elliman
The Cornwall is the kind of grand old New York building that would be hard to leave. The luxe floor plans were designed to resemble French Haussmann-style flats; the 1910 details are Art Deco; and the address is prime Upper West Side, at 90th and Broadway.
But Mark Thompson is being called away. The former chief of the BBC bought apartment 9C in 2013, a year into a new gig as CEO of the New York Times. He arrived at one of the paper's messiest moments — just as it had paid off a 14 percent–interest loan from Carlos Slim and was offering buyouts. Now Thompson is being called away to fix yet another legacy-media project, replacing Chris Licht at CNN.
One might assume Thompson and his wife, New York native Jane Blumberg, are thinking about buying in Atlanta — where CNN is headquartered. Or maybe they're just throwing cash at a rental: From 2017 to 2019, Thompson earned $17.4 million in salary, stock, and bonuses. And they'll stand to make more from the sale of their four-bedroom. The couple bought the ninth-floor unit for $3.4 million, apparently getting a deal based on its condition: The last owner was there for 35 years, according to a broker who told the Real Deal that it was like "a dilapidated castle."
Now, the restored, up-to-date four-bedroom is up for grabs at $4.995 million and shows that Thompson and Blumberg took care to lighten up the place — painting over the old, dark-wood molding or blanching it. The unit also comes with a few clues to the family that's moving out. There are four floor-to-ceiling built-in bookshelves in a foyer — hardly enough for a media exec, who seems to have added some Ikea Billys to a guest room. Then there are the Union Jacks hanging over a bed, thrown onto a sofa pillow, and pinned to a basket above a fridge: Thompson, a Brit, was knighted by King Charles himself "for services to the media."