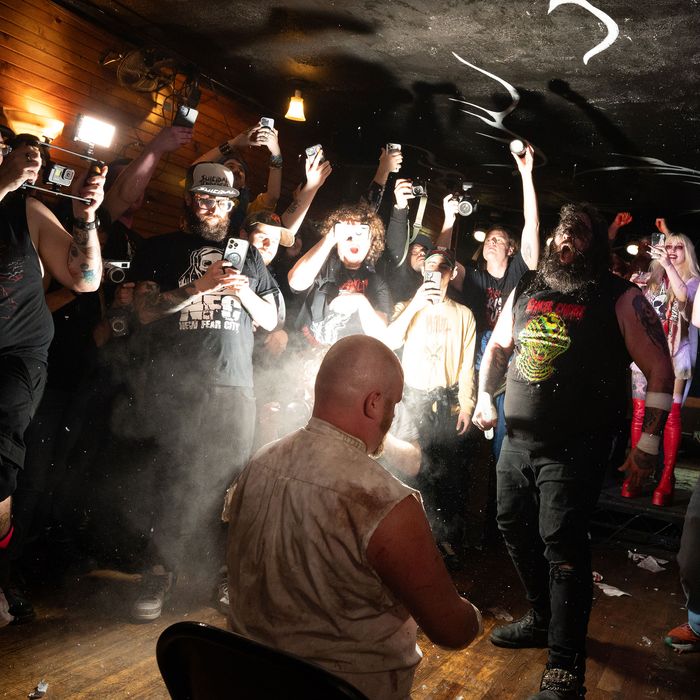 Moments after Casanova Valentine smashes a fluorescent light tube over the head of Ricky Noren as he prays.
Photo: Colin Schappi
On Friday the 13th, a tall, bearded man in ripped black jeans, a studded leather jacket, and a yellow cap pulled over his long hair burst through the doors into the dim back room of the Kingsland Bar & Grill in Greenpoint. The venue, which normally hosts metal and punk shows, smelled of marijuana, beer, and body odor, and it was packed with about 250 people, who parted to let the burly man in leather make his way to the middle of the floor where his opponent was waiting. There, he knelt down and screamed, "Ah! Ah! Ah!" while pounding his chest and scanning the crowd, who roared back. Casanova Valentine, king of the "no-ring death match," had arrived for the main event.
The 37-year-old stood and gulped his beer, spit it into the air, and poured the rest of it into a willing fan's mouth. Then, he proceeded to headbutt his opponent, "Reverend" Ricky Noren, a tall, bald man dressed all in white. This is what the crowd had come to see: an unrestrained version of professional wrestling that has opponents fight "to the death" — usually a form of choreographed violent spectacle — in the midst of a crowd watching from just inches away, sans ring. The only hard-and-fast rule is that the audience is not permitted inside the fight.
Valentine, who declined to reveal his legal name, owns New Fear City, the company that produces these matches about eight times a year in New York. While no-ring death-match wrestling had existed before, he is credited with building a steady scene for the genre. It couldn't be more different from the televised version of the sport produced by World Wrestling Entertainment and All Elite Wrestling, the two biggest professional-wrestling companies in the world. In their shows, thousands of fans sit behind barricades as performers act out scripted morality plays. With a few exceptions, the fights are generally confined to the ring, and the audience watches from a distance. While Valentine's death matches are also scripted, with an emcee to introduce the wrestlers and a referee who keeps the crowd back and checks on potentially serious injuries, there are less limits on drawing blood or using weapons. And the audience is welcome to come up close. "We're vibing with the energy the crowd gives us," Valentine says. "They are as much of the performance as I am."
At one point in the night, as Valentine was throwing punches at his opponent, he stumbled and started to teeter backward. But a group of fans caught him before he crashed to the floor and pushed him upright. Valentine regained his footing. The death match continued.
Valentine began wrestling in his mid-20s after years of getting into fights as a bouncer. "I failed out of college. I had no real life direction. I was floundering in life," he said. "I was waiting to die, basically." He had always wanted to be a wrestler and felt like he had nothing left to lose. The early years of his career followed a more traditional path: He wrestled for small independent promotions, in rings at middle-school gyms on Long Island, and in front of sparse crowds. He didn't make much doing it, and he wasn't able to convince his friends to come to shows or build much of a reputation for himself.
Then, in 2016, he organized his first no-ring death match at a Williamsburg bar where he was a bouncer. He decided to put on a performance-art piece to accompany a show of paintings he had installed there about death and tragedy in pro-wrestling history. But unlike other death matches, it would happen right at the bar. The five-minute contest, during which Valentine smacked his opponent with a trash can and slammed him onto a chair, surrounded by a circle of onlookers, felt like a moment of reinvention. Bar patrons and fellow staff pushed him to put on another match. Soon, Valentine was organizing wrestling shows at other small nightclubs across Brooklyn: the Meadows and the Brooklyn Monarch in East Williamsburg, Lucky 13 Saloon in Gowanus, and the Kingsland in Greenpoint. His Casanova Valentine character went from being someone no one knew to a wanted commodity.
With New Fear City, he combines two loves: death-match wrestling and heavy metal. "I invented an event that I wish existed for me," Valentine says. "It's basically nightlife meets a metal show meets wrestling." Heavy metal is played on speakers throughout the night, and sometimes he has metal bands come in and perform in between matches. He targets metalheads, punk-rock fans, and artists by posting flyers around Bushwick's nightlife venues. Traditional professional-wrestling fans hardly attend his shows. Another reason they might not come: He doesn't advertise his events as wrestling, but as performance art. This way, he said, he does not attract scrutiny from the New York State Athletic Commission, which requires professional-wrestling shows in the state to pay for special accident insurance and have ambulances and medical professionals on-site. By avoiding the Commission, Valentine saves money — and cloaks his shows with an underground vibe.
Now he makes a living producing death matches and competing as Casanova Valentine. He wouldn't have it any other way. "If someone comes up to you and says, 'Would you roll in glass to see the world?' I would say yes. So I do. I love the freedom. If all I have to do is break some bones to not have a nine-to-five, Jesus, I would. So I do. I would much rather get punched in the face than work a nine-to-five in an office."
At Kingsland, it looked like the audience was nearly on top of the wrestlers. But Valentine and his crew create something of an invisible boundary. As the fight moves to different parts of the crowd, the referee and the camera crew deliberately position themselves in front of people, providing the wrestlers a few feet of empty space. One evening, an attendee tried to break up a match because they thought it was real, Valentine said, but normally the crowd knows the fights are fiction, even if they often draw pools of blood.
"The blood is all real, all my cuts and mutilation is real. Death-match wrestling is as real as professional wrestling can possibly be," Valentine says. "With that said, I am a fully trained professional wrestler. I know how to keep the audience safe, keep the guy I'm wrestling safe. Even though the danger is real, the glass is real, I'm not just flinging a lightbulb at the crowd."
For some attendees, the possibility of danger is part of the appeal. Gaston Souffrant, 27, attended his first New Fear City show in July, and on the train home he noticed a tiny piece of glass stuck in his leg hair. He was back for the October show. "You're going to a death-match wrestling show," he says matter-of-factly.
October 13 was Matt Garland's first New Fear City event. The 35-year-old said he's not a wrestling fan. But he had to see the spectacle. "Underground shit like this is why you live in New York in the first place," he says.
And it's not just blood on the floor. For the October show, Valentine also booked a tattoo artist to administer Friday-the-13th-themed tattoos. He also booked two preliminary wrestling contests that were not death matches — and a pair of go-go dancers performed for the crowd.
The metal band Cancer Christ made a surprise appearance late in the show. Band member Anthony Mehlhaff "baptized" fans onstage by dunking their heads in a bucket of ice, which set the stage for the main event between Valentine and Noren. It was equal parts silly — Valentine at one point flung one of the dancers (who was in on the stunt) at Noren — and violent: Both opponents smacked each other with fluorescent light tubes, and Valentine rubbed a garden weasel over Noren's bare foot. At one point, a fan implored Valentine to "taste" Noren. Valentine pulled a fork out of his boot and dragged it across Noren's forehead. "That was a happy accident," he says later. Crew members used towels to soak up blood on the floor in real time. The match ended when Valentine wrapped a large dildo covered in nails — the so-called "Satan Cock" — around Noren's forehead, prompting Noren, drenched in blood, to tap out.
Valentine celebrated his win with the crowd, crunching broken glass under his boots, and later retreated downstairs to his dressing room. He emerged almost an hour later, around 2 a.m., wheeling a pair of suitcases. He had to catch a 7:30 a.m. flight to Los Angeles, where he would wrestle another no-ring death match that weekend. There was no time to shower, and so he planned to clean himself up in the sink at Kingsland and head to the airport. His massive arms were covered in welts and specks of glass.
The evening had ended up being one of New Fear City's most attended shows, but with more attendance, Valentine knows he risks attracting greater attention, potentially from the Commission. He does not plan on slowing down.
"You just got to fucking make art. You just gotta do it," he says, peeling off his blood-soaked wrist tape. "Say sorry later."