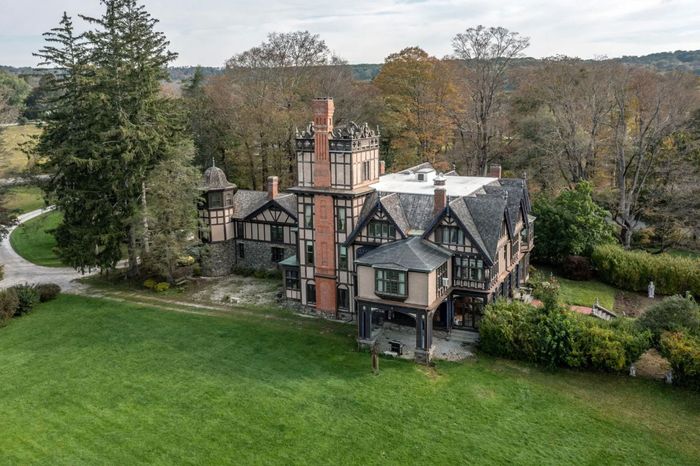 To capture the sprawling 43-room mansion and its parapets and gables, a photographer enlisted a drone. Yet the frame can't contain the estate's 25 acres with caretaker homes, a yoga studio, and a 12,000-square-foot stable.
Photo: Courtesy of Douglas Elliman
Sally Jessy Raphael, née Sally Lowenthal, made a small fortune off her weekly showcase of "evil stepchildren," cheating husbands, and grannies "critical of their grandchildrens' rearing," and her Dutchess County home of 26 years very much looks the part of a house '90s television built: While Raphael was preaching from a beige soundstage, she was retreating to a 43-room Elizabethan-style Tudor that features lions carved into the newel posts and a portrait of her Jack Nicholson–esque husband in weekend casuals.
The bespectacled talk show host, now 88, has listed the sprawling estate for $6.5 million, which begins to feel almost reasonable when you consider what's on offer: 25 acres of land, a carriage house, two homes for "caretakers," and a 12,000-foot stable — where horses ride beneath a Tudor-style arch capped with a bizarre Gothic tower in rustic wood. There's also a yoga-studio outbuilding, though I couldn't spot it among the 36 listing photos of limestone fireplaces, coffered ceilings, stained-glass windows, hand-painted murals, delft tiles, arched naves, kitchen islands, and parquet flooring.
Prior to Raphael, the home was owned by the same family for nine generations, according to realtor.com. (That's certainly enough generations for some betrayal — very Sally.) Its reporter talked to the broker, who said Raphael put serious money into restorations, even papering a bedroom in William Morris wallpaper. The former host may be downsizing in her golden years, or perhaps just itching to travel. On Friday, she posted a selfie from St. Thomas showing her on the beach in a towel with the caption "my inner Sally is emerging more and more every day!"