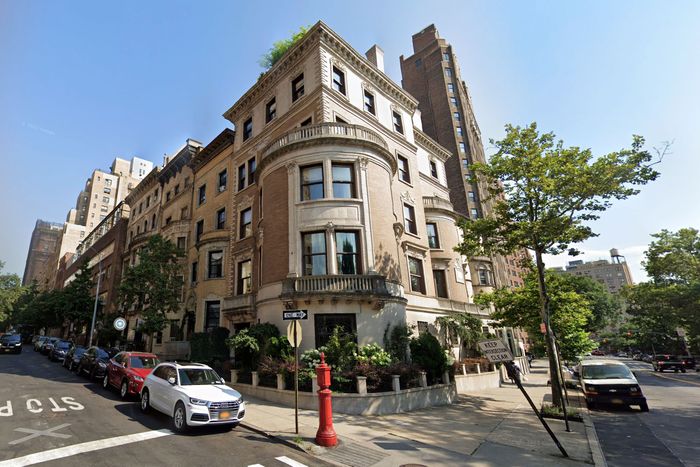 Dina Wein Reis has relisted her 1895 townhouse on the corner of Riverside Drive for $55 million, a $10 million price cut.
Photo: Google Maps
Oh, how far the mighty have fallen.
A $10 million price cut for 25 Riverside Drive is just the latest downturn for a mansion caught up in the grift of its former owners.
Things started out fine. The 1895 Renaissance revival was built for the editor-in-chief of a textbook company, and it seemed ideal for a publisher's literary salons, with a fireplace in the wood-paneled library and glass wall and ceiling panels by John La Farge and Louis Comfort Tiffany. The next owners were an engineer and then a banker, before the 12,000-square-foot townhouse found a new use as a home for the mentally ill.
Then, in 1996, David Ruiz and Dina Wein, a.k.a. David and Dina Reis, took the eight-bedroom house. According to prosecutors, Dina Reis pulled the home into a scheme that would defraud corporations of millions. Reis was accused of wooing mid-level execs at Fortune 500 companies with the promise of an $8 million contract and the ability to place their goods in untapped markets. When they handed them over, at discounted prices, she sold their stuff through middlemen and built a fortune of nearly $100 million.
To convince anyone she had $8 million to throw away, Reis made the house look the part. One pharma executive described a meal served in the dining room under three Thomas Hart Benton paintings. A 2009 Architectural Digest article, which came out after Reis was indicted, interviewed her designer — Samuel Botero — who posed in a room that included an original Art Deco table and leopard-print armchairs. An FBI agent who raided 25 Riverside described rooms so stuffed with treasures that it felt like "King Tut's tomb," with high-end furniture and paintings by Frank Stella, Andy Warhol, and Amedeo Modigliani. Fortune reported that she had a viral graffiti artist tag the private elevator.
But even without its blue-chip art collection, the house is spectacular: seven stories on a corner lot, meeting 75th Street, with a three-story rounded pavilion that made it stand out, windows on two sides, facing Riverside Park. The original 1895 details are preserved throughout, and the rooftop terrace is "large enough for seating 100 people," according to The Wall Street Journal. It was just renovated by Reis in 2022, and it also has a glass conservatory, a gym, a mahogany theater, and a playroom. Everything is elaborate, even the spaces that her marks might not have seen — like a dressing room walled in mirrored Art Deco bureaus and lit by a chandelier dripping with emerald-green glass.
Dina Reis pled guilty to a fraud charge in 2011 and was forced to pay $8 million in fines and restitution to her victims. Some of the cash might have come from the mansion: She rented it out for $75,000 a month, according to the New York Post. But that must not have been enough: The house was listed last spring for $65 million — a bit of a reach, according to a broker, who told the Post that "the pricing is rich." (Comparable townhouses in the area are going for $38 million.) It's especially rich if you consider how little she and Ruiz paid back in 1996 — just $2.15 million.