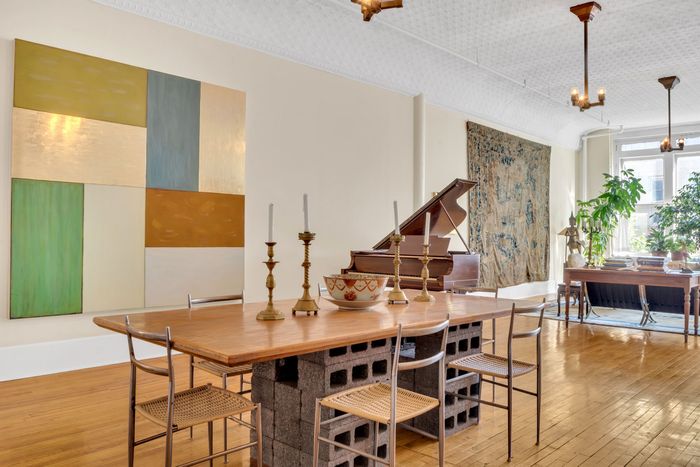 Photo: Tina Gallo Photography
Amanda Obering was five or six when she moved with her mother from Denver to Soho. She remembers feeling "a little disappointed" when she first walked into 69 Wooster Street "because it was sort of dilapidated." The neighborhood, which in 1971 was still mostly industrial and mostly empty, struck her as spooky. (One of the nearby factories made sheets of dolls' eyes.) But her mother, the abstract painter Mary Obering, only saw potential.
Mary, who moved to New York at the urging of minimalist sculptor Carl Andre and went on to show at Artists Space, the Whitney Biennale, and with gallerists Annina Nosei and Bortolami, bought the apartment for $10,000 and lived and worked there for 51 years. It listed for sale this month for $5.6 million.
The space — an expanse of just under 4,600 square feet, with 11.5-foot ceilings — was divided into two halves, a studio and living quarters. Amanda learned to love it. The loft was a wonderful place to make art. And to grow up. "I used to skateboard in the apartment — that's around the time skateboarding was really taking off," she says. There was also a basketball hoop. "She drew the line at soccer, though, after the ball hit one of her paintings."
Working artists' lofts are rare in SoHo these days. "The neighborhood just boomed," Amanda says. "By the late '80s, it was really chic. Now there's a Gucci next door." And while Compass associate broker Nick Ferrone says that some creatives have looked at the apartment, which is in an artist-in-residence building, it's almost certain to get an upscale overhaul in keeping with the neighborhood's current demographic. "It's an estate sale in estate condition."
True, the kitchen is a nook and half the apartment is still set up as a studio, but all the charm is there: pressed tin ceilings, hardwood floors, and ten large windows facing East. There's also an elevator with keyed entry. "It's beautifully done," says Amanda. "My mother really had a sense of aesthetics. She tried to preserve the look of the factory it had been. In the 1990s, it was in Greek Vogue."
As a child, Amanda had the larger bedroom. "She gave me the biggest room so I would stay out of her studio," she says. The room was pink, then purple, then beige. ("It was the '80s.") After she left for college, her mother painted it green and set it up as a library with built-in bookshelves.
"My mother didn't buy it as an investment," Amanda says. "She bought it as a place to do her work." And yet it was. The apartment downstairs sold for $9.9 million in 2021 — it was renovated, albeit in a highly idiosyncratic fashion, with an all-gold bathroom. The penthouse is currently listed for $32 million. As for the A.I.R. designation, Ferrone says it's mostly an issue when it comes to getting a mortgage, but that's not often a sticking point here. "A lot of these sales in SoHo are all cash."