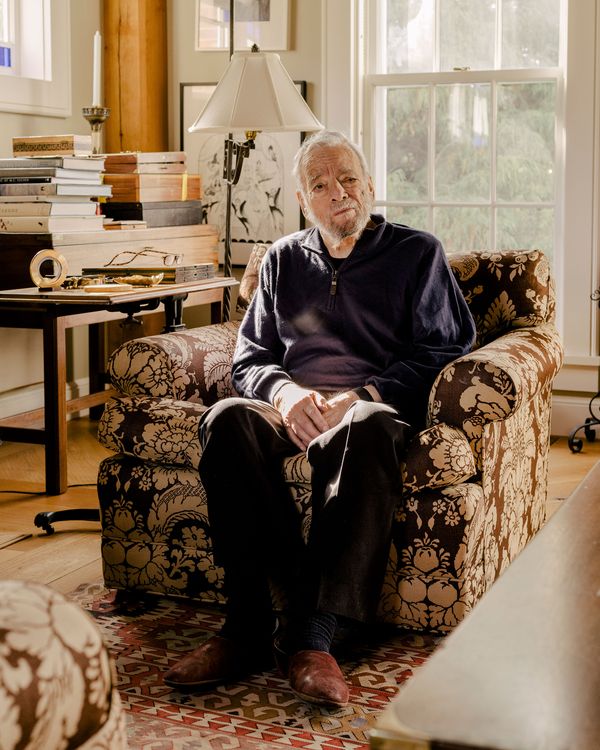 Sondheim in his Connecticut home.
Photo: Daniel Dorsa/The New York Times/Redux
Stephen Sondheim was a city boy, a born Upper West Sider who in 1960 bought a townhome on 49th Street with the profits of Gypsy, then lived there for the rest of his life — mostly. He also had a country escape, a retreat in Roxbury, Connecticut, that saw more use as he got older. He bought that house in 1980 on the advice of Peter Wooster, the designer friend who knew the area and eventually settled in the property's carriage house. The composer was there off and on — including on the fated weekend in 1995 when a fire swept through the townhouse (thankfully sparing his manuscripts, but killing his dog). Neighbors in the Turtle Bay garden district remember that he was rarely in town after the pandemic hit.
Sondheim died in 2021, his townhouse went into contract a few weeks ago, and now his sprawling three-bedroom Connecticut compound is on the market for $3.25 million. The 1792 home was restored in a way that stripped it down to its essence: A vaulted ceiling in the main, open living area exposes wood beams. A sunny, glassed-in porch retains old stone flooring. Wide plank floors give the place character and spunk — especially in a brainy little wood-walled office, where two guitars sit by a radiator. There's a library with a rolling ladder, and shelves and drawers that look designed to have held his archive. Then there's a sunroom with windows on three sides, which now pour light onto a grand piano. Around the room are cubbyholes that likely held sheet music, and behind it is the chaise where one can assume Sondheim wrote, which he customarily did lying down.
Where there's wall space, there are signed cast posters, translated show posters, and just plain theater posters. They even show up at the foot of a bed as though, in the place where Sondheim fled to escape the action, he also needed to be reminded of what he'd done.