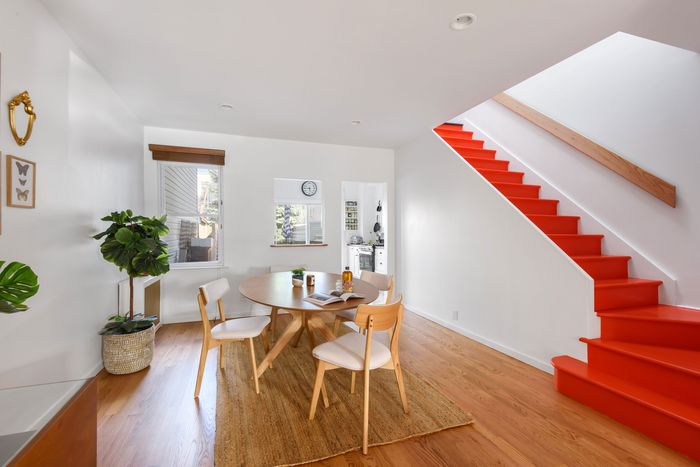 Charlie Gower built a new staircase and then painted it red, inspired by a friend's house.
Photo: Interiors by Kat
In 2016, when Charlie Gower bought a two-story rowhouse in Glendale, on the border of Ridgewood, he was working full-time as a designer for a software company — a job that forced him to think about how users make sense of digital interfaces. He started to think of his house the same way: If someone walked in, would they know where the spices were? Instead of losing track of cans in a deep cupboard, what about displaying them, label-out, on a shallow shelf? "I'm constantly looking at something and saying, 'How could it be better?' So the house is terrible for me because I spend all my time fixing little bits."
Gower bought from a family that had lived in the home for years. He ripped up carpets, tore down vinyl siding, and dug up a concrete yard. Then he built the place up. Shelves in the living room are now sized to fit his massive collection of vinyl records and books. He conceived the kitchen as a "workshop" for cooking, where storage is open and the cement tiles are built to withstand wear. On the second floor, he replaced an old skylight to let in more light and painted old boards — preserving their character while giving them another coat of protection. COVID lockdowns gave him more time to focus on the garden, adding a raised patio, trellis, a deck, and a lawn that he hand-seeded, "which I'm not going to do again." Lockdown also gave him time to focus on the home's central feature: a staircase, which he painted red. "It turns the stairs into a bit of an accent, as opposed to being only a functional thing."
If Gower was starting to talk like an artist, that was because the house had pushed him to become one. He had spent years finessing construction skills only to become frustrated by the parameters of practical building. Now, he's embarking on a new career as a sculptor, and is selling to move to Portugal, where a lower cost of living will help him start out.
When the agent Erin Pastrana showed up to help him sell, she was in shock. She had sold the home to him back in 2016 and could remember what it looked like. "I knew he worked with wood, but when I came into the house, I was like, 'Damn! You built this?'" Pastrana says that Gower's artistic renovation makes the home an anomaly for an area where most families stay for decades, making a few piecemeal upgrades. "The level of renovation done and the personalized renovation is very rare," she said. "It's thoughtful. He was just upgrading during COVID as he lived his life."