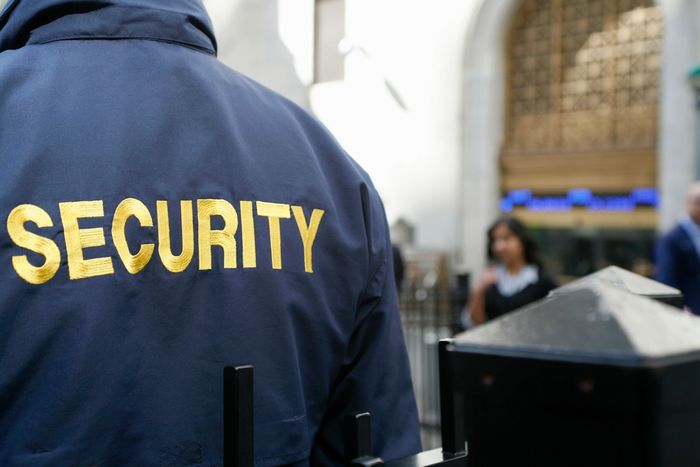 Armed guards now patrol more Jewish schools across the New York area, thanks to a new $4.5 million program funded by Jewish donors after the Hamas attack.
Photo: Marc Volk/Getty Images/fStop
On October 7, Mitchell Silber was at a hotel in Ashdod, about 25 miles south of Tel Aviv. Silber, a former intelligence official of the New York City Police Department who now works in the private sector, was attending a counterterrorism conference organized by the Israeli government, and he had invited along a delegation of law-enforcement officers from across New York State. Instead of a day of meetings, they found themselves under Hamas's rocket fire, and fled in the middle of the night to catch a flight through Dubai. By the time Silber landed back in New York, his phone was a stream of frenzied texts and emails: "Can you get us a security guard?" "Can you make sure the police come visit us?" "We just had a swastika carved into the sidewalk in front of our street." "Should we be open on Friday?" Silber says, "We were out of the frying pan and into the fire."
Silber leads the Community Security Initiative, a program that tracks and responds to threats to Jewish communities and institutions in New York City and its surrounding suburbs. In the weeks since the Hamas assault that killed 1,400 people and took over 200 hostage, Silber has been handling requests to place armed security guards outside Jewish schools and synagogues using a $4.5 million fund provided by the UJA-Federation of New York. The rush to install guards in the aftermath of a terrorist attack is an exercise in target-hardening, but the appeals being made by school administrators and parents right now speak to something more existential: feeling safe when nothing really does. At a small school in Queens run by a synagogue, parents ran unarmed patrols outside the building while they waited for a CSI-installed armed guard to arrive the Monday after the attack. "They're anxious," says the rabbi, who, like everyone else I spoke to, asked to remain anonymous. In Manhattan, a layperson leader of a synagogue with a nursery school says she hired an armed guard after October 7 without a second thought. "We didn't wait to hear that people wanted to increase security," she tells me. "We did it immediately." In North Brooklyn, a synagogue with an early-childhood center added an armed guard at the urging of parents, who fundraised to cover the expense. "We're vigilant, and we're cautious," says the director. The fear is understandable: Parents already terrified by the stunning frequency of school shootings are now watching that fear mutate alongside a rise in targeted antisemitic violence. The 2012 mass shooting at a Jewish school in Toulouse, France, is heavy on their minds, and so is the nightly news: Just this week, a woman in Indianapolis drove her car into what police said she thought was an Israeli school. "It's just what we have to do," the rabbi of the school in Queens says of bringing on an armed guard. "You can't be blasé."
Silber says his team hasn't identified any credible threats made against Jewish schools in the area since the Hamas attack, but demand for more security among schools is growing as the war continues and as word of the new fund spreads — and Silber works hard to spread it. On Thursday, he was invited to an office building in downtown Manhattan where administrators from local Orthodox schools had assembled to talk about security. "You could see that they are getting hammered by parents asking them questions," Silber says.
Before the Tree of Life mass shooting, the UJA-Federation budget for security was about zero, says Eric Goldstein, the nonprofit group's CEO. Since 1917, its members have pooled money and funneled it into what he calls "the needs of the moment" for the Jewish community. The shooting in Pittsburgh changed the landscape, Goldstein says — and remade UJA: "In the wake of October 2018, it was clear we needed to think about security." Within a year, the UJA had hired Silber to create and lead the CSI. The organization now spends about $3 million annually on security for member organizations, a budget that basically doubled overnight after October 7. UJA and Silber's CSI are just one part of a sprawling industry to secure Jewish institutions around the country. Since 2007, synagogues have been applying as nonprofit organizations for up to $150,000 annually from FEMA for grants that can be spent on security improvements including CCTV cameras, bullet-resistant doors, and guards. But the $305 million program gets drained quickly — more than half of the applicants last year were turned down, and a group of major Jewish institutions in the U.S. is now lobbying the White House to more than double the program by adding $500 million for the security of Jewish synagogues, community centers, and schools.
At a synagogue in Westchester County that runs schools for a combined 250 students, an executive director tells me her congregation is now funding a security program that costs $200,000 a year. It's a relatively recent development, she says, and a complex one: "Just think of all the great programming we could be doing if we weren't spending that." She now, in addition to her regular duties, liaises with FEMA and keeps local cops on speed dial. After the Hamas attack, the congregation's rabbi held a meeting with parents; 25 showed up to share their worries and to ask what they could do. One parent asked if he should start bringing his gun to services. She dissuaded him. It became clear to her that, without armed guards, some parents wouldn't feel comfortable bringing their children to school. So they got one. "People are so on edge. I think we're trying to calm them," she tells me. "It's a really hard balance: being warm and welcoming and also safe and secure."
Correction: This article originally stated that the annual security budget for the UJA-Federation since 2018 is $5 million. It has since been corrected to $3 million.