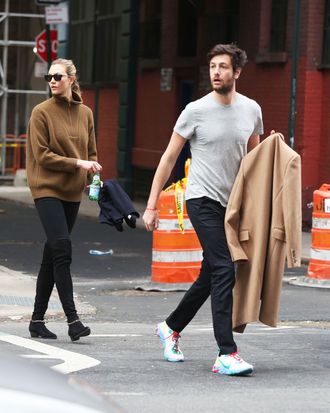 Photo: INSTAR Images LLC / Alamy Stock
It took nearly six years and a price cut of almost 50 percent, but the last Puck penthouse has finally sold — in-house. According to city records, model Karlie Kloss and less-hateable-than-his-brother venture capitalist Joshua Kushner are the new owners of the building's Penthouse No. 1, paying $35 million to buy it from Kushner's own family business. (The Wall Street Journal reported the sale earlier this fall but not the price.) They and their baby already live in the building and have listed their current apartment, Penthouse No. 5, at $23.5 million.
One of the oldest trophy listings still kicking around the market, Penthouse No. 1 is at 295 Lafayette Street — which is mostly offices and was once home to Puck magazine. The Kushners plunked this big penthouse on top of five others it carved out of the upper two floors of the building. ("It's a gorgeous, magical building, but I wanted it to become the most incredible that it could be, let it realize its full potential," Jared Kushner once told the New York Times of his decision to convert part of the building into luxury apartments.) The top penthouse first hit the market in January 2015, priced at $66 million. As it turned out, that was far too ambitious. The downtown record had been set the year before, when the Walker Tower penthouse sold for $50.9 million (a $4 million markdown from the asking price). The Puck penthouse sat on the market for a year, after which it saw a price cut to $58.5 million, then a year as a rental, then a relisting at the same price. Still no takers. By the time Kushner and Kloss went into contract this fall, the listed price for the 7,241-square-foot penthouse was $42.5 million. They paid 20 percent less than that.
Other penthouses in the building have also been hard to sell. In 2017, three of the building's penthouses were being used as rentals with a fourth listed for sale or rent. "They're just really expensive," an agent told The Real Deal at the time. The penthouse that Kushner and Kloss just bought was asking $8,078 per square foot back then (and, by comparison, the most expensive penthouse at the Woolworth Tower was priced at $5,991 per square foot).
The $35 million sales price works out to $4,833 per square foot, which sounds about right given the likely family discount plus the fact that nobody wanted to pay the asking price. The couple also got a steep discount on Penthouse No. 5 in 2019, paying $18 million. That apartment had originally been listed for $29.5 million two years earlier.
Their new place is the last sponsor unit in the building to sell. It's a duplex with six bedrooms, 7.5 bathrooms, a wine cellar, home theater, and 5,000 square feet of terraces with a putting green and a "yoga lawn."