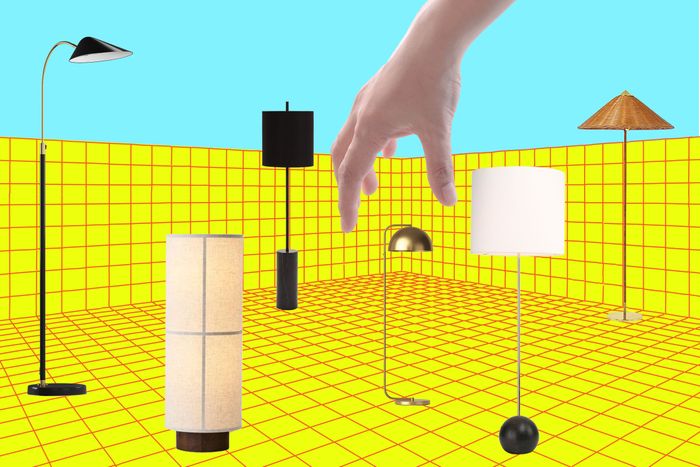 Photo-Illustration: Curbed; Photos: Retailers, Getty Images
Overhead lighting is often especially tricky to figure out — ceiling fixtures tend to throw unattractive shadows and give no control over the lighting balance of a room. So whenever possible, I replace (or at least supplement) overheads with table and floor lamps.
But the problem with floor lamps is that they're exceedingly difficult to source. They tend to be either offensively basic (chrome tripod legs, I'm looking at you) or wildly expensive ($1,000 feels best spent on a sofa!). The ideal floor lamp is somehow both simple and interesting (a difficult line to walk) and is available in a basic enough color scheme that it can comfortably coexist with strong-willed furniture. It's hard to find all of that in one relatively affordable design.
One key question will steer your floor-lamp search: What do you need to light? If it's a living room with some natural light, a softly glowing lamp with a large drum shade might work best. If you want a reading light, a lamp with an adjustable head might be a good fit. There is also the consideration of space. For a cramped room, look for a columnlike lamp. If you have a large zone you need to fill, look for an arching neck that can help define a wide area. Below, a list of my favorites.
This is a modern take on the traditional floor-lamp form, with its heavy base, straight rod stem, and drum shade. The three elements are reformed into a set of cylinders of varying proportions, and it's just enough of a tweak to make the piece interesting. The elongated marble bottom pairs well next to the legs of a side chair, and it looks great in both all black and in quiet white. We've used this piece a lot recently, and it has worked beautifully in a stark yoga room as well as in a living room rich with historic detail.
When Walmart first launched its MoDRN line in 2018, it put serious design energy into the contemporary collection, selling some fantastic woven baskets and lighting. Now the pieces aren't quite as interesting, but the company does still sell this standout floor lamp. With its swiveling head, it's ideal for a corner chair you'd want to curl up in with a book. It reminds me a bit of Ferm Living's Arum line but with a more practical base and a mid-century silhouette.
We turn to arched floor lamps when we need a strong anchor in a large open room. I love this one for its vintage Champagne-silver shade and leather-wrapped detail — it feels like something found at a tag sale at an artist's loft. Set it alongside a pair of swivel side chairs and a cocktail table and you've got a room-defining moment.
Lately, the lighting sections of children's-housewares stores have been my favorite place to find unexpected pieces. Kid lighting is often playful with form and color in a way that benefits more adult settings, too, and tends to be more affordable than grown-up designs. This piece is simple enough to function as a neutral in a design scheme, but it's rosy-taupe color and the whipped cream–like shade make it feel joyful.
At $1,499, this is by far the most expensive lamp on this list, but it's worth every penny. Beautifully crafted with a brass base and cap, a rattan-wrapped stem, and a conical shade in wicker willow or white canvas, the Gubi 9602 was designed in 1935 and is frequently held up as a paragon of modern design. This lamp is frequently imitated, but none of its knockoffs can truly capture the elegant proportions of the original.
Like most of Hay's housewares, there is a resolutely modern sensibility to this lamp's function. The head, which reminds me of the Bat signal in the best possible way, rotates 360 degrees, allowing it to give both directional light for reading and indirect light. It's a great piece for small apartments because of its petite footprint, and its black powder-coated bent steel form cuts a strong figure against a white wall, like a black line drawing on white paper.
In my first architecture course at Yale, each student was tasked with designing a lamp from a single sheet of paper. Most of the designs were fussy and overcomplicated (mine included), and the first time I saw this lamp, I realized what I should have done. Stripped of excess hardware and other ornamentation, this is a lamp in its purest form. It provides a softly diffuse light that can calm bedrooms and living rooms.
This lamp could work in a historic house or an eclectic modern space. In simple antique brass with a paper shade, its form is drawn from classic floor lamps but without any overly old-fashioned details. I have one in my old rowhouse, and I particularly like how flexible it is, easily adjusting to sitting in different rooms. With its telescoping neck, it can even be raised and lowered depending on the ceiling height and use of space.
I like this shiny lamp for its clean half-dome shade and the slightly offbeat geometry of its cantilevering stem. The metal top is adjustable, so you can redirect the light as needed. The design is a play on one of my favorite Kelly Wearstler lights, a brass pharmacy lamp, but this one is more playful and about $1,600 cheaper.
Lately, I've been drawn to spheres in my home, from ball pillows to mushroom stools, and the unexpected spherical oak base on this lamp. Its proportional relationship to the drum shade is slightly surprising, which I enjoy — it's all business on top, all party on the bottom.
This is another lamp that works well in historic and transitional spaces; we recently used it in a start-up office converted from a historic house. The shade is an elegant, slightly squat drum, and I like how balanced the simple color palette is — it's still a neutral, but a dashing one.