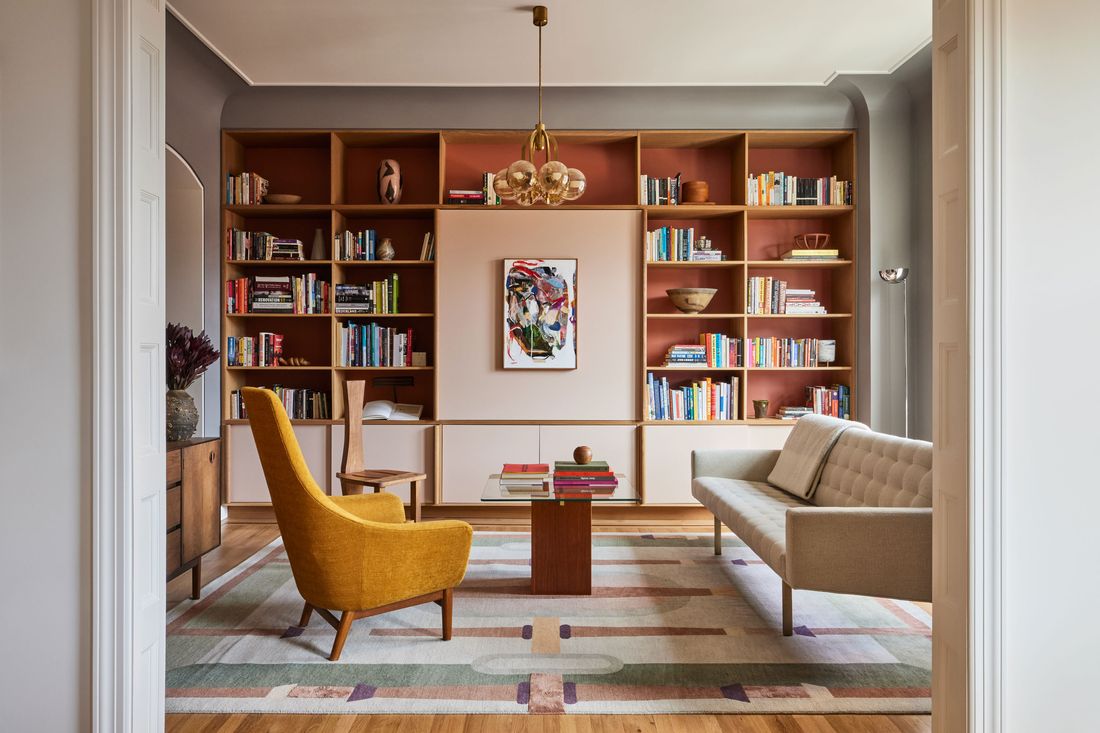 The Living Room, After:
The color palette started with the rug. "I fell in love with one specific carpet — from Instagram, if I'm honest, from CC-Tapis — and talked Archie into falling in love with it," Hackett says. The yellow chair is vintage.
Photo: Nicole Franzen
Why not really test the relationship with a two-year gut reno during a pandemic?" Matt Hackett recalls not at all thinking when he and his boyfriend, Archie Archambault, decided to buy this apartment at the storied 120-year-old Onyx Court in the summer of 2019.
They had been renting not far away in the East Village already, in a place with a 1,000-square-foot roof-deck, which they loved, but they thought, Why not just buy a place? How hard could that be?
"We looked at dozens of apartments, a lot of which were already remodeled in ways that just made no sense," says Hackett, a tech investor. "Like, Someone stayed at the Mondrian, so why not make the apartment look like the Mondrian?" But Hackett and Archambault didn't want to live in a place that looked like that hotel, so they decided to "find something in rough shape and get a chance to make it look however we actually wanted."
Which led them to the Onyx. It was designed by the firm Harde & Short (who also designed the ornate French Renaissance–style Alwyn Court) and was originally a residence for actors and singers when that part of the East Village was a thriving theater community in the early 1900s. It became a co-op in 1983 of a particular bohemian stripe. Many of the owners are writers, artists, and academics, and many of them have lived there for decades, including the former owner of this place, a theater writer for the New York Daily News from whose relatives Archambault and Hackett bought it.
The unrenovated apartment was remarkably unchanged after over a century of use. There were the remnants of a dumbwaiter in the kitchen. There was a long, dark hallway that curiously snaked. The doors still had transoms over them. There were also just a lot of doors: 13, by Archambault's count. "It was a series of small rooms, more of a European-style way of living," says Hackett. They were taken by its quirkiness and its possibility.
But "we didn't say yes right away," notes Archambault, who owns a letterpress shop nearby on 10th Street called Archie's Press. "It was a gut-churning wreck. There were red flags constantly."
For one thing, the late owner's tenant was cohabitating with a rabbit. "They put a linen over the cage, as if we wouldn't notice," remembers Hackett. The place smelled musty; it was unclear if the rabbit was to blame. "Every time we went to see it, the Realtor would light a candle," Hackett says.
But the prospect of making their own space as they wanted it won out. "We'd not done it before, so we didn't realize how endless and painful it would be," Hackett jokes. They hired GRT Architects, at the recommendation of some friends, to do the renovation. "They had done a lot of historic stuff without making it fuddy-duddy," Hackett says.
"We didn't want to just blow it open and make it an open-plan apartment," says Tal Schori, a founding partner of the firm. "We wanted to respect the history of the building and that the apartment had all these unique, cozy spaces." And while "there wasn't much to salvage," it retains a sense of the original floor plan, other than moving the kitchen from the rear of the apartment, where the main bedroom is now, into the front, where the dining and living rooms overlook the street.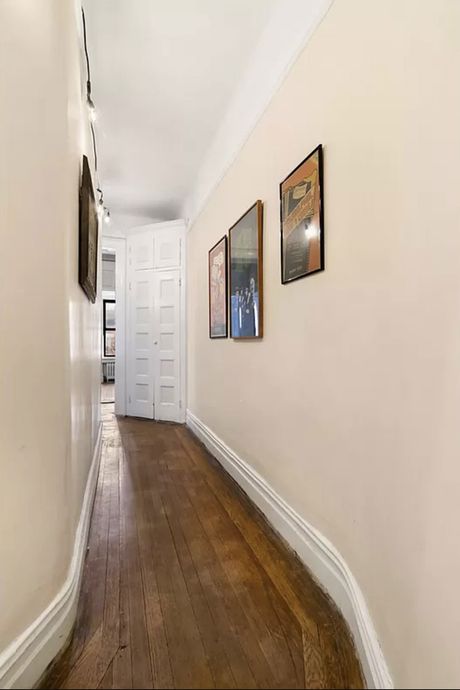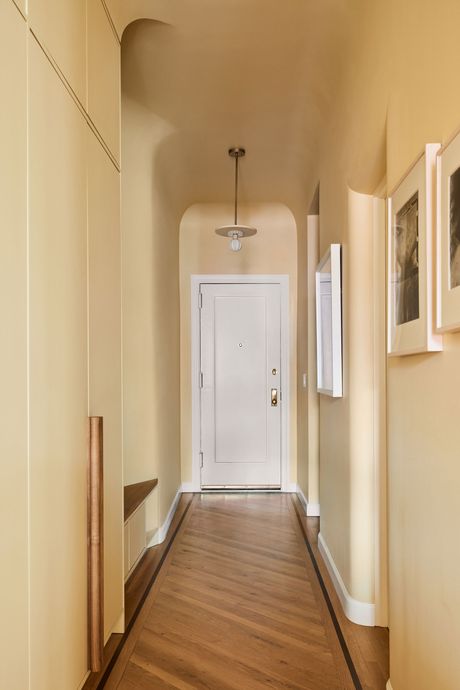 "The kitchen was way back in the dark," Hackett says. "It wasn't a very fun place to cook."
Of course, it all took far longer than the newbie renovators had hoped. The hope was to start construction in fall 2019, but it didn't get going for another year. "Every step, it took double the time" they'd expected, Hackett says. In the meantime, they bounced around — way more than they'd planned to. For a while, they were in Hudson, but the friends whose house they were renting decided to put the place on the market. Then they stayed in various sublets around the city (one Williamsburg spot's hot-water heater went kerflooey). And there is only so much time you can live on Fire Island in a beach house shared with friends.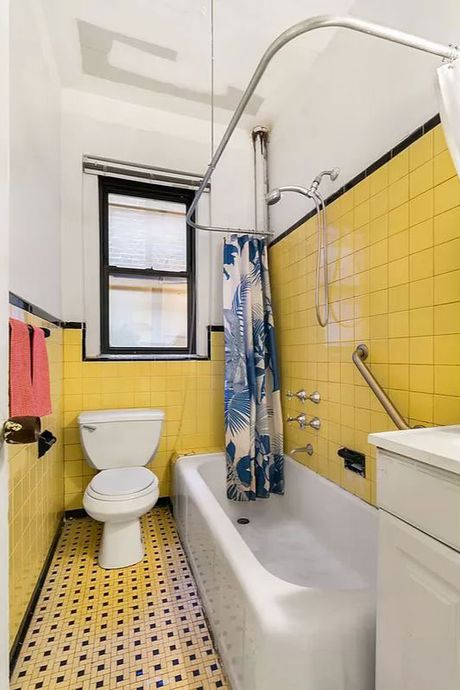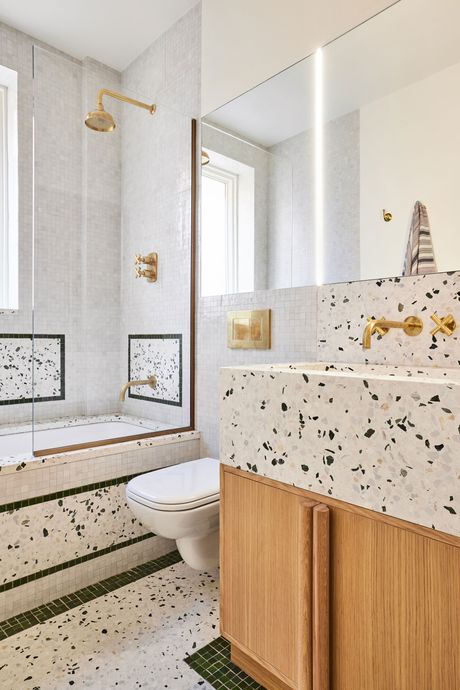 Finally, they got in last fall, right before Thanksgiving, just in time for them to have friends over for the holidays; the apartment is well set up for entertaining and feels both homey and a touch glamorous. "We decided on the mantra 'Swedish grandma goes to Hollywood,' and it's been serving us pretty well so far!" says Archambault, who also notes they've cut the total door count nearly in half. But most importantly, they survived the gut-reno relationship stress test and are getting married in the fall.