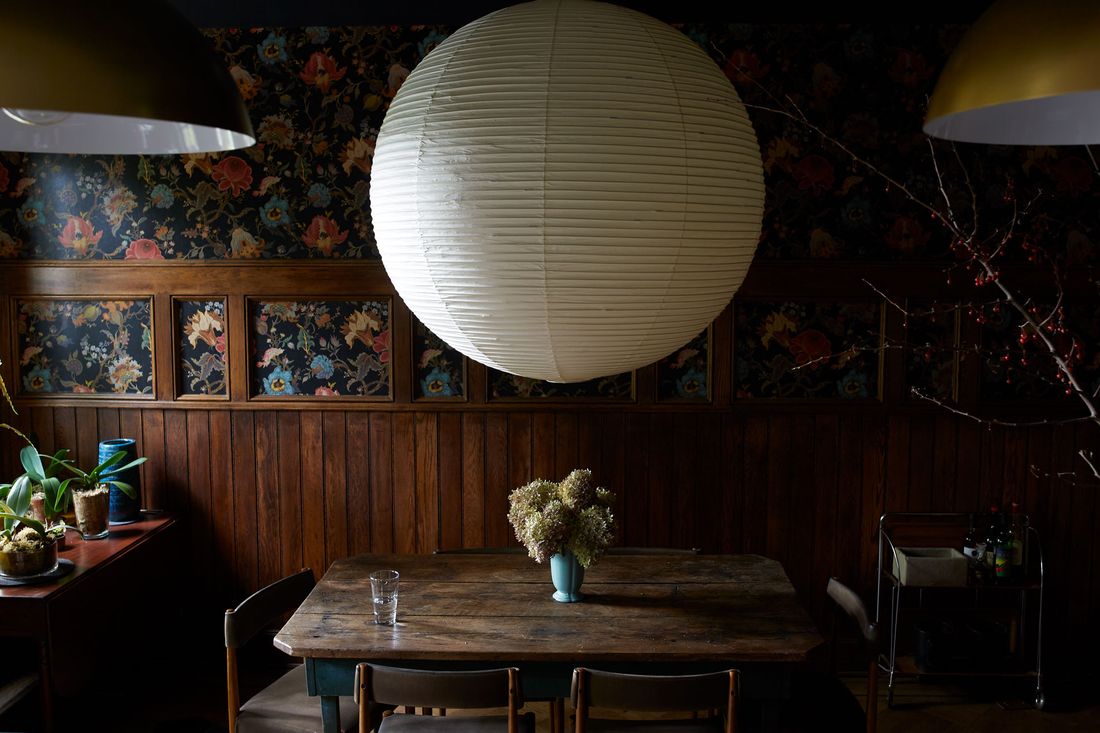 The Kitchen:
The eat-in kitchen has a family vibe. The wallpaper is by House of Hackney. A Noguchi lantern hangs above the vintage farm table, and Room & Board pendants illuminate the kitchen island.
Photo: Skyler Smith
This is the first time I've not had furniture in storage in 20 years," says Thomas Gensemer, a globe-trotting adman who met his peripatetic match in Gabe Brotman, then an executive at Politico. "Between the two of us, we've had places in New York, Los Angeles, Washington, London, and Brussels," says Brotman. And in the process, "we just collect too much stuff." By 2018, they knew they had to make a home together in the same city, and Gensemer's Brooklyn Heights one-bedroom wasn't going to be big enough for the two of them, not to mention the family they are planning to start.
They had been looking at houses in Fort Greene and Bedford-Stuyvesant when a listing caught their eye. "Embarrassingly," Gensemer recalls, "it was literally 3 a.m., coming home from a Brooklyn warehouse dance party, and Gabe was on Zillow on his phone and found a 9 a.m. Sunday open house." Bleary-eyed, they walked in and made an offer immediately. It was just what they had hoped to find.
"It needed a lot of work," Gensemer says. "But we could see the original intent."
The 1915 Crown Heights rowhouse was an estate sale and, for most of its history, had been occupied by the same family; Gensemer and Brotman are only the third owners. "It was amazing to find a house that hadn't been touched since the early '50s," Brotman says. The bones of the original were not only good but still present, which meant that the task of the renovation was to preserve and restore, not gut and replace.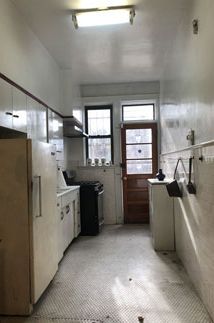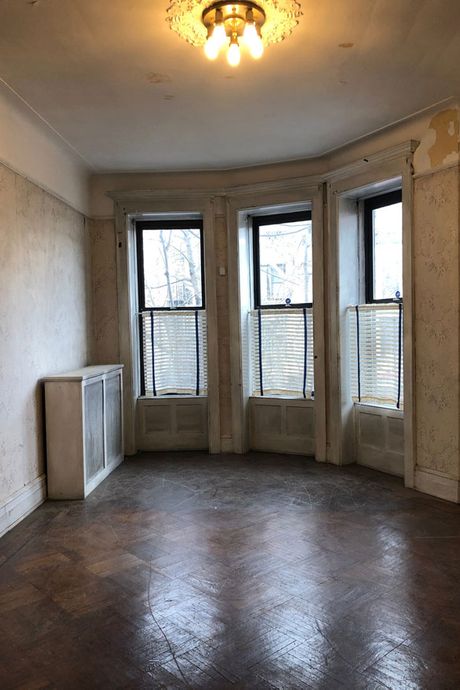 The couple went back to the contractor, Mario Chotoosingh, whom Gensemer had used in three previous renovations in the city. Even while updating most everything, they managed to keep many original details, including the parquet floor, and largely left the procession of rooms intact. "The layout from the front door on through had a really gracious flow," Gensemer says, and so they wanted to keep the floor plan as it was. "Almost nothing in the house is new," Brotman notes.
The period bathrooms and kitchen were the exceptions. The kitchen was created in collaboration with the U.K. company Plain English, specialists in bespoke cabinetry inspired by British country houses. ("They used charming terms like joinery and ironmongery," notes Gensemer.) It's the house's hearth, and you can practically imagine bleating sheep outside. (Not that their two rescue dogs, Samson and Clementine, wouldn't have something to say about that.)
And now, finally, there's the room for the furnishings and art Gensemer and Brotman have collected. "The house is very much a scrapbook of our travels and past lives," says Brotman. And there's room enough for a few more lives yet.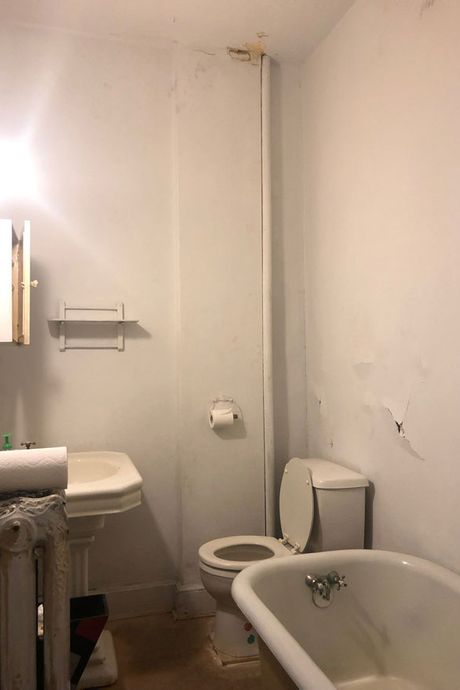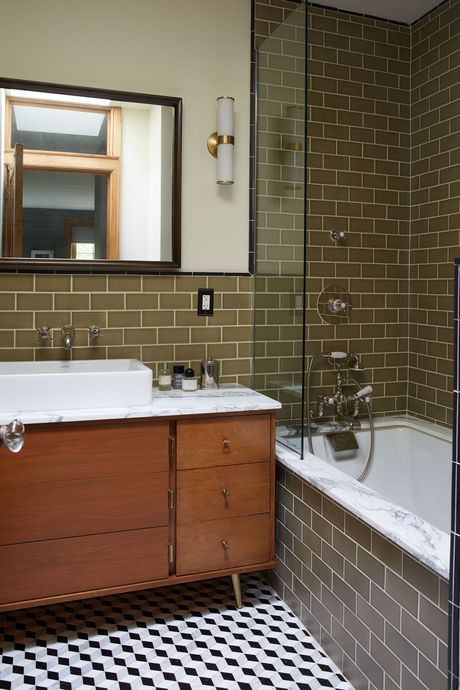 *A version of this article appears in the January 4, 2021, issue of New York Magazine. Subscribe Now!