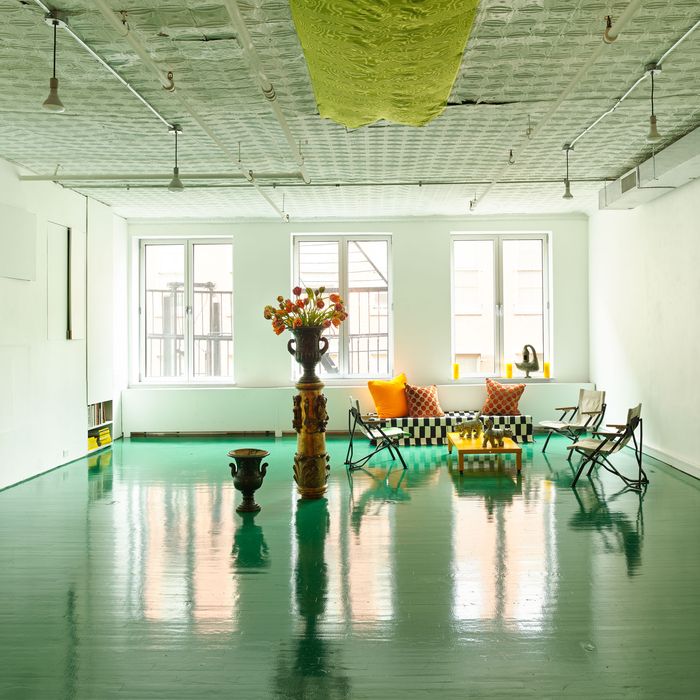 Living Area:
"The living room, that vast jewel of loftiness, had to stay white," says Brock Forsblom, who painted the floor Benjamin Moore's Peridot. Snow Peak provided the camp bed and chairs on the far side of the room. The 17th-century Castilian painted-wood column from the Hearst Castle, purchased at auction, keeps the minimalism at bay.
Photo: Annie Schlechter/B) Annie Schlechter 2021
Brock Forsblom is no minimalist, but he's trying. "I don't know how the Judds of the world really did it," the designer tells me while describing his latest experiment: a 3,000-square-foot downtown Manhattan loft that he and his husband bought last year just before the pandemic and are trying to keep a bit spare.
"Our old rental apartment" — a 700-square-foot 1950s one-bedroom in the West Village — "was very straightforward, with arches and rooms and doors," he says. "And I decorated every inch of it, and I loved it." Forsblom believed that the new apartment would unleash in him a new aesthetic, in which his penchant for "things on things" would be washed away. "I soon realized that I could play the loft game in a different way."
Forsblom's way was to edit for less stuff that would still deliver a robust decorative authority. The industrial fixtures of the McMaster-Carr catalogue, designed more for outfitting a factory than a home, were the starting point. His scheme included low-to-the-ground dining and seating coexisting with a smattering of more decorative pieces, with nary a plump sofa anywhere on the premises. Even the mattress hugged the floor. Then nagging questions began to bubble up in Forsblom's mind: Would they miss doors and walls? Did they want the cozy familiarity of traditional rooms? Would they still crave privacy?
For now, he has mostly played with color — the red bedroom, the van Gogh yellow when you walk in, that expanse of pond-green floor. He relishes the impact that a single color can have on a room when it is poured everywhere. "It's not art, it's not conceptual; it's just color," he says.
But now that lockdown is over, Forsblom worries that the experiment may run aground on his other instincts: "Am I disciplined enough not to drag home half the flea market every Saturday?"