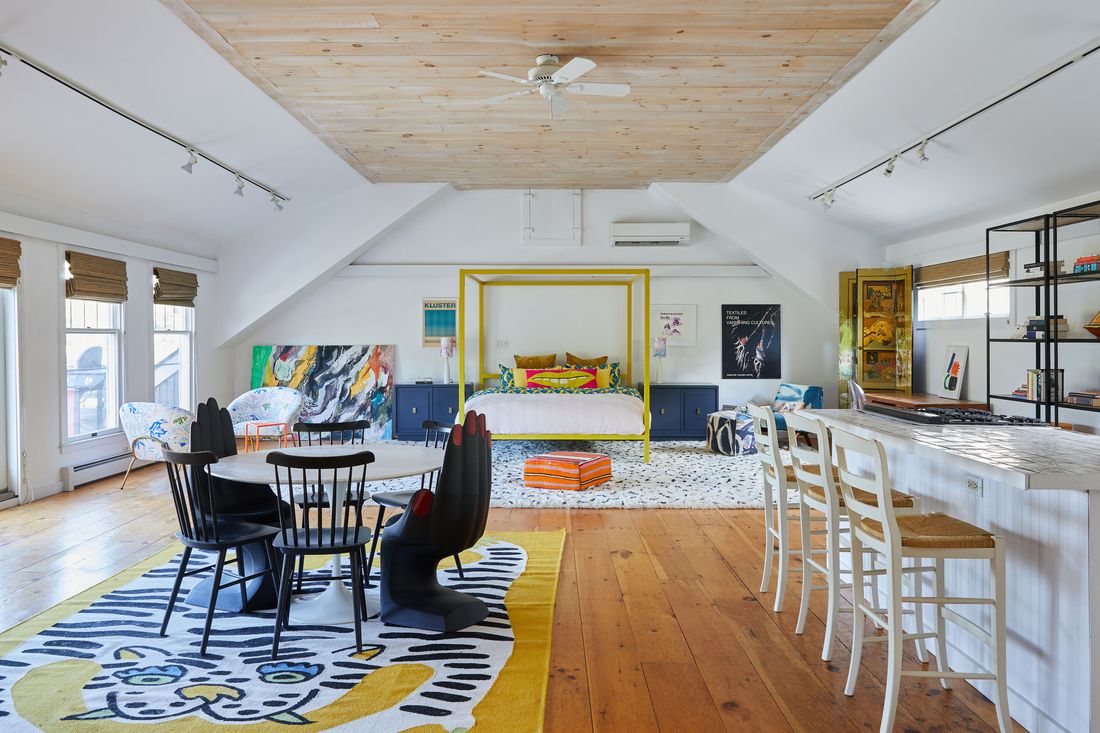 The former potato barn has been in Aelfie Oudghiri's family since the 1980s. Here is the upstairs apartment where residency artists will live.
Photo: Genevieve Garruppo
Last December, home-goods designer Aelfie Oudghiri ended the lease on her Brooklyn showroom, closed her brick-and-mortar shop, and moved her inventory and set up her studio in an old potato barn on her mother's property in Sagaponack. Then, as of the last day of June, Aelfie says, "I am on sabbatical from my company."
This gives her time to work on her first feature film, 20 years in the making. The subject is her maternal grandmother, Lounah Starr, an artist and Holocaust survivor who is 104 years old.
Aelfie has memories of her grandmother painting in that barn. "She is kind of an outsider folk artist," Aelfie says. "She's a Holocaust survivor, a visionary; she's very mystical." The barn is "definitely a magical space," she adds. "It's where my grandmother did some of her coolest, biggest work and it's where I closed my company which sounds like a sad thing but it was really a happy, good moment."
There were other artists who used it too. She also has memories of watching Richard Prince's cute, 20-something assistant — whom Aelfie couldn't help but have a bit of a crush on — working on his nurse paintings there. There was also Donald Lipski, who "was working on all these sculptures using cigarette butts he was collecting by hand, and they were these huge works that were kind of about waste and it was also after he quit so it was a way of him reckoning with his own smoking addiction, so I really remember that because it stank."
The barn has a studio with an apartment upstairs. During the summer the apartment is used by family and friends; starting this winter, she's decided to make it a residency for artists.
But just for one artist at a time. "Everybody works differently," Aelfie says, "but I think the isolation can be really productive. I've visited friends in artist's residencies and they're all just kind of drinking and sleeping with each other, so the residency is for people who really want to get it done."
After Johan Kugelberg, founder of Boo-Hooray is through curating a rotating collection of countercultural printed works and photography in the gallery space (but not staying there), the residency begins. Those signed up include the journalist Atossa Araxia Abrahamian, the composer/sound designer Josh Ascalon, the writer Adrian Chen and the art critic and performer Christina Catherine Martinez.