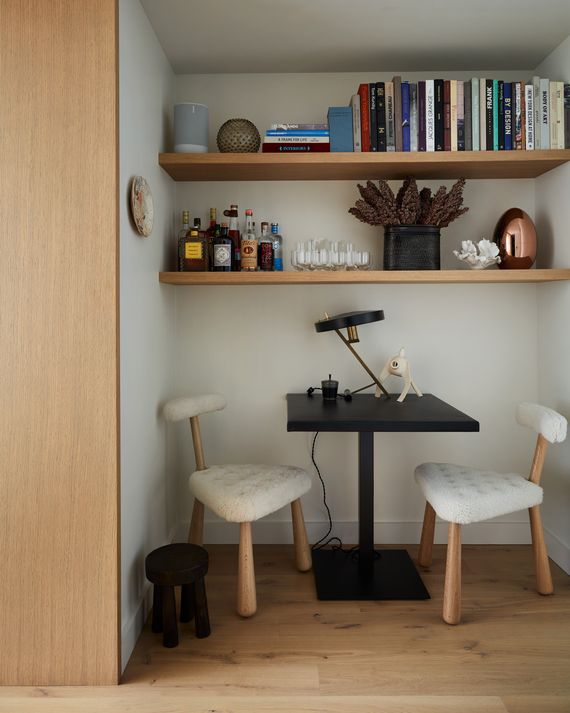 Dining Nook:
Henderson created it opposite the kitchen on the other side of the room divider with Swaine prototype shearling dining chairs and a custom table wrapped in leather. The sculpture on the table is by Carlos Otero and the sculpture on the shelf above is by Matthew Solomon from
Maison Gerard
.
Photo: Stephen Kent Johnson
For three years, Shawn Henderson lived in a one-bedroom walk-up apartment in the West Village. It had plenty of charm, but after breaking up with his partner, its 900 square feet "was more space than I wanted," he says. "And to be honest, I wanted a space with more modern conveniences: a doorman and somewhere to park my car."
And so beginning in 2019, he went shopping for something a bit more modern — even if it is vintage modern. He'd make it charming: Henderson is an interior designer known for creating inviting, elegant rooms. (His first book comes out on November 9; Mayer Rus writes in its introduction that Henderson's "work makes a compelling case for the power of quiet, confident grace.")
The first apartment he looked at — a 550-square-foot alcove studio in a 1960s building near Stuyvesant Square, a short walk from the East Village — was exactly what he wanted. . The studio even had a garden almost as big as the apartment itself, at 400 square feet. "I did a full gut renovation as it had not been touched; it was in original shape," he says (see before and after photos).
"The biggest gesture I made was to put in that wall of cabinetry where my desk is to add storage and to demarcate the entrance foyer where that little dining nook is and the kitchen area to really separate that from the living/bedroom." He also updated the kitchen with custom Chemetal metal cabinets and marble counters and walls. The mirror on the back wall teases a view into what at first glance seems to be another room.
It's a little bit "back to the future" for Henderson. "Before I bought that apartment in the West Village, I had this alcove studio I rented in Gramercy Park for about four years, and there is something very comforting about being in a space where I can see everything right there."
Photo: Courtesy of the Publisher