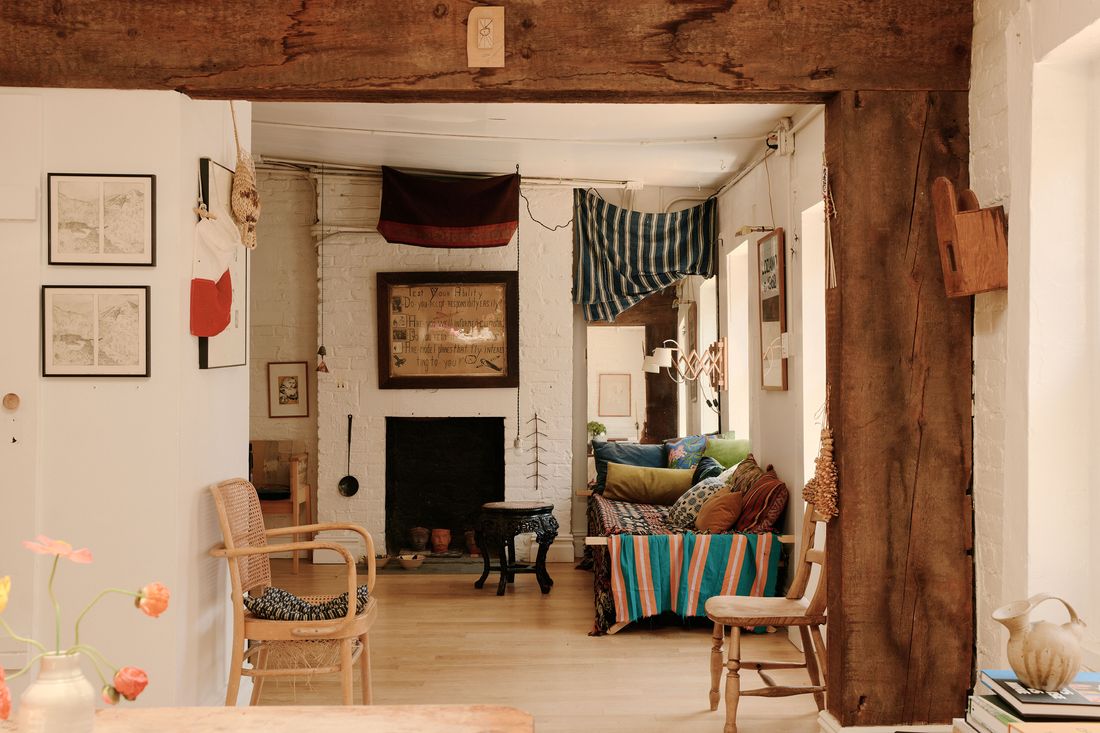 The Living/Dining Room, Looking East:
"Alice's Egg Spoon, hanging to the left of the fireplace," says Alex Tieghi-Walker, "is from my friend Fanny Singer's store, Permanent Collection. It's designed to cook a perfect fried egg in an open hearth. The object on the right is an antique cornhusk-drying rack. I love tools and objects that have an almost archaic use today."
Photo: William Jess Laird/
Since leaving London in 2016, Alex Tieghi-Walker, founder and creative director of the gallery Tiwa Select, has lived in "a shack" in Sonoma, in a drafty barn in Berkeley (which always gave him splinters), in a house in L.A.'s Echo Park that would flood when it rained, and, currently, in New York, though no longer in this fourth-floor Noho walk-up, which he recently had to leave when the lease was up. "I think this inclination to rough it comes from growing up in a beautiful but crumbling Victorian house with no shower and chimneys that made a strange whooshing noise when it was windy," he says.
Then again, he's always been on the move. "When I was a child," he recalls, "we did a lot of traveling, and I spent my entire childhood going to archaeological sites and museums and seeing art collections and houses."
His Italian father, "a sort of chaotic, brilliant, artistic being who went to medical school but found his true calling soon afterward making ceramics, lino prints, and sometimes puppets," inspired his love of discovering the work of artisans in different cultures. His mother, a historian who died ten years ago, "left me with a falling-down house and thousands of books but a love for adventure." She also had an appreciation for furniture. "My mum would buy me a chair for my birthday each year."
Here, until his lease ran out this month, the stairs were so narrow and steep that, try as the movers might, all his furniture lugged out of storage just wouldn't fit. So everything went back, and, undaunted, Tieghi-Walker found a well-worn drop-leaf table on Craigslist, and the camp cot he had used in his garden in L.A. became his sofa. A small part of his collection of art and textiles, and a hanging lamp or two, made the place home for him and his rescue dog, Ivo. Now that the lease is up, it's more than just another move for Tieghi-Walker. "It's a bit of a shame I'm leaving," he says, "because this apartment has been in the same friend group for about 20 years. It's been passed down from friend to friend."
Tieghi-Walker founded Tiwa Select, which represents self-taught artisans, in 2020 in Berkeley. He is holding on to his exhibition room in the National Arts Club on Gramercy Park and just signed for a gallery space at 86 Walker Street that will open in September.
As for where he will land next, he's not sure. "I am looking for a tiny little bolt-hole to live in," he says. "I like the idea that I can entertain in the gallery on Walker, which removes the need for a lot of entertaining space at home." In the meantime, he's spending the summer sprucing up the Walker Street space, painting the floor "National Geographic yellow," he says.