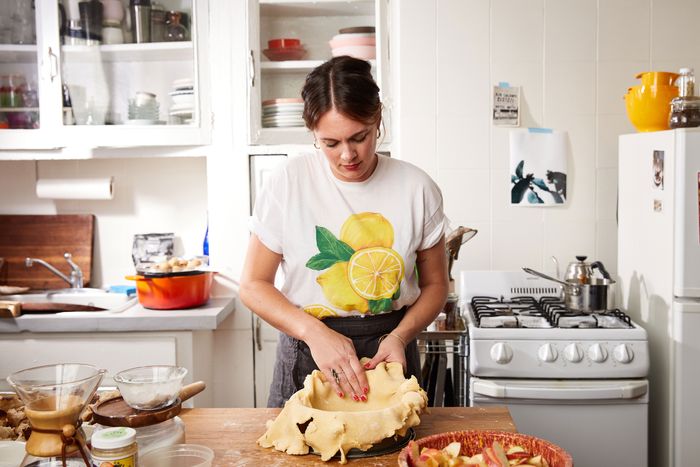 Photo: Michael Graydon & Nikole Herriott/The New York Times
If you're on the hunt for an apartment — something with a little charm, a certain European je ne sais quoi — might we suggest a new listing posted by none other than controversial cookbook author Alison Roman, located in tree-lined Boerum Hill, or, as Roman calls the neighborhood, "the Paris of Brooklyn"?
Situated in a walk-up townhouse, the apartment — presumably on the market because Roman is now (reportedly) living upstate, having just bought a restaurant in Bloomville — is a top-floor "funky, old school spot" with parquet floors. It is currently decorated with pothos and vines in wine bottles, a West Elm–ish ceiling light, and some cookbooks shelved in a white brick fireplace. French doors lead from the kitchen to the dining room to the living room, where an illustrated Joni Mitchell book sits on a coffee table. The bedroom is simple, with just enough space for a custom bedframe Roman apparently had built, and a dresser with a large mirror (Hi, Alison!). There's supposedly a large bathroom with a tub, though it's not shown.
There is, oddly, only one picture of the kitchen — the very place where both #thestew and #thecookies were born. Though if you'd like to see more, just make your way over to her YouTube channel (or the many other sites where it has been captured in high-contrast lighting).
The space, according to Roman, is "sunny," "special," and "quirky." It is, to borrow a favorite word from the Roman oeuvre, simply unfussy.