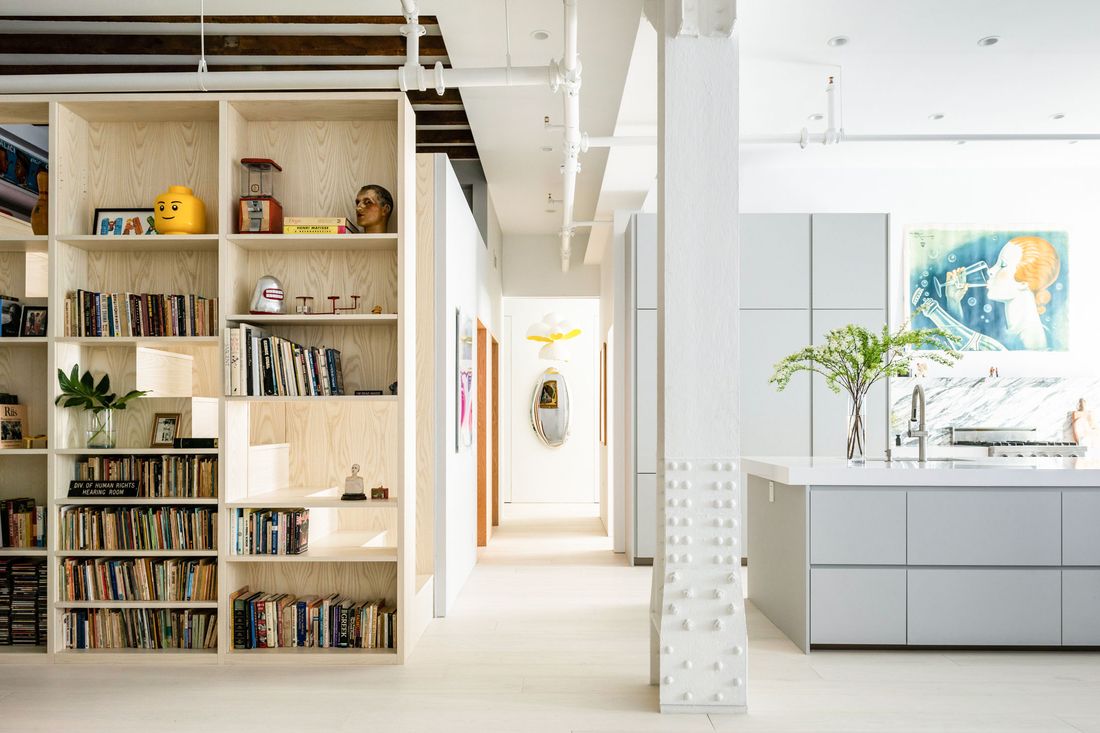 The Stairs and the Kitchen:
The gut renovation, including an all-new kitchen, was designed by architects Max Worrell and Jejon Yeung. The semi-open ash-wood bookcase leads to a sleeping loft.
Photo: Alan Tansey
The cast-iron Gilsey House, on the corner of 29th Street and Broadway, sticks in your head. "So I grew up in Manhattan," says Julie Chartoff, "and I always remembered this building as a teenager. I just loved this building." Gilsey House opened as a grand hotel in 1871 in the heart of what was then the Theater District, but it had a rough go of it for much of the 20th century until it became a residential co-op in 1980. (Today, the Ace Hotel is right across the street.)
In 2004, Chartoff, who is a lawyer, and her wife, Irene Glezos, an actor, moved into the building from a renovated warehouse in Long Island City. They were having a baby and wanted to raise their child in a less industrial neighborhood. What sold them on this place at first sight were the graceful windows and the height of the ceilings. Also, the apartment incorporated "the honeymoon suite when it was a hotel," according to Glezos.
"There were initials carved in the original glass," explains Chartoff. "The story goes that they used their diamond rings to carve their initials and dates in the glass."
Since the couple were expecting a baby, they had time for only minimal renovations. They didn't even hire an architect, just a contractor who helped them do their own thing — putting down new floors, building a wall here and there, and getting rid of "those crazy '70s glass bricks," says Glezos. "I mean, in retrospect, they were kind of cool," Chartoff admits. "We took them all down. We just kind of opened it up." But not really enough. "It was so bad, but the thought of a renovation was so daunting," she adds. "Who the hell wants to do this, right?"
In 2012, they lost their son Max to a brain tumor. Chartoff relates how Max said, at the beginning of his illness, "If I ever die, you and Mama can have another baby, but the baby can't go in my room." Even after Hugo was born in 2014, they left Max's room just as it was.
It took the room's ceiling falling down to turn the thought of a complete overhaul into reality. The couple interpreted it as a sign. "At that point, with Max saying it was fine, it gave us freedom," Chartoff says.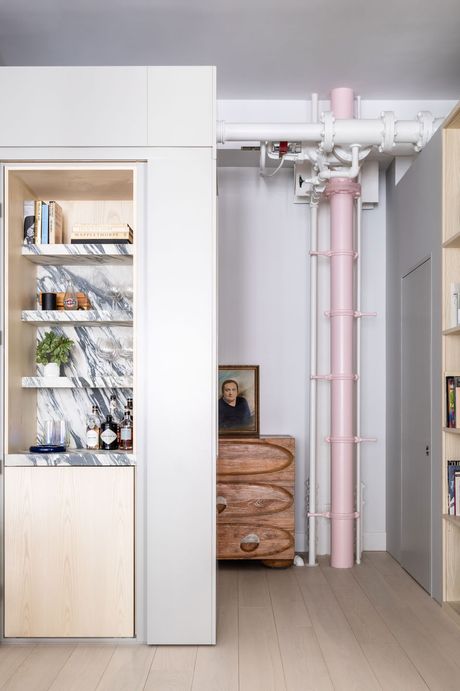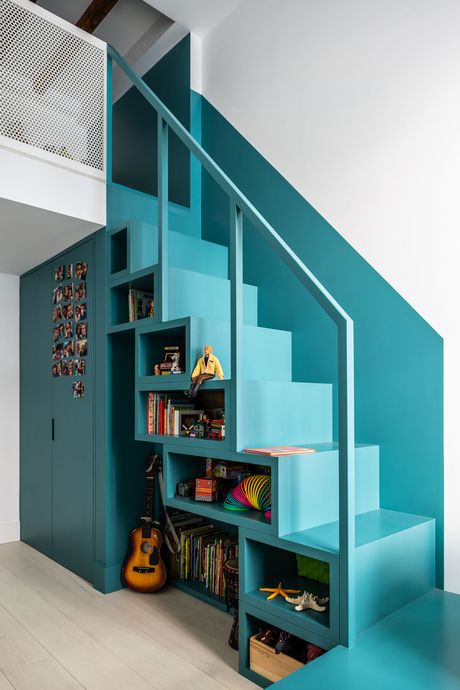 They entertained the thought of moving but realized they had everything they wanted right there; they just needed to face a full-on renovation and get it right. They met with designers who didn't quite click, then Chartoff saw a story in the New York Times that featured their neighbor's apartment, which had been redone by the architects Max Worrell and Jejon Yeung. "I figured these were architects who had already done projects in the building and dealt with the issues," Chartoff says.
Yeung says they reconfigured the floor plan to create something that felt more spacious and used a brighter palette. They also designed two staircases that incorporate bookshelves. "We like to preserve and celebrate elements of existing spaces," Yeung says, "spaces that are worth keeping, but then also juxtapose newer elements that complement them — not have them completely blend in but coexist in harmony."
"I am going to say that almost the entire time we lived here I was bothered" by not taking the original renovation further 15 years ago, Chartoff admits. But now, at last, it's finally the way they want it.