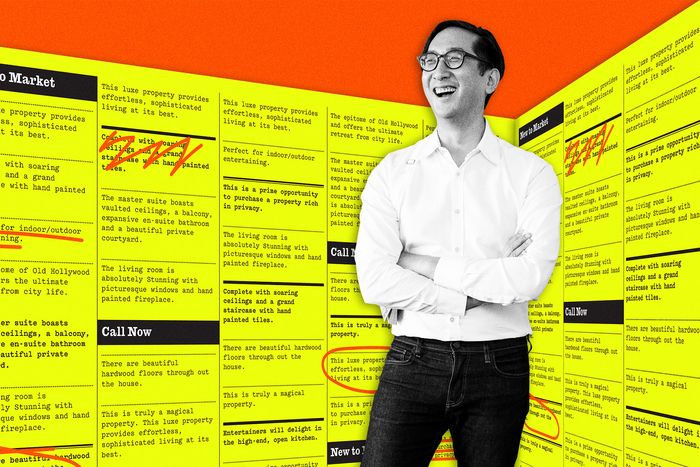 Photo-Illustration: Curbed; Photo: Gieves Anderson
Clients are always sending me Zillow listings as inspiration. Some of them will show me newly constructed houses and parcels of land and ask, "What are the pros and cons of each?" I'm like, "How much time do you have?"   
Personally, I have a couple of saved searches, like Tuxedo Park, New York, and San Diego. I find myself thinking about California a lot because I grew up there.
I'm also always looking for a house with good bones. If I find something that looks interesting, I tend to check out the rest of the block too. It's an old real-estate adage that it's wise to buy the cheapest house on the most expensive street. So I like to check to see if a house I'm interested in is, indeed, the cheapest one on its street.
I never unsave my saved listings, even if they sell. I'm like, If I unsave this, how will I ever find it again? So I have hundreds just sitting in there. It's like collecting trading cards.
The Ones He's Saved


The 12,000-Square-Foot 1899 Tudor in Tuxedo Park
A friend of mine purchased a home in Tuxedo Park a couple of years ago, which is why I started looking there. There are so many crazy historic houses there, really large-scale manors. This one is more modest. It's still 12,000 square feet, but the scale isn't quite so institutional. The wraparound porch and the big lawn feel very Americana. I imagine games of football on the grass. I like a lot of the stone and wood details on the inside. It has a beautiful stair hall and there are some really nice leaded glass double-hung windows. Every room has a crazy fireplace.
The Hilltop Spanish Colonial With Pacific Ocean Views
I really love a sprawling Spanish Colonial and this is a beautiful example. I grew up watching 90210 and have always loved Brandon and Brenda's house, which was a Spanish-style home in Beverly Hills. This house reminds me of theirs. The balconies are great. There's one on the second floor that looks out to the sunset over the ocean.
John Baldessari's Santa Monica House
This house was owned by John Baldessari and renovated by Ron Godfredsen and Danna Sigal. They made a lot of good decisions. They aren't necessarily choices I'd have made, but I still love it. The floors. The tiles. The colors, which feel like Baldessari's paintings. And that upstairs library with the windows at the top. That's really beautiful.
The Palm Springs Midcentury With a Circular Pool
This is the quintessential Palm Springs modernist house. The circular swimming pool with the round oculus up top is very cool and special and has a sort of Palm Springs romance to it.
The Santa Monica Craftsman With an Excellent Courtyard
People don't always associate this Craftsman style with Southern California homes, but I think it has a really beautiful feeling to it. I love all the interior Craftsman details. Like the staircase and the beamed ceilings in the living room. All the woodwork seems really well preserved. This is a big lot of land for this part of Santa Monica and the backyard here is really well set up for the indoor-outdoor lifestyle. The orientation of the house around the courtyard is really nice. The courtyard has a firepit and pool. It's just a really beautiful place, lots of shade, great for parties.
The 1860s Brick Manor on Five Acres Upstate
Crestwood is a really wonderful, curving road, and this brick house is right at the beginning of it. It has beautiful proportions. The solarium is cool, even though it's obviously added on. I find myself looking at this listing and thinking, Ugh, please somebody buy this, I really want to work on it. I even sent it to one of my clients just to be like, "What about this one?"