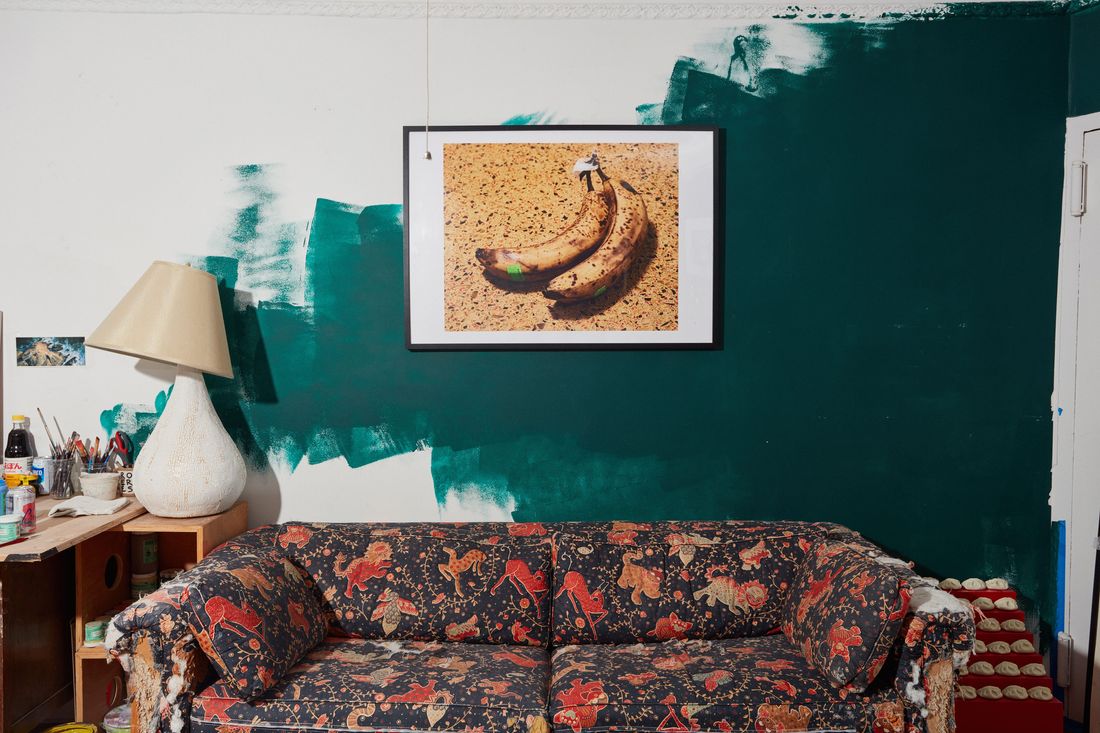 Photo: David Brandon Geeting
Stephanie H. Shih's home, like her work, is all about memory. Her railroad apartment in Carroll Gardens, which she bought in 2009, is overflowing with art from and by her friends, souvenirs from trips, her own sculptures of food and grocery items (which will feel familiar to members of the Asian diaspora), and the kinds of items that accumulate when you've lived in the same place for over a decade.
"There was a time when I thought I could be a person who had a very chic, minimal living space," she says. "Then I quickly realized that will never be me. It can't be me… Each item I have feels important." Case in point? About 30 different bottles of soy sauce she used as studies for her recent exhibition at Gallerie Perrotin crowd the top of a dresser in her bedroom, which has doubled as her studio since COVID-19 hit and she wasn't able to go to her normal studio, Gasworks, a community clay studio in South Slope.
"It's hard to let go of them," she says. "I started working on the show right when the pandemic started. The first two to three months of full quarantine, I was working 40, 50, 60 hours a week in my bedroom sculpting my soy sauces. It's inextricable, to me, from the pandemic."
The Taiwanese American artist, who was born and raised in New Jersey, is known for her sculptures which depict food items — specific brands of sauces, vinegars, candies, and canned goods — that are staples in the kitchens of Asian immigrants. The Global Pantry™ this is not; it's about an emotional and spiritual notion of home that these common foods can symbolize, and the shared connection that strangers from the diaspora can experience through them.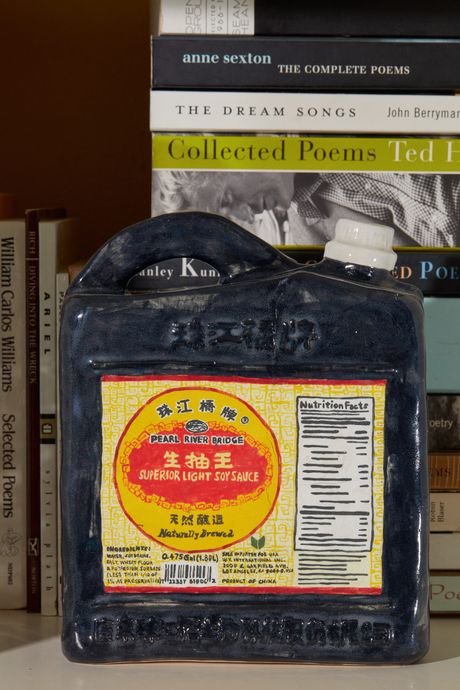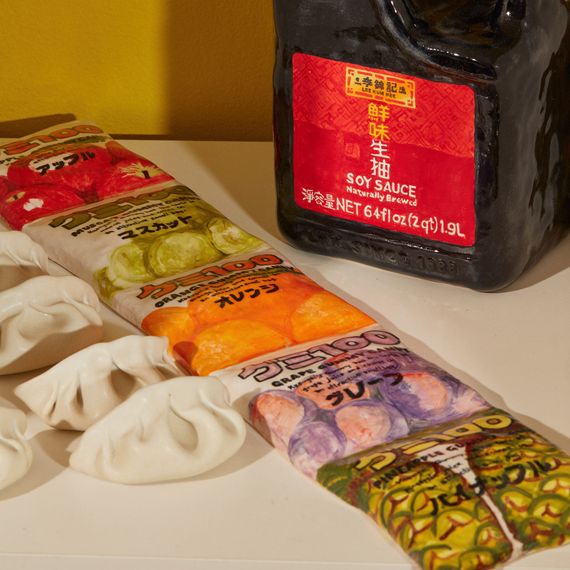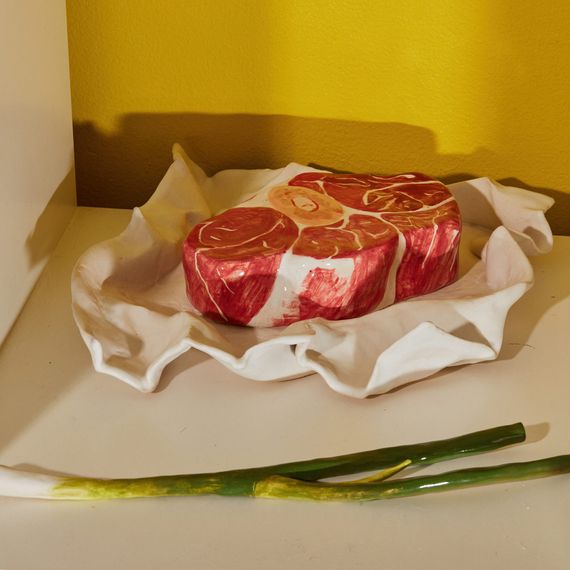 "Groceries are extremely intimate," Shih says. "We bring them into our homes; we feed our loved ones with them; we literally live with them. I've been thinking about that relationship for a long time in my work. And obviously it's become a little bit more top of mind for people since we've been spending so much time at home this year."
She gave us a tour.
On the paint colors:
The first thing I did when I moved in was paint the walls. That made the apartment feel more lived in to me. I love a very saturated, dark color. I think it makes a space feel really safe. The main room is this warm dark blue that has a little green in it. The bathroom is Kelly Green with the white subway tiles. The middle of the apartment has no direct sunlight, so I used chartreuse to brighten it up a little bit more. My bedroom is partially Hunter green. I did all the painting myself. It's not a huge apartment, but it was a huge undertaking. The last room I painted was my bedroom, and I just ran out of steam so I never finished it. It's been like this for 11 years. It's not deliberate. It's not a statement. I just stopped painting. The big print of the spotted banana on yellow terrazzo is by Erik Hagen.
On her kitchen:
I renovated back in 2010 or 2011. The bathroom was extremely small. Two people could not stand in there brushing their teeth at the same time, so we made that bigger. Where the pegboard is: That's the part of the wall that we bumped out. I worked with my childhood friend, who is an interior architect, and she helped me lay out the kitchen. She's also a big cook, and she knows that I like to cook. And so she helped me think about the best ways to arrange the space. I would love to eventually get a vent fan for the range. It's something I've been meaning to do for years, but I haven't gotten around to it.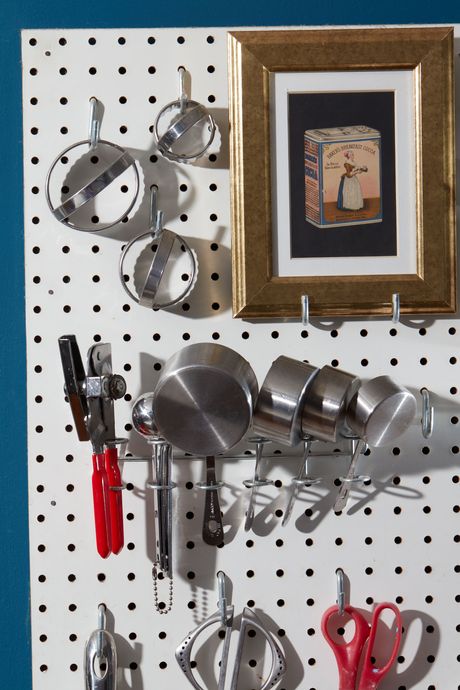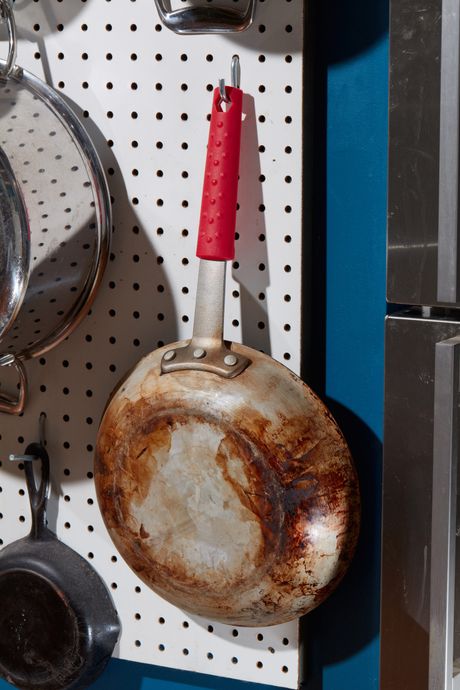 Growing up, sharing meals was extremely important to my mother. She was very strict about us all sitting down as a family every night for dinner. And so I think that gave me a certain appreciation for sharing food as a form of communication. That's really how I like to show care for the people in my life — I love to cook for them. For dinner parties, I really like to cook everything. Like in the winter, I love to make a stew. In the summer, fresh vegetable salads, like corn-and-basil salad, or tomato pasta.
Whatever I make for myself is always very easy — like fried rice, instant noodles, nothing too fancy. I really think of food as a way that I take care of others and less a way I take care of myself. During the pandemic, I started cooking more elaborate things for myself just to pass the time and to get a little more enjoyment during quarantine.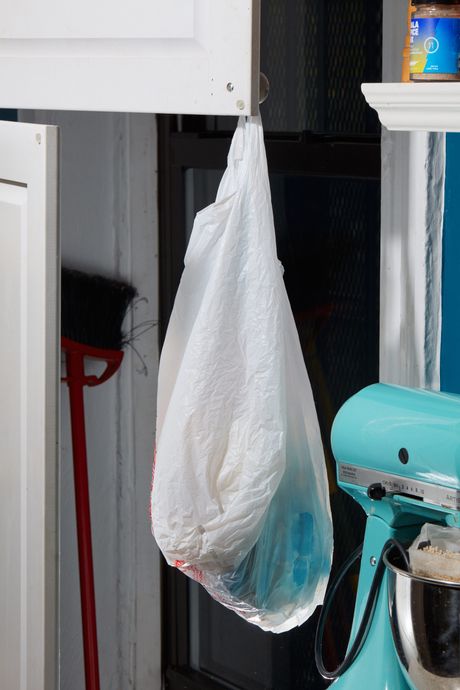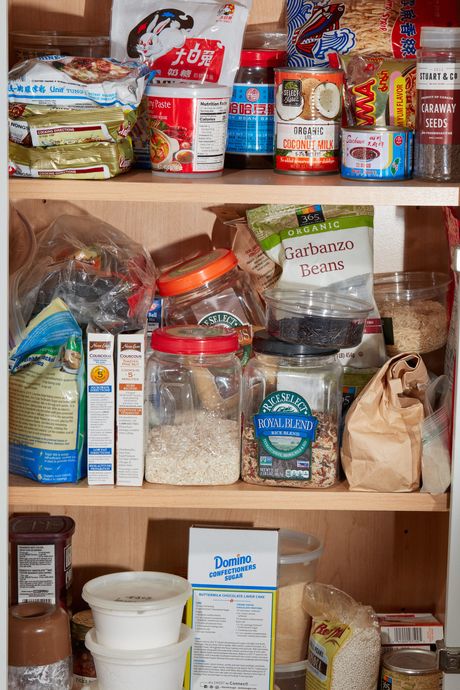 On entertaining:
I like to have people over. In precedented times, I would have a regular mahjong night. We actually started to do mahjong again, but we brought the folding table out onto the sidewalk. We'd get take-out from a different restaurant in Brooklyn's Chinatown. We've really been trying to support those businesses, especially since Coronavirus.
On her compost box:
I use a method I read about in the Times that uses half wood ash and half coconut husks, and then I put my kitchen scraps in there. There's almost no smell at all. I mix this with my hands every day. My friends joke that it's my pet box of dirt. I take care of it every day. My friends have been gardening on their stoops and it's like, well, I'm just growing this dirt. Trout's not interested in it. Thank goodness.
On her books:
Everything is organized by time period and genre, which I assume is very nerdy. I studied a lot of poetry when I was in school. I still have 50 to 100 books of poetry. There are a number of books about basketball and a lot of cookbooks since I cook a lot. And then a bunch of nonfiction, like polemics about the abolition of the police and race relations in America. These are topics that are very important to me, so I try to read up on them.
I have a little nightstand that has a stack of books on it. On top, there is a piece of art that I really love. It's a papier-mâché diner guest check by Bernie Kaminsky. My favorite pieces of his are recreations of paper products. Our work is similar because he does a lot of groceries as well.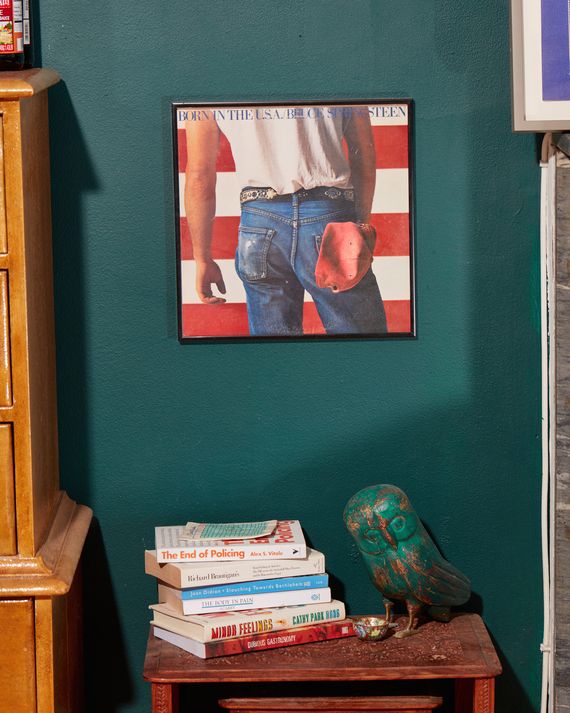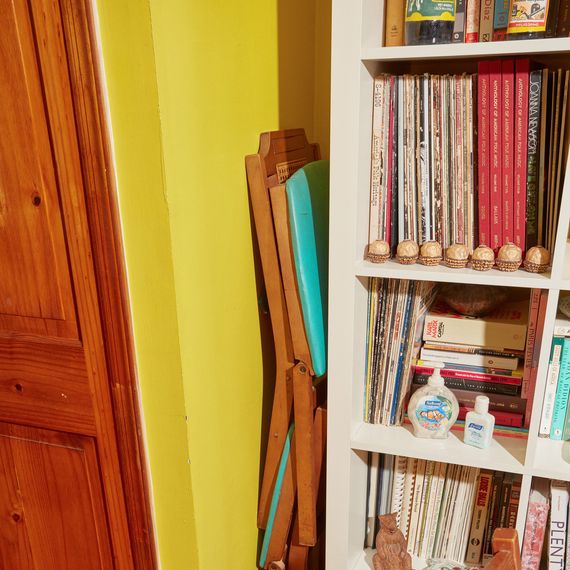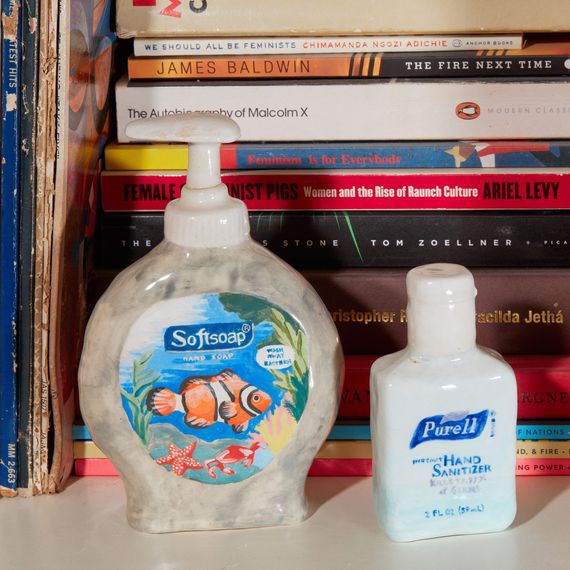 On living alone:
When I moved in, I thought, Oh, this space is so big for one person and if I ever have a partner move in with me, it will be plenty of room. Eventually I did have a partner live with me for five years. After he moved out, I just felt like, Oh, thank God. I have my space back to myself. And now I can't even imagine where someone would put their things because my things are already here.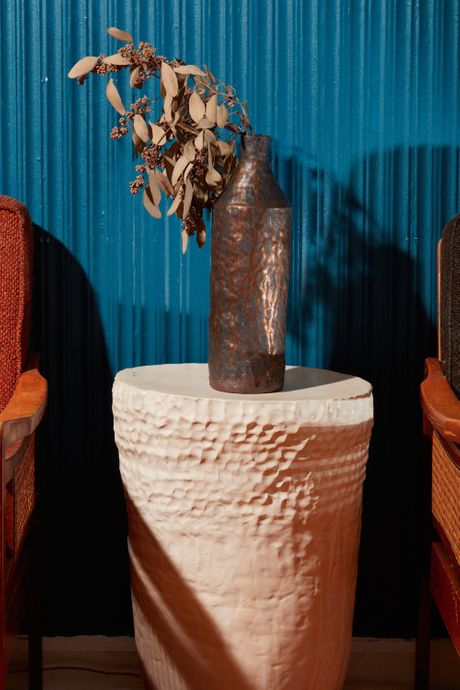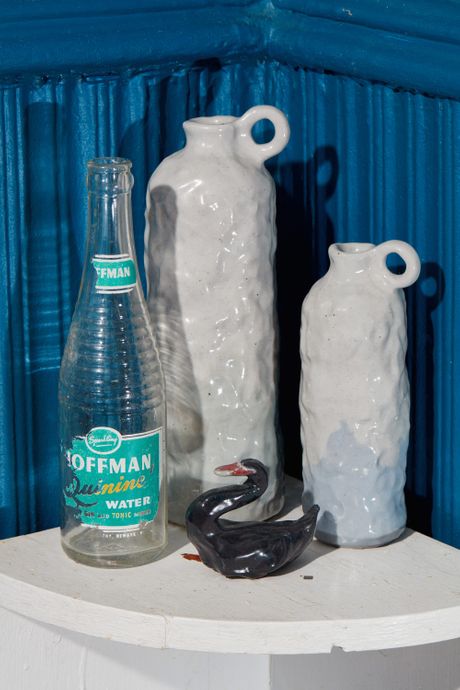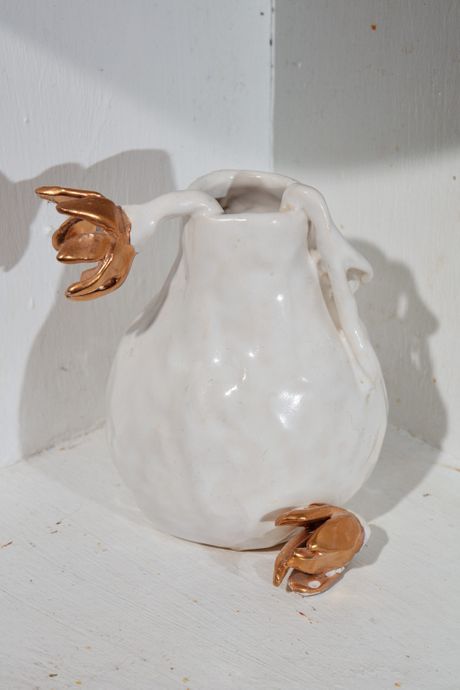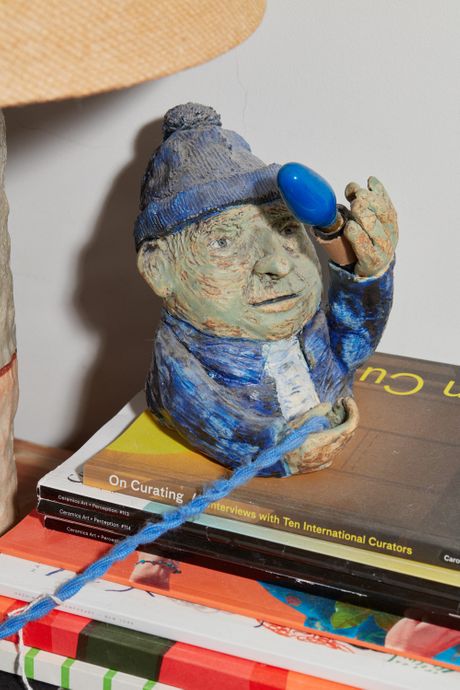 On working from home:
I've always been a night owl. I keep what I call raccoon hours. I've always gone to sleep in the wee hours of the day, but since moving my practice into my bedroom, it's extreme. Sometimes I'll work until daybreak. I like how I can just pop over [to my workspace] whenever. I used to go to a 24-hour community studio every day, even as my practice and career evolved, because I love having the collaboration and inspiration and just the community in general. When things started to shut down in March, I was really worried that I would lose some sense of community and that it would be really lonesome making work in my house, just living alone and working alone can be very lonely. But I was surprised at how bringing my work into my home made my practice more seamless.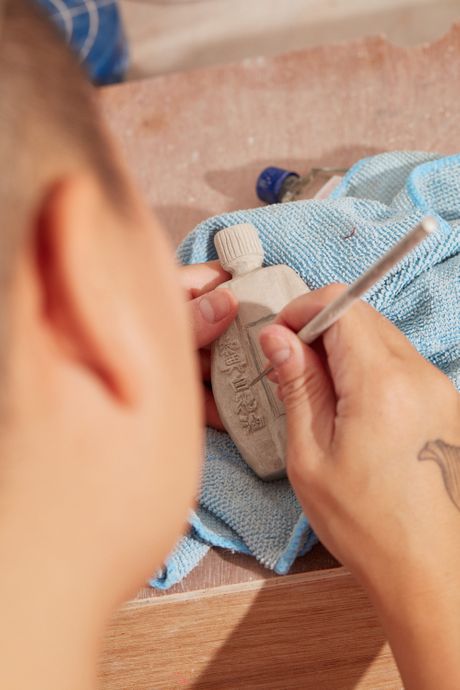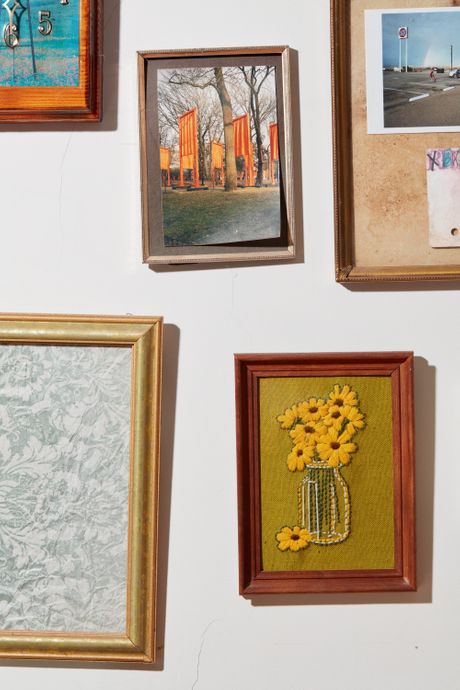 On her home studio:
This came together as I was working. It's kind of jerry-rigged, like everything in my home is. I bought the desk — I think it's from the 1930s — years ago from Yesterday's News [a vintage furniture store] but never really used it. When I had to move my practice here, I started working at the desk and wanted the surface to be a little bit bigger, so I put some pieces of wood I had from art shipping crates on top of it. The mirror helps me see all the sides of what I'm working on. I don't know if you've ever had the experience of looking at a picture of something and you can almost see it clearer than in real life, but [seeing my work in the mirror] is kind of like that.
On Trout, her cat, who isn't pictured:
Before the pandemic, he was always with me, no matter what room I was in. When I would take a shower, he'd be on the bath mat. During the pandemic, he's like, Why are you home all the time? This is my house. Please go wherever you usually go during the day. Now he hangs out separately from me. The very cute thing about him is he's very risk averse so he's very scared of new people. When he hears new people coming in, he can open the drawers underneath my bed by himself with his paws, get in the drawer, and then close the drawer behind him and just be under the bed. After the people leave and I close the apartment door, I always say: 'Trout, it's just us now.' As soon as he hears that he comes out.