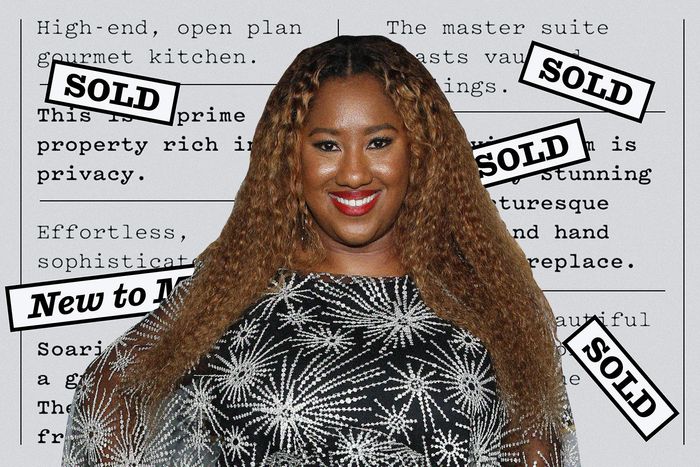 Photo: Phillip Faraone/WireImage/Getty Images
This story was originally published by Curbed before it joined New York Magazine. You can visit the Curbed archive at archive.curbed.com to read all stories published before October 2020.
I always say Zillow is like my porn. I look at it when I'm getting ready for bed; scrolling through helps me fall asleep. Sometimes, I'll watch Selling Sunset and the new one, Million Dollar Beach House, and I'll just put the TV on mute — I don't want to watch these women fight with each other, I just want to look at drone shots of pretty houses while I'm looking at other houses on Zillow. Mostly I look for places where I want to actually live, which is here in L.A. I'm very into that sort of indoor-outdoor living thing there where the living room opens up onto the yard. I love imagining living in a place so big and spacious and safe that a whole side of your house is open to the outside with those native Californian drought resistant plants that are chic and gorgeous.
The other thing I love is looking at things I hate. Rich people have the worst taste — the more expensive a house, the more egregiously bad things they've done to it. Like, there are so many houses that are $5 million or above with brown tiles on the bathroom wall. The other thing you see a lot of, especially in L.A., are these very weird, intricate front doors with hideous elaborate details. And all the listing photos are so weird: You'll see a $4 million house with, like, Ikea office chairs around the dining room table. Why is there a fucking Ikea office chair in the dining room?
The Ones She's Saved
This is the quintessential super-modern house in Hollywood. I sort of hate to love it. On the one hand, yes, it's very soulless and there's not a lot of personality, but I like that you could perform surgery on the floor of this house. It's so white and so clean and so minimalist, and something about that is attractive to me. It's very much like the houses in Selling Sunset, but a low end house for them, they'd be like, Ugh, give this one to Amanza.
What I like about this one is that it looks like you're living on a boat. Like, you dropped a boat somewhere, and now it's a house. And if your house feels like a boat, you can close the door and be like, now I'm on my boat and can have a glass of wine.
I actually really like Spanish-style houses. Maybe they're considered cheesy in this day and age, but they're so old Hollywood to me. In the third picture, the gates open to the front door, and I could see this in a Ryan Murphy movie, where two guys open the gates while your heroine walks through the door. In these Spanish-style houses, though, there is always one thing that's too much. I like that gorgeous staircase, but the tiles are so busy. If the tiles were a solid color, that would be gorgeous, but they're not never going to be. The house, which is near Runyon Canyon, has a beautiful backyard with a bar, and I can imagine having huge parties here. And I love zinnia flowers. I grew up in L.A., and my grandparents had those flowers in their yard. I think they're trash flowers — they grow where you don't want them to grow — but they make me feel at home.
I love houses that are old and still retain some of their old character while also being modernized on the inside — that's my sweet spot. A house that looks like 1920s L.A. but with modern conveniences. I would take that front door off immediately. And I'd get rid of the wallpaper.
I've seen every house available in L.A. Literally. So, occasionally, I will look at homes in other cities I love — like San Juan. It's one of my favorite cities in the world, and it's the city I've visited the most. This apartment is in a very cool area; you can walk out your door, and if a bar is having a party nearby, there'll be a ton of people in the street. I love the little courtyard thing; I imagine having my morning coffee there. And that funny little gazebo — I can imagine going in there to sigh if I'm having a bad day.