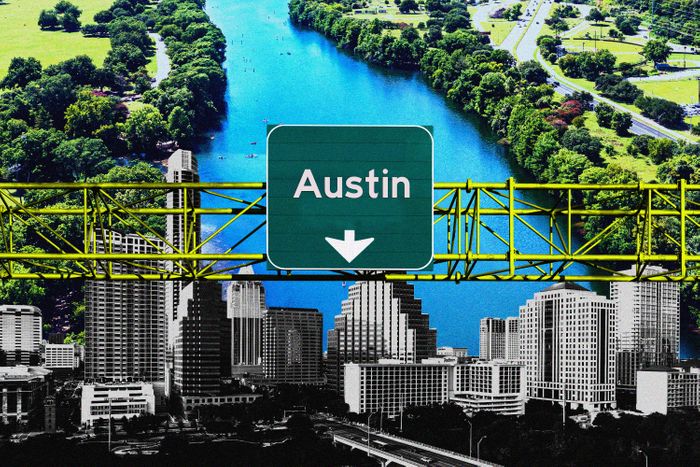 Photo-Illustration: Curbed; Photos: Getty Images
In this biweekly series, "Realtor Diaries," we hear from the people at the center of a wilder-than-ever market. Today, an hour-by-hour glimpse into the working world of Joanne Gamel, 40, a power broker in Austin.
7:30 a.m. I start my day with meditation. I sit outside on my deck, take out my yoga mat, and set an intention. What goes through my head? Let's just try to be grateful today; let's be grateful we live in lovely Austin and not crazy New York City anymore; let's eat healthy today … Of course, my mind slips into work while I'm meditating. It's like, Let's be mindful of the beautiful weather … oh, and get that contract out …
8 a.m. I take my dogs on a long walk. It's been five years in Texas, and one of my dogs is still such a New Yorker. He's like, WTF is this grass?
I'm a third-generation real-estate developer. My family and I do condo conversions all around the country. A few years ago, we did one here. And after a few months, my husband and I were like, "Yeah, we are never leaving." As far as real estate, there is literally everything here — ultra-luxurious mansions, McMansions, tons of waterfront opportunity, ranches, country-club living, luxe high-rise condos, new construction galore, investment opportunities. High-end, low-end, aspirational, dirt cheap.
Believe me, I was a skeptic. Coming from NYC, I was thinking tumbleweeds and cowboys. But then, I was like, Holy shit, this is popping. Austinians like to keep it local and keep it weird; you'll find very open-minded people here, a real "one love" vibe, all are welcome. That resonates with me and I love it. I get why everyone is flocking here, I really do.
9 a.m. Workday starts around now, but it has no end time; I'm always on. Always! I don't mind it one bit, though. I'm a social animal and a people person. Real estate is definitely in my DNA, and I'm proud to say that I'm thriving here.
10 a.m. A colleague sends me some stats from the Census Bureau saying that Austin's population is increasing by 146 people every day. Wowza! Most of that is "new money" coming into town, and by that I mean all the wealthy techies, both young and old. This is the new tech hub of America. During peak COVID, these guys were making bonkers offers; they didn't care. They were buying homes sight unseen, waiving appraisals; to them, it was all a joke coming from where they were. Tesla. Dell. Facebook. Apple. Google. These guys want luxury. They want space. We're talking homes on acres and acres of land. Interior and exterior square footage. Waterfront. I had one of these clients ask me to take him around via his private helicopter. That was interesting to make happen, but we did it.
11 a.m. I'm meeting with luxury waterfront buyers, who're looking for a full-time home, and I'm doing something new, even for me. I've chartered a boat with a captain and am showing them properties on Lake Austin this way.
Lake Austin is just five to ten minutes west of the heart of downtown. It separates greater Lake Travis from downtown. The shore is lined with beautiful waterfront homes, many of which have private boat docks. Your pool house here would be about 2,000 square feet, so you can imagine the size of the homes. I'm talking about megamansions. Homes featured in Architectural Digest. Owners of Lake Austin homes are often celebrities, hedge-fund managers, tech gods, etc.
11:30 a.m. Thankfully, our captain knows the waterways quite well, but it's a little more difficult than I imagined getting from one home to the next. A lot of hassle, but the clients are having fun.
2 p.m. I'm not sure my clients found what they're looking for — they want the best of the best and can spend several million dollars easily — but we definitely strengthened our relationship, which is everything in this business. I'm in a rush to make my 3 p.m. appointment now, though.
3 p.m. I'm meeting with clients who are moving here from San Francisco. They're a middle-age couple with two small children, so they are looking for a four-bedroom house with a pool in a top-ranked school district with a budget of about $2 million. They want to be within 15 to 20 minutes of downtown, where the husband works at the Google offices.
Also, the wife is super-artsy, and so she is looking for a large garage or a casita that she can use as a craft/workspace of her own. A lot of large Texas homes have what's called a "casita," which literally translates to "a small house." Think of it like a guest studio or pool house.
We start in the Clarksville area — a historic district located in the heart of downtown, known for its super-cute bungalow homes. Generally the homes are smaller here, although lately people have been tearing down bungalows and building narrow but tall modern homes. It's one of the trendiest neighborhoods in all of Austin, along with the Zilker/Barton Hills area, where you have a mix of charming historic homes and ultra-modern minimalistic renovations and rebuilds. Then there's Bee Cave, where you have these stunning hill-country settings, spacious lots, and new-construction suburban developments. Bee Cave is where you'll find the notch schools, country clubs, and most of the mansions.
5 p.m. After looking at nine homes between yesterday and today, we submit two offers. Now I'm waiting to hear back from the sellers as to whether or not either or both will be accepted. Hopefully, one of these offers will pan out. If not, we go back to the drawing board.
I will say, the market has definitely softened a bit. The "slowdown" is not as dramatic as some people might think, but it's true: Homes are no longer flying off the shelf the same day they are listed. I think people are just more cautious given the state of our economy, which is why things are slightly more chill than they've been.
6 p.m. I have one last appointment, touring a massive lot of land. It's on the market for $2.25 million, which in the Barton Creek area is considered affordable. People love the idea of building their dream home on raw land. I'm petrified of snakes, so I change into some knee-high Lucchese boots, which I keep in my car for these showings.
6:30 p.m. A rancher puts us in an ATV to tour the property. This makes for a really bumpy but good time.
8 p.m. I'm happy to be home unwinding with my husband at our new house. We've lived in houses on two different country clubs here in Austin and finally settled on the Onion Creek. Both he and I and our dog babies have never been happier. Our backyard is quite literally the golf course. I have to say, lately, my new favorite client is the country-club client.
There are over 20 country clubs in the Greater Austin area. Obviously, that includes a wide range of price points. If you're a middle-age working professional with a family, you can join a country club for as little as $5,000 a year and then pay monthly dues of about $400 — those clubs tend to be farther away from downtown, though. On the other hand, we also have some clubs with initiation fees of $250,000 a year. The homes set on golf courses can range anywhere in price from $500,000 up to about $10 million. But what's really interesting is that the country-club lifestyle — at least in Austin, lately — has become very trendy with young, cool, successful, educated 20- and 30-somethings with six-figure jobs. I think it's something about the pandemic — people just want to be able to go have dinner at the club and socialize a few times a week. In any case, whenever I'm showing someone a house in a country club, I take them around by golf cart. It's just fun.
11 p.m. I make calls and finish up until work late at night, especially with clients on the West Coast, but honestly, you'll never hear me complain. I'm just so happy we live here now.