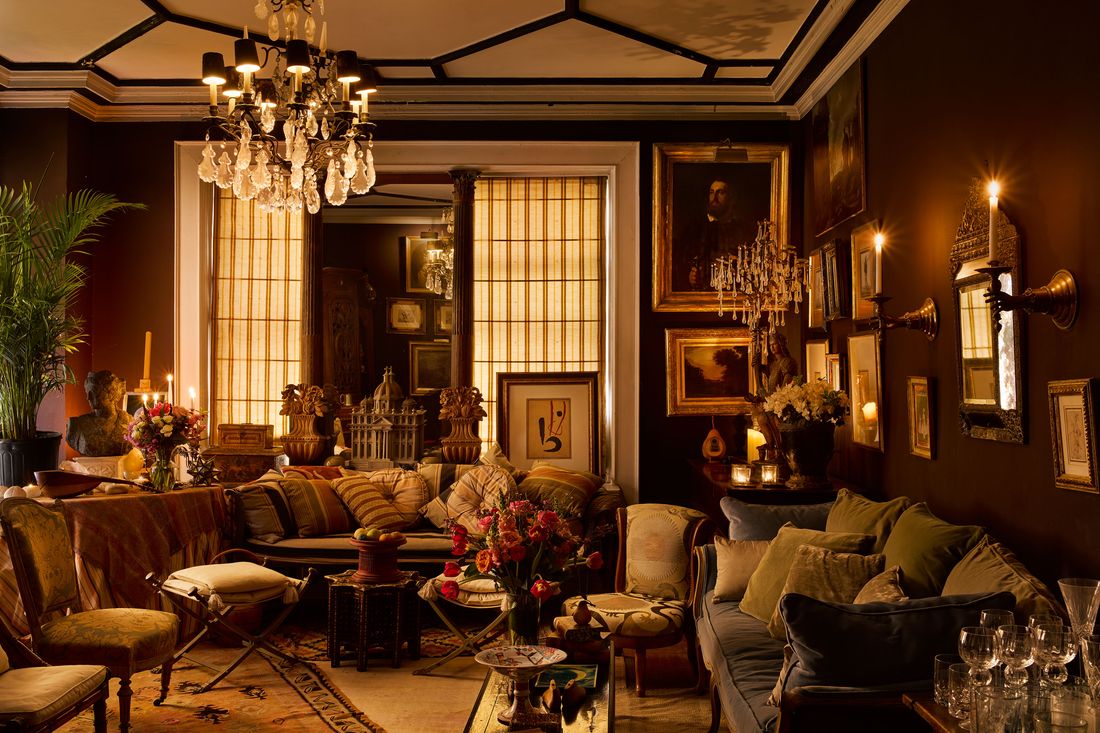 I don't cook at all," says Ariane Ruskin Batterberry, which might seem like a surprising thing for one of the founders of Food & Wine magazine to say, as we dig into lunch at one of her favorite local restaurants near the Upper East Side apartment she's lived in for more than 50 years. "I have no talent. Cooking really is a passion and a talent, and I didn't have the talent; I fortunately didn't have the passion." She and her late husband, Michael Batterberry, teamed up with three others to found the magazine in 1978. "He would read cookbooks the way you would read a novel," she remembers, "then he'd make up something on his own."
The Batterberrys met at a charity dance on the roof of the St. Regis hotel in the early 1960s and married in 1968. They then promptly went to France for their honeymoon and decided to stay for more than a year. It was on a drive from Paris to Brittany that they bought much of the furniture for the apartment they didn't even have yet. She lives with all of those pieces to this day.
"There were a few magnificent antiques stores, but not that many," she says, "and as they hadn't seen a customer in months" — fallout from the nationwide strikes of 1968 — "we were very lucky to have the choice of wonderful pieces."
(1) The Ceiling: "It had wonderful old moldings painted all white," Ariane Ruskin Batterberry says. "It was Michael's idea to 'pick out' the molding to give it a structure" and paint it — inspired by what he'd seen in Portugal.
(2) The Bust: "We keep her facing away so you can't see she's lost part of her chin."
(3) The Portrait: "It's from the 19th century, and my great uncle gave it to my parents as a wedding gift because it looks exactly like my father."
(4) The Sconces: "Those are Dutch. I bought them when I was young, before I was married. I was influenced by Jean Cocteau's film Beauty and the Beast."
(5) The Sofa: The striped sofa under the window is a Civil War campaign bed. "Michael bought it when he was very young."
(6) The Spinet: "It's from the time of Jane Austen."
(7) The Rugs: The large under-rug is from New Mexico. "We bought it in Santé Fe; it was a hideous shade of purple, but we had seen others and realized that if it was left out in the sun there for six months, it would be just the right color."
After that, the Batterberrys kept traveling and collecting; everything in the apartment has a story. The bust? "There was a famous sale at the Villa Demidoff, which is outside Florence, and that bust was on top of a chest—an escritoire that had belonged to Catherine the Great. Michael realized that it had never been finished because somebody had taken away too much of the stone. So her jaw would have been missing. We bought the bust for $125, and the chest it was on went for $80,000!" (They didn't buy the chest.) "We call her Betty Demidoff, and we keep her facing away so you can't see she's lost part of her chin."
The living room doesn't get much light, so she decided it should be painted a dark color. "Oh, I wish to brag," she says. "I was one of the first to use the color I used in New York in those days; that color dates from 1969." It was inspired by the interior decorator Rose Cumming's shop. "I was completely convinced that her walls were the color I chose. I went back and I realized her walls were dark blue, but I decided I loved our color — purplish brown — even more. It was an imitation that went wrong."
As for the kitchen, "when we first looked at the apartment," she says, "the former tenants had painted it bright blue. Which is lovely but just not a food color, and beige we always felt happy with, because it is a food color." The kitchen walls are the hue of a freshly baked baguette.
It took them seven years to raise the money to start Food & Wine (there were three other co-founders; Playboy was a backer). Their magazine sought to be less stuffy than then-dominant Gourmet. The partners sold it in 1980; it continues to publish to this day. In 1988, the Batterberrys started the trade magazine Food Arts, which became a part of M. Shanken Communications. Michael was its editor-in-chief until his death in 2010 — the same year the Batterberrys received the James Beard Foundation Lifetime Achievement Award.