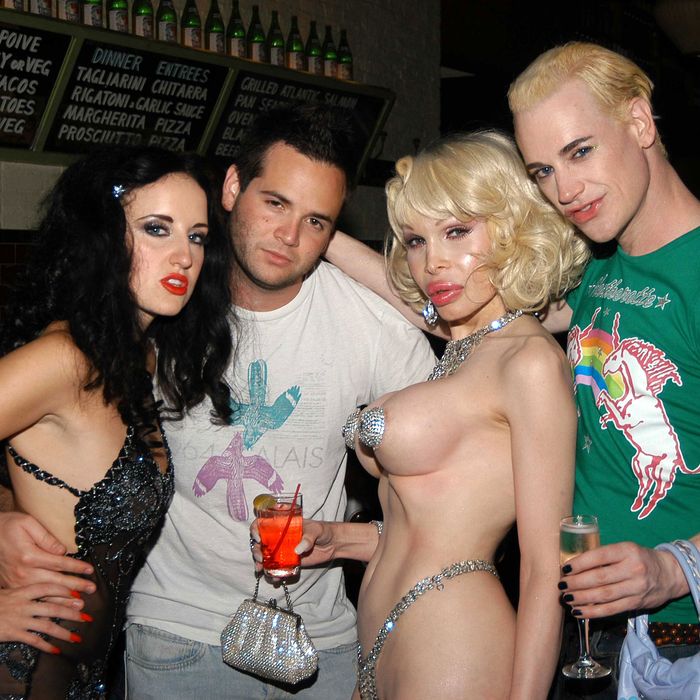 Aimee Phillips, Jaret Keller, Amanda Lepore and Richie Rich at a party at Bowery Bar on August 9, 2005.
Photo: Joshua Forsyth/Patrick McMullan via Getty Images
In the spring of 2004, just as I turned 40, my boyfriend and I lucked into a loft on Great Jones Street that had all the charm of a high-school gymnasium. Still, it was an untouched-since-the-'70s factory floor with nine windows and a view, mesmerizing at night, straight up the Bowery. But if you walked up to one of those windows — as people often did at the parties we seemed to be constantly having — you looked directly down into the shenanigans going on at the Bowery Bar (later renamed, for some reason, BBar). The day we first went to see the apartment, Andy skipped across the room and over to a window: "Look! That's where we met!" Indeed, you could see the very spot — a table in the courtyard of the former Gulf station turned hottest of hot spots in the early '90s by Eric Goode. The place had cooled a bit by then: Gay Pride, 1997. We were both invited to a great big gorgeous dinner party after the parade because we were both part of a Venn diagram of lesbians, a group we took to calling "the million-dollar dirty girls" because you would never have known from the permanent bedheads and grubby T-shirts that most of them were on their way to such upstanding, upwardly mobile citizenship.
But living above the Bowery Bar through much of my 40s, I also felt like I'd discovered a rend in the time-space continuum. Like if I squinted hard enough, I'd be able to see my not-all-that-long-ago self down in that courtyard, overdoing it as usual. Not much more than a year into its run, after it had lost any purchase it once had on the A-list, BBar became the place to go when you were gripped with a case of what my sister Johanna calls "the fuck-its." Like when you decide to order that large pizza for one in the middle of your low-carb diet — or, fuck it, score some blow even though it's Tuesday. One such night, I went to Bowery Bar flushed with possibility, only to run into my ex-boyfriend and the guy I had just slept with, both of whom ignored me — the spiral lasted two days. One perfectly grown-up Sunday afternoon, I met my friend P for brunch in Soho, after which we moved to the Bowery Bar to continue our day-drinking, and — I don't recall when we slipped on the banana peel — hours later, there we still were, high on ecstasy, making out in a booth. She lost her American Express card that night, and the next morning I went back and crawled around on the floor. Found it!
Erich Conrad's inexplicably enduring, generation-spanning party, Beige, unfurled its hoochie-coochie every Tuesday from 1994 until 2011 — some kind of a record. It was a party where you half-expected Liza to show up in a wheelchair, not quite fully recovered from meningitis. And maybe she did. It had that kind of macabre decadence. Jocelyn Wildenstein went every week for five years. Charo. Kirstie Alley. Arnold Scaasi. Weird shit! The presence of so many NYU gays with their popped collars and rolled jeans, many of whom seemed oblivious to the legendary geezers, made the whole scene feel that much more twisted. Velvet mafiosi like Calvin Klein and Sandy Gallin could sometimes be spotted touring the Twink Factory, knowing from experience that not a few of those crafty young hustlers would be sugar-daddy shopping.
Boozy, drug-fueled parties on Tuesday nights are, by their very definition, both a beginning and an end. Beige seemed to be for both the people who were still on their bender from Saturday night and those who were getting their weekend started juuust a little early. A couple of months ago, I stumbled on my copy of Disco Bloodbath, James St. James's equal parts hilarious and stomach-turning account of Michael Alig's spiral into drug-fueled insanity that led to the murder and dismemberment of his drug dealer. So much of those last few months of Alig's crystal-meth-and-heroin-besotted freedom — that weird summer of 1996, when everyone knew he did it but no one cared enough to do anything about it — were spent at the Bowery Bar because Goode thought the club kids "added ambience."
Reading St. James's book again 20 years later, I was struck by how quintessentially '90s the Bowery Bar really was. It existed in a zone unimaginable in Manhattan today: a lumberyard around the corner on Great Jones, a landscaping business with towering trees for sale just up the block on 4th Street, gas stations on every corner. The Bowery Bar opened before the ubiquity of cell phones and lasted well into the zenith of social media. On a more personal level, it was the bridge between an egg sandwich and a Bloody Mary to face-planting well after midnight. For Alig, it provided a relatively smooth transition from fugitive to the state penitentiary! But it was also not really a restaurant and not really a nightclub — it was the bridge from Big Clubs to the fun-killing bottle-service era. Maybe BBar stuck around because, with its blue-and-white-striped indoor-outdoor feelings and its fame-frame clusters, it seemed to belong to California, where a lively scene can be created with heat lamps and avocado toast. Also like so many legendary joints in L.A., it was walled off from the street, providing uptown folks the easy frisson of safe-space slumming.
We lived in the loft above the Bowery Bar for seven years. At some point in my mid-40s, I came to the horrifying realization that I no longer enjoyed scenes like Beige. But we did enjoy the murmuring sound of all those Tuesday-night kweens wafting up and into our bedroom as we drifted off to sleep. What we didn't enjoy so much was Supermodel Karaoke. I seem to recall it was on Mondays. It was the sort of thing that felt like the death knell for so very many other things in Manhattan, if you know what I mean.
*This article appears in the December 7, 2020, issue of New York Magazine. Subscribe Now!
More Reasons We've Loved New York
See All