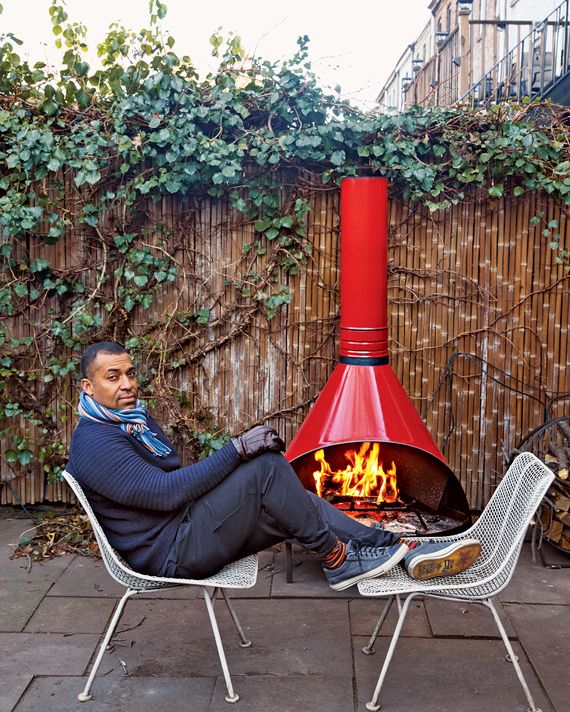 The Garden:
Rodney Lawrence in his backyard being warmed by his vintage Preway Malm freestanding metal fireplace; the metal mesh chairs by Russell Woodard are vintage, too. "The garden is totally perennial. I do nothing; it does its own thing every year and just gets better and better."
Photo: Annie Schlechter
Every piece of millwork and fireplace, every detail, was left intact," recalls Rodney Lawrence of the Bedford-Stuyvesant brownstone that he and his husband, Terry Sonterre, bought in 2005 and have been slowly renovating ever since. The couple had been living in a cramped rental in the West Village and looking for a house, and they were ready to give up on finding anything that hadn't been denuded of character by a bad renovation when they walked into this place. The sellers had 25 offers, but they prevailed: "We were the first people here, and we were the last people here," Lawrence says.
The move, and the incremental restoration of the place, coincided with Lawrence's own reinvention as an interior designer. His family had decamped to Montclair, New Jersey, from Trinidad in 1980, and "I never thought of design as a profession growing up, because every first-generation-immigrant child — every parent wants you to be a doctor, lawyer, CPA, something like that," he says, laughing. Lawrence studied art and biology at Dartmouth, worked summers at Christie's, then took graduate courses at the Cooper Hewitt. Eventually, though, he ruled out a career in the auction-gallery world and instead began working for designers: first Paul Siskin, then Thom Filicia. In 2006, he started his own design business with a single client. Soon enough, referrals put it on solid footing.
The house has plenty of room for the couple's three cats and Lawrence's taxidermy and shell collections, not to mention his "constantly growing" menagerie of mid-century toy monkeys. It all reminds him a bit of his childhood in Trinidad, where his grandfather had a garden filled with creatures great and small, including parrots, mongooses, ducks, chickens, dogs, cats, and monkeys, and a pond full of guppies from the river nearby. "I never really thought about how fortunate we were to have that," Lawrence says. "I think a lot of it was for the entertainment of me and my sister."
The revamped kitchen, which they chose to leave in its original location rather than move up to the parlor floor, is the latest in a series of considered updates. "One of the things we bought when we moved in was a full refrigerator, and we had to take the bars off the window to get it into the kitchen. I was like, We're never doing that again," he says. Hence the appliances are under-counter, including the fridge and freezer drawers, and there is a large island and an alcove banquette seating area.
But just to be clear, "I absolutely hate cooking," Lawrence says. And so Sonterre "gets to organize it anyway he wants."