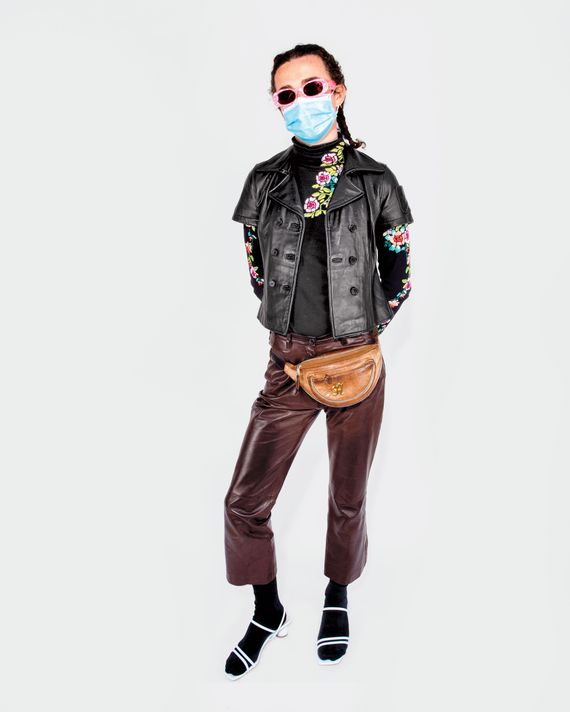 Hilton Dresden.
Photo: Rochelle Brock
Hilton Dresden (pictured above), Writer, Greenpoint.
Did you buy anything?
Sadly, I did not. I'm a writer, but I'm unemployed, so money has been a little tight. I saw some great leather pants, Helmut Lang, but then I realized I was already wearing leather pants.
Where are those from?
Prada, from a thrift store. The fanny pack is from a thrift store in Houston.
It was $5. The sweater is Isaac Mizrahi, from another thrift store. It came with a pair of matching leggings. The leather shirt is Banana Republic, from a thrift store in Bushwick, and the sunglasses are Gucci, new, a gift from my partner, Tom. Wow, I sound so bougie saying all of that out loud. But these are literally all of the fancy things I own.
I like the gingham.
It's one of my favorite things that I own. I used to wear it so rarely (it was my 21st-birthday outfit),but now I feel like leaving the house is a great excuse to get as dressed up as possible. Every time I go for a walk, I try to dress up, even if the only person who sees me is the man at the bodega.
What's your quarantine style?
I don't even know. I've just been sitting in my house in a bikini. It's like my uniform. Everything I do is in a bikini.
What brought you here?
My friend told me about it. There are a lot of cool people in New York, and it's interesting to see what they're getting rid of. I only stayed for about half an hour, to be honest. It's sort of intimidating seeing all the cool people. It's a little like, I don't want to bother you.
Find anything good?
Yes! These amazing white leather bell-bottom pants, a snakeskin bucket hat, a cool denim romper, and, randomly, this amazing Yves Saint Laurent notebook. It's a weird thing to have, I guess, but I do a lot of writing.
*A version of this article appears in the October 12, 2020, issue of New York Magazine. Subscribe Now!