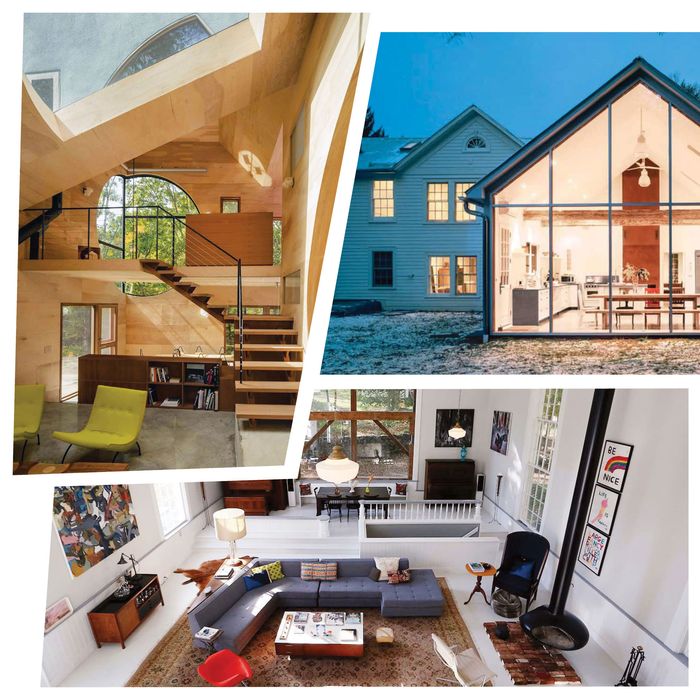 Photo: Clockwise from top left: Courtesy of Host, Mark Mahaney, Niv Rozenberg, Michelle Rose/michellerosestudio/Instagram
At the beginning of the pandemic, no one was going anywhere. But as the months went by, and (most) companies stressed that work-from-home policies wouldn't be ending anytime soon, people realized they were incredibly sick of their houses. Airbnb had houses. The company, which in April had been on the brink of collapse, positioned itself as the ideal alternative to hotels packed with other guests. It touted long-term rentals for people looking to work within four new walls and launched new cleanliness guidelines. It's now on track to do more business this year than it did last.
There are a lot of perfectly acceptable Airbnbs within driving distance of New York City. There are hundreds of properties along the North Fork, in Amish country in Pennsylvania, and thousands upstate, where it has become a competitive sport to find anything with even a random Tuesday available. But there is nothing less appealing than picking a seemingly lovely A-frame on a whim, then pulling up to notice that the bedding is scratchy or the sink is splattered with mold. So we asked people whose taste we trust — among them architects, chefs, and designers — to tell us about places they have actually stayed in, within three hours of New York City, and would wholeheartedly recommend to a friend. Here, a thrice-recommended octagonal tree house, a post-and-beam with a pink bathroom, and more. We should note: Availability is difficult to account for, given how quickly things are booked.
Catskills | Hudson Valley | New York City | Long Island | New Jersey | Pennsylvania | Connecticut | Massachusetts | Rhode Island
Note: Houses that have been recommended more than once are starred (★).
Catskills
Photo: Airbnb
High Falls, New York
★ In the '40s, the space was a walk-in cooler for milk storage. Both of the sleeping "lofts" require climbing up wooden ladders. Video director Becca Farsace says, "The vaulted ceilings are crazy."
Arkville, New York
"Behind this rustic home is a beautiful roaring stream," says Caroline Weaver, the owner of CW Pencils.
Photo: Airbnb
Woodridge, New York
This teal-and-pink '50s trailer is set on the grounds of the Outlier Inn, a retreat center–slash–fiber-and-vegetable farm.
Photo: Airbnb
Mountain Dale, New York
There are six units available to rent in this colony. Gena Kaufman, the social-media director at J.Crew, stayed in one, and her friends rented another.
Photo: Airbnb
Bovina, New York
This cabin, recommended by event planner Lilli Sherman, has a claw-foot tub and snowshoes.
Photo: Paola + Murray
South Kortright, New York
★ Chef Inez Valk-Kempthorne operates this house, which is located eight minutes from her restaurant, Table on Ten — and has herb and flower gardens in the backyard.
Photo: Airbnb
Accord, New York
Sandeep Salter, the owner of the Brooklyn shop Salter House, says this place is "crunchy, rough around the edges in all the ways you'd want from a yurt."
Photo: Airbnb
Hankins, New York
Located on the William Brown Farm, owned by travel editors Matthew Hranek and Yolanda Edwards, this cabin is, says creative director Daniel Abraham, "perfectly curated by the ultimate curators." It also has a custom Japanese-cedar soaking tub.
Photo: Airbnb
Kerhonkson, New York
The area's famous Rail Trail starts four feet from the house, which was the draw for interior designer Anna Filippova. But, she says, "the interior was very well styled."
Photo: Airbnb
Loch Sheldrake, New York
"The bathroom is covered in retro pink tile, which I suspect is original," says architect Terri Lee.
Photo: Dan Faires
Kenoza Lake, New York
"This is in an area that's less populated by city folk than Woodstock and Hudson — my beloved Kenoza Lake," says designer Susan Alexandra. "The home is sleek and minimal but also well equipped."
Photo: Courtesy of Host
Livingston Manor, New York
Mollie Chen loves "the view of the Catskills off the porch."
Photo: Courtesy of Host
Callicoon, New York
★ "There's this single chair on a sheepskin rug that's perfectly lit for an amateur Instagram photo shoot," says Gena Kaufman.
Photo: Airbnb
Olivebridge, New York
★ This rental, which was built on the grounds of what used to be an all-girls' summer camp, was recommended three times for its Instagram-friendly aesthetic. One New York Magazine editor even spotted it on Audrey Gelman's Instagram years ago.
Photo: Airbnb
Narrowsburg, New York
★ Photographer Mark Wickens was charmed by the "friendly old porcupine that lives on the property."
Photo: Airbnb
Kerhonkson, New York
Esther Werdiger likes this cottage's spare aesthetic and amenities — it comes with, among other things, a Joule sous-vide, a Nespresso, and a projection screen with Apple TV.
Photo: Courtesy of Host
Delhi, New York
On its shelves are, among other things, a Vitamix, a Vulcan stove, and a KitchenAid mixer.
Photo: Courtesy of Airbnb
Willow, New York
★ A thrice-recommended tree house with a full kitchen, a lofted bedroom nook overlooking a hot tub, and a swimmable pond.
Photo: Airbnb
Mount Tremper, New York
"I love this barn for its clean lines and architecturally interesting spaces," says Aki Carpenter, the exhibition designer for the museum at the Obama Presidential Center.
Photo: balsammountainhouse/Instagram
Shandaken, New York
★ This 1970s-inspired mountain house was recommended twice: by Krissy Jones, a co-founder of Sky Ting, and by Caitlin Ellen, a co-founder of the furniture company Sabai.
Photo: Michelle Rose/michellerosestudio/Instagram
Wurtsboro, New York
"This church was gutted and made into a house but maintains its balcony and steeple," says Ryan Barnette, a designer at Trahan Architects.
Photo: Courtesy of Host
Jewett, New York
★ It's a ten-minute drive from Hunter Mountain and has an outdoor fireplace, a fire pit, a dining area, a hot tub, a recently renovated interior with wide wood-plank floors, and a claw-foot tub next to a window overlooking the forest.
Photo: Courtesy of Host
Stone Ridge, New York
"It's furnished entirely in 18th- and 19th-century décor," says designer Amalia Graziani.
Photo: Courtesy of Host
Kerhonkson, New York
Pelosi spent a couple weeks in this modern, almost Judd-esque "barn" this summer and only posted the link to the listing on Instagram after he left. The house has a cedar deck, an in-ground pool, and, inside, heated white-oak flooring and custom lighting from Allied Maker and Workstead.
Photo: Marlene Rounds
Eldred, New York
Visible through the living room's all-glass wall, the creek is swimmable and comes with a paddle boat.
Hudson Valley
Photo: Courtesy of the Host
Mount Kisco, New York
"This is really not upstate New York — but it's really cute," says creative strategist Natalie Merin of this cottage, which has a gabled roof and a well-forested backyard. "Also clutch for people who don't have a car, since it's an easy stop on the Metro-North."
Photo: Courtesy of Host
Hyde Park, New York
Publicist Nick Roberts says he would book this house just for the host, "Jim, who is an awesome guy." But he also loves the wraparound deck.
Woodstock, New York
Which writer Emma Orlow describes as "witchy."
Photo: Airbnb
Hudson, New York
The first floor of a one-bedroom home with high (beamed) ceilings and Matteo bedding.
Photo: Airbnb
Hudson, New York
Writer Amina Sutton wanted a place "far enough from the city without being completely cut off." This was perfect.
Photo: Courtesy of Host
Stuyvesant, New York
This high-ceilinged home was recommended by baker and designer Paris Starn for its location ("on a pretty country road, looking out on rolling fields") and dog-friendliness ("rare").
Photo: Heidi's Bridge
Hudson, New York
"My wife and I have been renovating this old farmhouse for years," says Nialls Fallon. "It's a three-bedroom home built in 1890. It has a kitchen loaded with all the tools a restaurant person would be into and a large spacious yard surrounded by trees and barns."
Photo: Airbnb
Olivebridge, New York
"This house is particularly clean feeling," says Birchbox co-founder Mollie Chen of this three- bedroom, which was built less than two years ago. "I stayed here with my best friend, her family, and my sister, and it was spacious enough for all of us — with the added benefit of plenty of crawling space for kids."
Photo: Airbnb
New Paltz, New York
This dome is, according to Strategist writer Hilary Reid, "extremely popular with architects."
Photo: Airbnb
Red Hook, New York
Close to Hudson, Germantown, and Tivoli, this three-bedroom has an outdoor dinner table that could easily accommodate seven (socially distanced) friends.
Photo: Airbnb
Saugerties, New York
The slightly preppy "Colonial Classic" comes with a menu of concierge services, including — but not limited to — laundry, daily cleaning, grocery shopping, babysitting, and transportation.
Photo: Courtesy of Host
Red Hook, New York
★ "Two words," says Verena von Pfetten, a co-founder of Gossamer, of this Rhinebeck spot. "Hot pool. (Which is not to be confused with a hot tub, because it is very much a pool, albeit a small one, that is hot.)"
Photo: Courtesy of Host
Rhinebeck, New York
★ A very strangely shaped house in Rhinebeck, which Jean Lin, the founder and curator of gallery Colony, describes as "unique, whimsical, novel, and cozy."
Photo: thebarnintivoli/Instagram
Tivoli, New York
★ The wood-burning stove in this barn in Tivoli is, according to event planner Lilli Sherman, "a real treat."
Photo: Courtesy of Host
Woodstock, New York
★ Tucked in the back of the artist's estate, hidden by 100-year-old conical cedars, this house is accessed via "a Parsian-feeling driveway, long and lined with trees," according to photographer Camille Shaw. "Plus," she says, "the host had fresh flowers and classical music playing when I arrived."
Photo: Airbnb
Hudson, New York
A 40-foot pool, to be exact, directly outside a particularly well-appointed 1,100-square-foot cottage.
Photo: the.ancram.a/Instagram
Ancram, New York
Each of the three bedrooms in this '60s A-frame, which sits on a lake, has a fireplace, says Erin Allweiss, the co-founder of No. 29 Communications.
Photo: Airbnb
Cold Springs, New York
"I was nervous about the chickens," comedian Mary Beth Barone says, "because I was once bitten by a chicken at another Airbnb. But happily there were no incidents. It was homey, with lots of cute kids' toys."
Photo: Airbnb
Kingston, New York
It sits on 18 private acres, is equidistant from Woodstock, Rhinebeck, and Phoenicia, and comes, most important, with a pair of binoculars.
New York City
Photo: Airbnb
In Queens
A one-minute walk from the A train at Beach 90th, this restored cottage is a favorite of Away editor Annie Werner in the cold months. "It's a great place for a creative retreat," she says, "complete with chilly walks on the beach and Uzbek comfort food from Uma's.
Photo: Airbnb
In Queens
Winterized, with a giant deck right off the boardwalk at Beach 94th.
Photo: Courtesy of Host
In Queens
The back porch of this house sits right on the water — so close, the host writes, that the swans, seagulls, ducks, and "other fancy birds" will approach you. Journalist Tanyka Renee says she likes that it's "a five-minute walk from the subway."
Photo: Chris Daniele/Dirt and Glass
In Queens
★ Recommended by Bon Appétit design director (and frequent Rockaways surfer) Chris Cristiano, this houseboat, called the James Franco, comes with two longboards and has a lit-up deck. "High-maintenance folks, stay away," the host urges.
Long Island
Photo: Airbnb
Fire Island, New York
The studio on the ground floor of the architect's Pines property is what you'll be renting.
Photo: Studio MTK
Montauk, New York
A three-bedroom cottage styled, says editor Alex Postman, "in textiles and flea-market art by the designer couple who run studio MTK." She also appreciated the "huge table" that doubled as a "breakfast nook and Settlers of Catan staging area."
Photo: Courtesy of Host
Springs, New York
This wooden two-bedroom is located in Springs — a non–East Hampton East Hampton option — and has lots of leather chairs and couches.
Photo: Daniel and Kate
Riverhead, New York
Located on a private stretch of beach at the end of a seven-acre property. Muhammad Saigol, a co-founder of July AC, says, "You can see the water from every window."
Photo: Courtesy of Host
Fire Island, New York
Dan Pelosi also recommends this "legendary" 1960s pyramid house in the Pines. It has an 800-square-foot master suite and, across the pool deck, three smaller pyramids, which contain two more bedrooms.
Photo: Courtesy of Host
Amagansett, New York
It has Peloton bikes, a steam shower, and a yoga room, says designer Amalia Graziani.
New Jersey
Maurice River, New Jersey
Right down the blond-wood steps from this property is a sandy lake beach and a hot tub. Creative director Daniel Abraham says it's perfect for "those looking to spend time with friends in the woods without roughing it in the least."
Photo: Airbnb
Cape May, New Jersey
This B&B turned Airbnb has seven bedrooms, nine beds, two parking spots, and two outdoor showers.
Pennsylvania
Lancaster, Pennsylvania
Right in the center of Lancaster County (only miles from an Amish-run farmers' market where you can buy Pennsylvania Dutch sausage, headcheese, and "scrapple").
Photo: Airbnb
Bushkill, Pennsylvania
This designer-renovated house — located in a cabin community with a ski slope — is decorated entirely with buyable Shaker furniture.
Photo: Airbnb
Newtown, Pennsylvania
Illustrator Junghwa Park went to this farmhouse in July and loved it for its privacy — it has, she says, "a seriously huge yard."
Photo: Niv Rozenberg
Beach Lake, Pennsylvania
Lance Saunders, the director of design at Stokes Architecture, describes this tree house in Beach Lake, Pennsylvania — close to the New York border — as "Lautner inspired." It "lifts you up into the canopy," he says.
Photo: Airbnb
Pocono Pines, Pennsylvania
★ It has a high chair and boxes of games and books, says painter Margot Werner.
Photo: Heidi's Bridge
Philadelphia, Pennsylvania
★ Previously the First African Baptist Church, this has eight bedrooms. "It also has a generous common area and chef's kitchen," says Maldonado.
Connecticut
Photo: Airbnb
Cornwall, Connecticut
It sits over a brook and has two comfy Percival Lafer lounge chairs.
Photo: Courtesy of Host
Salisbury, Connecticut
"I can really get behind the mix of antiques and crisp textiles in this house," says Anna Logan, a market editor for One Kings Lane.
Chester, Connecticut
Floor-to-ceiling windows look out onto a waterfall in this two-bedroom, three-bath house, which was created mainly out of recycled building materials and is located right in the center of town.
Photo: Courtesy of Host
Stamford, Connecticut
The sculptor Gutzon Borglum's studio, available for rent on Airbnb, came to the attention of editor (and Stamford local) Randy Miller only recently. "The property has a sleek lap pool in a hidden garden and a Zen house with a modern, open design."
Massachusetts
Photo: Airbnb
Southbridge, Massachusetts
In the forest behind the house is a pair of bathtubs, which can be prepared with herbal posies for an extra charge.
Lee, Massachusetts
A former studio previously owned by Henry Hudson Kitson, an English sculptor, it sits beside a lily pond and a bevy of babbling brooks.
Photo: Chris Daniele/Dirt and Glass
Otis, Massachusetts
★ Another thrice-recommended tree house: This one, which has glass walls, is a 20-minute drive from Great Barrington.
Rhode Island
Photo: Airbnb
Portsmouth, Rhode Island
Chef Farideh Sadeghin recently stayed at this tastefully remodeled 1972 camper, which comes with a normal-size toilet (and tiny toiletries), a small shower, and access to miles of trails.
Additional reporting by: Karen Iorio Adelson, Chloe Anello, Diana Budds, Louis Cheslaw, Liza Corsillo, Tembe Denton-Hurst, Kayla Levy, Casey Lewis, Jenna Milliner-Waddell, Dominique Pariso, Hilary Reid, Nikita Richardson, Lauren Ro, Anthony Rotunno, Rio Viera-Newton, and Jenny Xie
*This article appears in the October 26, 2020, issue of New York Magazine. Subscribe Now!