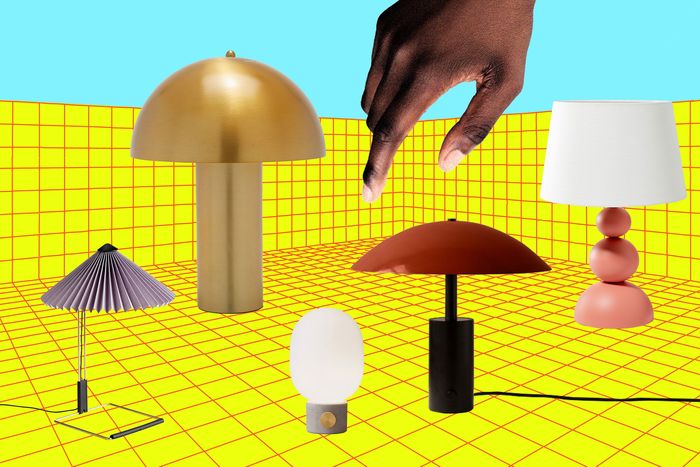 Photo-Illustration: Curbed; Photos: Retailers
In the new series "Curbed Catalogue," we will highlight especially excellent, well-designed products across a variety of price points — from a rose-colored lamp unearthed at Target to raw-silk pillows made by a pair of architects.
In my job as a principal at Atelier Cho Thompson, a bicoastal design firm working across architecture, interiors, and graphics, I've worked on projects from homes to restaurants to studios to hotels. And while big-ticket items — like dining-room tables or cash wraps — tend to be front of mind, lighting plays just as important a role in a space. Especially a table lamp, which does double duty as a figural object in conversation with other elements of a room and, of course, as a source of light and warmth.
When I purchase lighting for myself, I try to look for pieces with simple forms that will work with my always-changing tastes; timeless materials like metal, stone, and ceramic; and spirited, unique design elements — like a curved, sculptural base or a wok-shaped top — that bring a sense of delight. I also always consider what kind of shade I want: a lamp that casts light downward toward a book, or one that casts ambient light around like a lantern? What type of scale I want: a tiny lamp that complements other objects on a nightstand, or a major piece that's a key design focus? And what type of functionality I want: a portable piece that can move from dining table to fire escape to bed, or a large sculptural lamp that's a fixed design element? Below, a few of my favorites.
This little light balances timeless design elements like chrome detailing and a pleated shade with the distinctive quirks Hay is known for, such as rich, punchy colors and a playful sense of proportion. I think it really sings in a deep jungle green and pairs beautifully with a range of interior styles. I've used it alongside rich red antique carpets and atop vintage mid-century Aalto birch-veneer stools.
A splurge. This curvaceous ceramic beauty is sold at Portland's Spartan Shop, which has the most of-the-moment housewares being crafted in the U.S. right now. At various times, the base looks to me like body parts from Picasso's On the Beach at the Peggy Guggenheim Collection, like soft entrails, or like sturdy tree limbs, and I like its ambiguity and richness as the light changes throughout the day.
This elegant, portable lamp is made from powder-coated metal and mouth-blown glass, giving it a refined texture and delightful proportions. It can hold a charge for 12 hours and lends a soft, warm glow to the bedside table. I move mine around, taking it from the bedroom out to the backyard of our brownstone for dinner parties, and my 6-year-old steals it to be the campfire in his living-room bedsheet forts.
In colors like teal and rose, this is perfect for a kid's room, but in white, it's a go-to affordable piece for a grown-up but fun bedroom. As a designer, I'm forever coming back to pure, simple shapes, and these spheres make for a well-proportioned base.
My super-stylish architect friend Aurora Farewell uses this Dims light frequently in spaces she designs. It's part of a lineage of lamps that breaks down the conventional division between base, bulb, and shade, creating a unified object that glows as one. And I think architects just love the fluting of a classical column.
A classic that can move from bedside to library shelf to console table over the years. The base comes in concrete, powder-coated metal, or aged brass (my favorite!). The architects I know use this everywhere. (And there's a similar option available at Target, too.)
I've sung the praises of this lamp before. Its matte-black metal shades and black marble base cut an imposing figure on a sideboard or bedside table. While it's large, it doesn't put out too much light, which makes it a cozy addition to a bedroom. I've used this piece over and over, most memorably in the office of a stylish gallery director, where it sat like a sculpture alongside an incredible art collection. It complemented her black mesh dresses and black leather chaise longue to a T.
I'm certain you've seen this Verner Panton piece a zillion times over the years in its many glossy rainbow hues, and now it's available in a matte-black portable version with a USB charger and a dimmer. The shape is formed by three hemispheres. Somehow forever youthful, this '60s piece will be a timeless purchase.
The upside-down hemisphere perched on the marble base is an inversion of the familiar table lamp. Shaped like a torch, this piece has an emphatic form that draws your attention. I find it works as well on the ground as on a well-composed nightstand.
My bedside table is a mess of half-finished books and Kindles. Why not make a library out of this mess? This gem from L.A.-based Human Home organizes your books with two slim metal-and-cork bookends, creating harmony out of chaos.
Lighting is an investment, and I'm always looking for pieces that will last. I hope clients can bring lighting with them through moves and changing interior styles. This lamp from Brooklyn-based In Common With has a fantastic wok-shaped top and a sturdy, handsome profile. It's serious but unique, and its proportions feel a bit Great Gatsby to me.
I check in at Walmart once in a while and occasionally find some incredible pieces — rattan floor lamps and avocado-green toasters to name a few. Recently, I picked up this lamp, clearly inspired by the Oluce Atollo table lamp but stubbier, simpler, and a lot more accessible.
We recently renovated a historic Coca-Cola bottling plant and transformed it into bright and airy residential units. One of the apartments has a bedroom all in shades of mint, from linen bedding to velveteen throw pillows to glass vessels, and this lamp was the green cherry on top. I love that the cord comes from the back of the lamp, allowing the top to pivot freely and the base to be unencumbered by twisted cords. Great for a kid's room and perfect for making shadow puppets, too.
Lately, our studio has been thinking a lot about "softness" in forms, materials, and space. This lamp has a handmade ceramic dome that looks like it's still in formation on the pottery wheel. The shade's imperfect indentations and edges are juxtaposed with the sharp, clean metal of the base. We're selecting this lamp for a new wabi-sabi cabin in the Connecticut countryside, where it will sit alongside charred black shou sugi ban wood cladding and rough fieldstone walls.
This little stunner, with its postmodern influence and bold shape, is surprisingly flexible. It could be at home on a frightening ziggurat side table in Catherine O'Hara's Beetlejuice mansion or on an impeccably curated bookshelf in a tony Litchfield County estate. It works best if you're aiming for a dainty complement to a composition of books and vessels on your nightstand but are hoping for a piece with strong character and a playful sense of geometry.