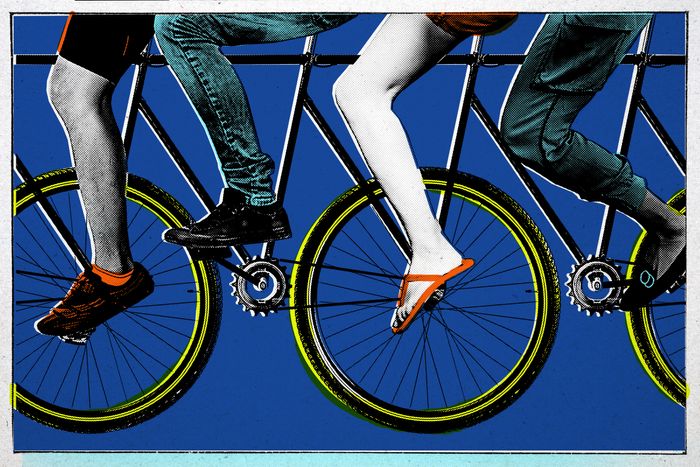 Photo-Illustration: Curbed; Photos: Getty
Recycle-a-Bicycle, 858 Fulton St., Clinton Hill; recycleabicycle.nyc
Every single bike sold at Recycle-a-Bicycle was donated to the shop before being refurbished by staff. As such, prices remain startlingly low. Shannon Haupt, a law student, bought their first bike—a Diamondback road bike for around $400 — at Recycle a couple of years ago: "They tuned it up for me, gave me a rack to put it on, and installed bike lights. It was all included." After that one was stolen, Haupt went straight back to Recycle (which keeps about 20 bikes on the floor and another 100 or so in a Navy Yard warehouse) and bought a zhuzhed-up Columbia. The Recycle team even built it out to their specifications: "A new gear system; brake lines; fixed up the wheels, tires, and tubes—and the whole thing was only about $350," Haupt says. The shop also has a selection of ­refurbished kids' bikes, such as a bright-yellow 20-inch Hunt for $150, a Schwinn for $75, and a Yuba Balance for $35. All proceeds go toward the shop's education program — the staff teaches free riding classes for kids and adults.
Dixon's Bicycle Shop, 792 Union St., Park Slope
Harold Dixon, a Jamaican immigrant and an expert mechanic, opened Dixon's in 1967; more than 50 years later, his sons, Chris and David, run the business. Its legions of fans — including many who swing by after shopping at the Park Slope Food Coop next door — say the feeling at Dixon's is one of overwhelming good-naturedness. "My front tire went flat four or five times in a matter of months," says writer Kayla Levy, "and every single time I walk in for a fix, they remember me. And they only charged me the first time I came in, just in case it was their fault the tire was still leaking." (It wasn't, she says: The staff eventually informed her the tire was dead and replaced it "for an exceedingly fair price.") Government worker Jess Powers says that when her brake popped off unexpectedly when she was riding downhill from Prospect Park, Dixon's replaced it, then greased her chain for free. "They said it needed doing," she says. "Some places want to charge you for every little thing. They're just not like that."
For
an
Approachable
E-Bike
Propel, 134 Flushing Ave., Clinton Hill; propelbikes.com
Furniture-maker Ephraim Stern walked into Propel, an electric-bike shop in the Brooklyn Navy Yard, on a whim. "I'd never even seen an e-bike before I went in there," Stern says. "But Chris, the owner, simplified it." The shop breaks its inventory into four categories: comfort and cruising (e-bikes for running errands, from $2,600), commuters (zippier options that can handle cobblestones, from around $2,600), kids and cargo (ones with powerful motors for hauling groceries or children, from around $3,000), and adventure (pedal-assists that can traverse forest trails, from around $4,700). Stern quickly deduced that he wanted the fastest possible ride, so Chris set him up with a Stromer (from $3,100), which can go 28 mph. He then adjusted the seat height for Stern, taught him how to use the digital controls, and let him go on a test drive around the neighborhood. He bought the bike. Now, Stern says, "whenever there's an issue with the bike, I just drop it off, then get text updates. 'Looks like a brake issue,' one week. 'Motor issue,' two weeks. They're communicative, which I appreciate."
For
Top-of-the-Line
Tune-ups
Tuned, 291 Nevins St., Gowanus; tunedby.square.site
"I need to know that my bike mechanic knows the ins and outs of race machines," says Angelo Calilap, a creative director who races in Prospect Park and Central Park and in national events like Gravel Worlds in Lincoln, Nebraska. So Calilap takes his bikes to Tuned, the newest shop run by Tijon Randall, a bike mechanic who has been building and fixing bikes in New York for over 20 years. Tuned specializes in custom bikes for cyclists of all sizes and styles, from gravel-road riders to crit racers, and tune-ups (starting at $175) for riders who have invested in top-of-the-line equipment like a carbon frame, a Dura-Ace groupset, or carbon wheels made at Randall's other shop, Honey Wheel Co., in Gowanus. Calilap says Randall's deep knowledge is key: When he had a persistent brake issue, for instance, Randall dug in until he learned it was actually a manufacturer error in the bike's front fork. "Every project Tijon has worked on with me is finished to perfection," Calilap says, "down to the placement of the handle­bar tape."
BikeFix NYC, 334 E. 6th St.; bikefixnyc.com
Between the wheelies and standing up on their seats, street riders put an unusual amount of wear and tear on their bikes. Professional street rider Julius "Obloxkz" Barnes rides a Throne 27.5-inch Goon XL (just imagine a big BMX bike) and for years has relied on BikeFix NYC to maintain it. Barnes started going to Will Hough, the shop's owner, because he lived nearby; these days, he regularly travels to the East Village from his home in the Bronx for tune-ups (starting at $75) and new gear at BikeFix. The shop caters to all kinds of riders, but Hough makes a point of stocking goods for the bike-life crowd, so you can pick up Maxxis mountain-bike tires (from $55) or spoke skins for your wheels in a rainbow of colors or get a busted chain on your bike rethreaded after too many tricks. But a big part of the draw is the vibe: Outside the shop, you'll almost always find some of the city's best riders hanging out, smoking weed, and popping wheelies down 6th Street.
For
Vintage
Colnago
Frames
and
Shimano
Derailleurs
New York Bike Jumble, Fifth Ave. and 4th St., Park Slope; nybikejumble.com
For rare, discontinued, or esoteric bikes and parts — like a vintage Shimano derailleur for a 1980s Japanese road bike or a giant yellow tricycle — Evan Friss, author of On Bicycles: A 200-Year History of Cycling in New York City, recommends Bike Jumble, the bike flea market held outside the Old Stone House in Park Slope's Washington Park. Since 2009, the Jumble has hosted dozens of vendors (mostly hobbyists and collectors) selling restored classics, hard-to-find components, and cycling ephemera like jerseys and caps. "It's a museum of sorts, a selection of bikes and parts from the last 60 or so years," Friss says. Another longtime attendee says that "for collectors of classic steel road frames and Camp­agnolo parts, the Jumble can't be beat," adding that he found his silver Colnago there for $500 — around $1,500 less than what the Italian bikes usually cost (even when used). This year's Jumbles are scheduled for May 7 and September 10 in Park Slope.
For
a
Peloton
Instructor–Approved
Bike
Fitting
Redbeard Bikes, 69 Jay St., Dumbo; redbeardbikes.com
From torso length to back flexibility to wingspan, riders have unique proportions that affect how they ride, and a custom fit takes your geometry into account. So when Peloton instructor and Masters Track World Champion racer Christine D'Ercole hears of anyone who needs a seat adjustment or a new handlebar angle, she sends them to Redbeard. "The owner, Ilya Nikhamin, is an especially excellent bike-fitter," she says. (Basic consults at Redbeard start at $150; more detailed, three-to-four-hour fittings go up to $450.) "A proper fit will help you ride more efficiently, more powerfully, and will help avoid injury from misaligned joints," she says. "While it might not seem relevant to the everyday rider, it is."
NYC Velo, 66 Second Ave.; nycvelo.com
In his three decades working as a bike messenger, Kevin "Squid" Bolger has gone through more than ten bikes. "Eventually the frame will crack somewhere if you're using it all the time," he says. But when it comes to fixable, day-to-day issues — punctures, snapped chains, rust — he has stuck with NYC Velo for over ten years. Bolger says that at specialty bike shops, "if you came in with a flat, they might be like, 'You have to leave it or we can't help you with that' " — which doesn't help when you're already running late to get some blueprints up to a midtown office. Owner Andrew Crooks, on the other hand, is good for a flat fix (for $25) for messengers like Bolger, who both co-owns and runs the courier service Cyclehawk. He recently added a couple cargo bikes to his fleet for wine deliveries (a big part of his business these days) and will get their cumbersome hydraulic brakes serviced only at NYC Velo.
For
Patient
Explainers
on
Gear
Ratios
City Bicycles, 307 W. 38th St.; citybicyclesnyc.com
When Mo Hussain fell down the rabbit hole into the world of hobbyist cycling — replete with custom bikes, drop-bar bikes, and Lycra — he had a lot of questions about the right bike to build. "I'd go to shops and annoy mechanics with questions, peppering them for hours," says Hussain, who works as an IT director and organizes Cycling Fanatics New York, a club for riders in the boroughs and New Jersey. Not every mechanic was receptive to Hussain's inquisitive approach, but he ultimately found a patient teacher at City Bicycles. While building himself a $1,700 custom track bike for racing in events — a project that required sourcing parts and learning about mechanics like gear ratios — Hussain worked closely with shop owner Jhonatan Moloon. "He explained to me the gearing, what he likes to ride, what a good setup for me would be like, going through each option," Hussain says. "Those should have been billable hours, but he was just giving away the sauce. And he's never burdened or irritated."
For
(an
Actually
Worth
it)
$13,500
Bike
Strictly Cycling Collective, 525 W. 30th St.; strictlycyclingcollective.com
Long before Eric Min bought his first Pinarello Dogma, he knew he'd buy it from Strictly Cycling Collective. Dogmas are obscenely fast, responsive, and light Italian racing bikes — five of the six last Tour de France winners have ridden them — and the Collective is one of the very few places that sells them in the city. "I heard of it before I could feasibly shop there, but once I could, I never looked back," says Min, the CEO of Zwift, a virtual-world cycling platform. The Collective, which originally opened in New Jersey in 1994, sells four brands of high-end bikes: Pinarellos, Specialized, Assos, and its own brand, Strictly. Besides the Dogma, it sells models like the 13-pound S-Works Aethos road bike ($13,500) and the Turbo Creo e-bike made for mountain cycling ($9,750.) Min heads to the Hudson Yards shop (which has a café and a Retül Bike Fit rig for a high-tech fitting) anytime a new Dogma model comes out so that its "highly knowledgeable mechanics" can keep his bike in shape in between upgrades.