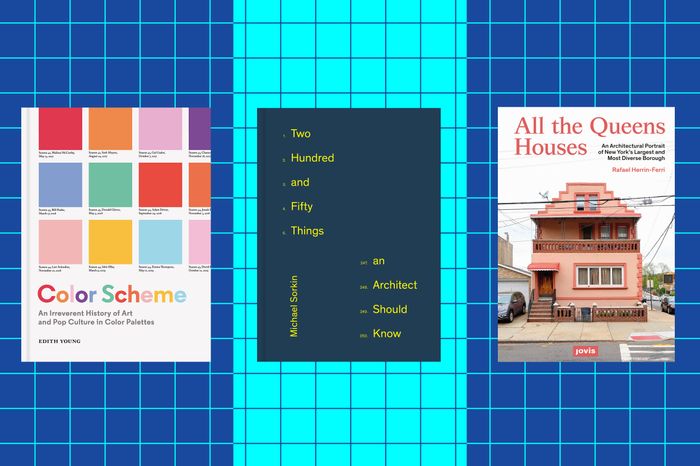 We at Curbed are fairly obsessed with all things design, architecture, and urbanism — which means when a book on, say, the varied architectural landscape of Queens, or a history of the way design has interacted with human reproduction, comes out, we tend to take notice. Here, five Curbed staffers have recommended their favorite new releases in those three categories, from an atlas of iconic houses around the globe to an illustrated history of New York.
Design
Los Angeles–based designer Justina Blakeney is world renowned for her signature Jungalow style, a multisensory maximalist aesthetic laden with fringe and fronds. Her second book is filled with easy yet impactful projects inspired by the process of creating her lines of wallpapers, rugs, and housewares, with expert tips for blending tones and textures, patterns and plants. —Alissa Walker
In this book, historians Michelle Millar Fisher and Amber Winick take a look at all the ways design has intersected with human reproduction, from breast pumps and the aesthetics of birth photography to branding the childfree movement and the gender-reveal cake. While there is so much cultural messaging around the relationship between parents and babies, there hasn't been a critical look at the forces that contribute to our ideas about this human experience until Designing Motherhood. —Diana Budds
This is interior designer Corey Damen Jenkins's first book, and it's long overdue. He is a master at injecting fresh patterns and palettes into rooms that speak to modern living. The book is a visual feast, with the added value of Jenkins's tips on how to achieve design goals. —Wendy Goodman
A glorious overview of iconic houses across the globe from the 1940s to the present — from the best corner of Diana Vreeland's 1957 Park Avenue dining area, to Leyden Lewis's 2020 chic loftlike apartment in the U.N. Plaza, to Anna Sui's 2017 sumptuous New York City spot. And that is not even the tip of the design iceberg. —W.G.
This book captures the down-to-earth romance of Dutch interiors, from farmhouses to canal houses to everything in between. Never fussy or overdone, they are intelligently designed and cozy without being cloying. —W.G.
Artist, designer, and writer Edith Young pulls together 40 color palettes (or "painterly Pantones") that reveal a closer look at art history and pop-culture moments (including "the reds of the red caps in Renaissance portraits" and the colors of Tonya Harding's competition costumes). —Jenny Xie
Urbanism
How our cities can promote health and fight disease is a topic that has defined urban design for hundreds of years, but since the pandemic, it's a topic that has felt more urgent — and also more opaque. Sarah Jensen Carr takes a deep dive into the history of these efforts, from garden cities to suburbs and walkable cities, and explains how, in many instances, designing for health has just made us sicker. It's a timely read, and one that reveals how our culture conceives of illness and who is ultimately responsible for treating it. —D.B.
A short and sweet (and witty and earnest) collection of haikus by lifelong New Yorker Peter C. Goldmark Jr., accompanied by his daughter's equally simple and pensive illustrations. A portion of proceeds from the book will go toward supporting the nonprofit CitizensNYC. —J.X.
The story of New York City, like that of an ancient myth, needs to be told again and again, because the drama never ends and because the past appears different depending on when you pause to look back. Ric Burns has told the history of New York on TV with New York: A Documentary Film, and now he and James Sanders have published a hefty but fleetly narrated volume that starts with Henry Hudson's arrival in 1609 and ends with the most current of the city's innumerable recoveries. What makes the book a joy is all the varied and vibrant New York voices and illustrations so vivid you want to dive in. —Justin Davidson
Architecture
What exactly is Queens architecture? As Rafael Herrin-Ferri learned on his quest to find the most interesting homes in Queens, naming a "Queens vernacular" is an almost impossible feat. These houses — often single-family dwellings and duplexes — display an eclecticism that can't easily be categorized, and they're shown off beautifully in this traipse around the borough. —D.B.
When Julius Shulman captured Case Study House #22 in 1960, it rocketed the mid-century-modern residence into popular culture, from magazine spreads to feature films. But the house designed by Pierre Koenig to revolutionize American life was also a home, built for the family of Buck and Carlotta Stahl. Here, their children narrate its architectural history through never-before-told stories of their time living in the house. —A.W.
Taschen's latest design book is on the grandfather of Italian modernism, Gio Ponti. There is also the option to splurge for the $3,500 art edition, which comes with a Ponti table that was reissued from his archive to accompany the book. —D.B.
The late Michael Sorkin is a hero to many designers, educators, critics, and urbanists for the way he fought to make cities livelier and more than just places to inhabit. He wrote many essays and treatises that examined the cultural and political forces at play in our environments, and he designed problem-solving architectural projects that aimed to reshape our world. But the one thing he did that has always felt the most special to me is make a list of the 250 things every architect should know — "the feel of cool marble under bare feet," "the Golden and other ratios," "Jane Jacobs in and out" — which speak to the poetic, practical, and humanistic aspects of what it means to shape space for people. Originally published as an essay, the list is now compiled into a highly giftable book. —D.B.