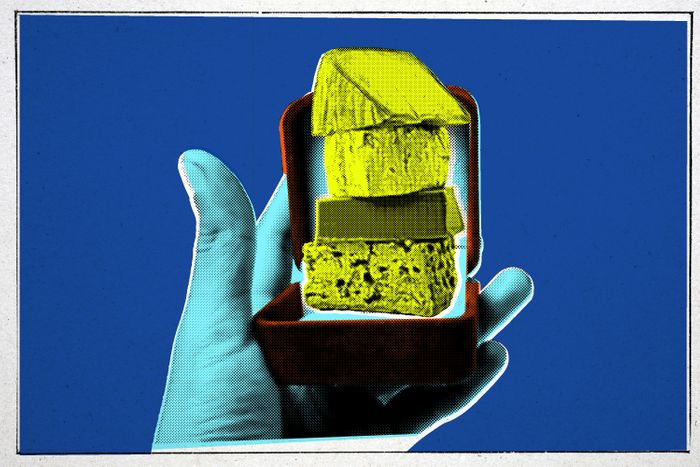 Photo-Illustration: by Curbed; Photos Getty Images
Formaggio Essex, 88 Essex St.; formaggiokitchen.com
Operating out of Essex Market for 17 years, Formaggio Essex has a counter piled so high with wheels of seldom-distributed cheeses that you can barely see general manager Andrew Clark over them. "Basically, you aren't able to find these types of cheeses in other shops because of these direct relationships they've fostered over multiple decades," Jessica Sennett, a cheesemonger, says of varieties like Manigodine Fermier ($25 per pound), which is strikingly similar to Reblochon, a French cheese that cannot be imported because it's too young. "I feel like I'm getting a real education from the staff," says chef, author, and TV host Padma Lakshmi, a customer since 2007, who stops by when she wants to be surprised. "Andrew has convinced me to buy cheeses I wouldn't normally buy," says chef and cookbook author Andy Baraghani, such as a memorable Robiola incavolata wrapped in cabbage leaves ($25 apiece). "I was hesitant to buy it at first," he says, "but Andrew told me the cabbage lends a certain vegetal quality, and the texture has this addictive creaminess."
Riverdel Cheese, 88 Essex St.; riverdelcheese.com
Down the aisle in Essex Market is this stall where the abundance of the display "just pulls you in," says chef Woldy Reyes. Riverdel is also a staple for chef Tara Thomas as well as for Shenarri Freeman, chef at the vegan soul-food restaurant Cadence. Thomas says she introduced Reyes to Riverdel's cashew-truffle Camembert, which "blew him away" with its "luscious texture" and "earthy taste." She finds the staff to be knowledgeable when she asks about the cheeses' flavor profiles, such as the differences between two Bries, one with a "sweet funk" (Rebel, $51 per pound) and another with more floral notes. The fromagers "take their time to make sure it's cut beautifully and packaged well for you," says Thomas, who has been a customer for more than four years.
Titan Foods, 25-56 31st St., Astoria; titanfoods.com
Walking into Titan Foods, which bills itself as America's largest Greek specialty-food store, you'll find a spacious, brightly lit emporium with an olive bar and a bakery department displaying rows of glossy baklava.
It also stocks fresh, cut-to-order feta that chef Mina Stone purchases in bulk for her eponymous restaurant at MoMA PS1. "Greeks don't buy small amounts of things," says Stone, who has shopped at the Astoria institution for 20 years. "I'll be like, 'I would like ten pounds of feta,' and no one bats an eye." The goat's-milk variety (from $20), which Stone whips and tops with red-pepper flakes and sesame seeds, "has that really creamy flavor, like a chèvre, but it's in feta form, which is really unique," she adds. "And they're always like, 'Do you want it packed in brine or without brine?,' which is a total sign of professionals."
For
Mozzarella
and
Ricotta
Di Palo Fine Foods, 200 Grand St.; 212-226-1033
Every Sunday, food photographer Donny Tsang walks 30 minutes to Di Palo's, the 113-year-old Italian specialty market on the corner of Grand and Mott in Little Italy. Tsang stands in line under dangling legs of Parma ham, and when it's his turn to order, he is greeted by owners Lou, Sal, and Marie, the great-grandchildren of Savino Di Palo, who opened the original dairy across the street. There, he turned out ultratender mozzarella and ricotta, the methods for which have been passed down through five generations. To this day, Lou comes in around 7 a.m. to start heating the curds for the mozzarella so it's ready for customers like Tsang, who always orders a ball ($11 per pound) and rips into it the minute he gets home. "It's just so milky and full of flavor," Tsang says. Di Palo's fresh-milk cheeses are beloved by a new generation of pizza-makers: Matthew Hyland, founder of Pizza Loves Emily; Scarr Pimentel, owner of Scarr's Pizza; and Mike Fadem, managing owner of Brooklyn's Ops. Hyland even says the ricotta ($7 per pound) is better than the stuff made at his own restaurant.
Cheese Plate, 400 Seventh Ave., Park Slope; cheeseplatebrooklyn.com
Unlike most artisanal cheese shops that cut to order, Cheese Plate's fridges and shelves are tightly packed with ready-to-grab wrapped wedges as at a grocery store. After working for years in cheese at Dean & DeLuca, Fairway, and Citarella, head cheesemonger Arif Nawaz applied a similar approach to the Park Slope shop he and his two sons opened during the pandemic — only on a larger scale. It typically stocks about 200 types of cheese, nearly double that during the holidays, says Nawaz's son Shahab, yet there's always a cheesemonger nearby to provide recommendations and samples. Cheese expert Cara Warren says the quality doesn't suffer for the sake of convenience. "I can get a few small cheeses, like little triple creams or a Kunik ($35 per pound) or a nice Gruyère that's well taken care of, and I know it's going to be good and not have been in plastic forever," Warren says.