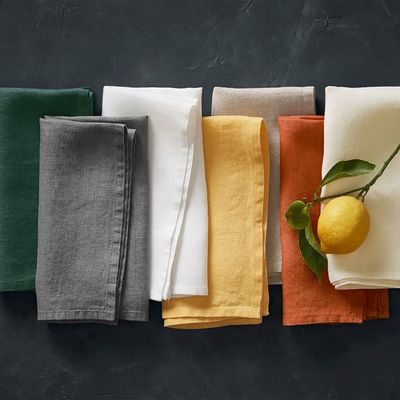 Using cloth napkins instead of paper ones at dinner (or for any meal) is not only an easy way to elevate an at-home dining experience — something most of us may be looking to do right now — but also a simple step toward living more sustainably. Not to mention, cloth napkins almost always look more sophisticated than paper ones, no matter how intricate their designs may be. As interior designer Elaine Griffin puts it, "Nothing says 'I care' more than cloth napkins" on a dinner-party table (and we are optimistic that we'll be setting dinner-party tables again soon enough). To find the best cloth napkins, we reached out to Griffin and ten other experts — including interior designers and hospitality professionals — about their favorites. Most of their 23 recommendations below come in sets, so we've started with those and organized them by price. Beneath the sets, we included a handful of individually sold cloth napkins for folks who only need one or two — or who like to mix and match.
Best under-$50 cloth napkin sets
If you're new to cloth napkins, here's a set that might help you ease into using them. My Drap's cotton napkins come in a roll much like paper towels, and function like them, too — except, unlike paper towels, these can be washed and used again. (They're kind of like our favorite Swedish dishcloths in that way.) They come recommended by Vogue sustainability editor Tonne Goodman — who loves them so much that she once wrote an ode to them — and real-estate agent (and Strategist contributor) Robert Khederian. Says Khederian, "These are pure genius: A cocktail napkin that comes on a roll in a pack of 50 for under $20. Tearing them off when company comes over is a shortcut to being the most elegant host." According to him, the napkins, which come in a bunch of colors and patterns, are "semi-reusable" — Khederian notes that "you can wash them like you would any other napkin," and the manufacturer says each napkin is good for about six washes.
As countless restaurant tables suggest, you can't really go wrong with simple linen napkins. This set from Williams Sonoma comes recommended by Sam Bernstein, the founder of hospitality group Table22. Made of stonewashed linen, "these are large and durable," he tells us. "They really stand up to a lot of use." Plus, Bernstein adds that they're "available in so many colors" — 18 in total, including neutrals and more vibrant options like pumpkin orange.
Claire Olshan, the founder of lifestyle boutique DADA Daily, says these floral-print napkins from Zara Home have the effect of "bringing the outside in." The 100 percent cotton napkins' delicate print, she adds, strikes the perfect balance between "the beauty, femininity, and untouched rawness of nature." Shown in mustard, they also come in a lighter natural color.
For something a little more graphic but no less colorful, consider these gridded napkins that interior designer Ghislaine Viñas recommends for their "delicious mustard color." The canvas napkins are made of a linen-cotton blend, and their bold pattern "can set a table off into a dramatic direction," says Viñas, telling us to imagine how these would pop against "a black tablecloth with white place settings."
If you prefer the look of crisp white napkins, this set made of pure flax linen stands out due to its stitched border. Griffin is "wild about them," saying, "These luxurious pure-linen napkins have hemstitching and Swiss dot embroidery, two of the most elegant details for linens known to mankind."
These classic-looking napkins have a French stripe down the middle and can be purchased in one of three styles: natural with a gray stripe, natural with a navy stripe (shown), and blue with a navy stripe. Heather Goerzen, who works in creative and design for online interior-design service Havenly, told us about them. She says the organic-cotton napkins have a "modern pastoral vibe and rustic quality" that would make any table feel a bit more like one inside a giant old farmhouse.
This writer owns multiple sets of these napkins from Food52's in-house line (and wrote about them here). Made of really thick cotton, they're super soft to the touch and almost have a lineny feel, but aren't too precious that you can't easily throw them into the wash. The napkins come in a bunch of muted colors and you can even get them in a mixed set if you prefer an intentionally mismatched look; I went with the mixed sets, buying a "cool set" of gray and navy napkins and a "warm set" of tan, pink, and burnt-clay napkins. Prices start at $30 for a set of four same-colored napkins; if you want a mixed set like mine, they're $45 for six napkins.
These cotton napkins from Lostine also stand out for their subtle-but-distinctive border, which is made of hand-tied warp threads. "They are elegant in both their stitching and weight," explains Liza Curtiss, a principal at Le Whit design studio, who recommends them. Cotton napkins, she adds, are typically less fussy (i.e., wrinkly) than linen ones, making the material a better choice for those who want cloth napkins that are easier to maintain. As the photo shows, you can get the set in either a natural or red color.
"These are my absolute favorite cloth napkins," says interior designer Leah Alexander. Made from organic cotton, the "unique and vibrant" mustard-yellow napkins are hand-block-printed with an abstract floral design. They come from Atlanta-based Sustainable Home Goods, which Alexander says is a favorite place to shop for ethically produced home décor.
Best under-$100 cloth-napkin sets
If you're looking to invest in a set of cloth napkins, Khederian says you should focus on quality and versatility — two attributes he says are found in these linen napkins from Sferra. "The white linen will match any table and be just as stylish today as it will ten years from today," he says. "Sferra is one of the best brands out there, so with proper care, these napkins will be with you for the next decade (if not longer)!" And if the notion of going a decade without staining a white napkin makes you nervous, know that these come in (literally) 100 other colors.
According to Amanda Spina, the general manager at Brooklyn restaurant the Four Horsemen, cloth napkins are "both incredibly easy and stupidly hard" to get right. "A lot of them can be a little too picnicky or twee," she says. "You also don't want something so pretty that you're afraid to actually use it." It is with all of these considerations in mind that she recommends these linen napkins from Gjusta Goods. The solid-colored napkins come in seven muted colors, some with contrasting edge stitching. "It's hard to know which color to go with," Spina admits, "as they are all quite nice!"
The larger windowpane grid and frayed edges on these cotton napkins make them feel a bit more casual than similar styles on this list. The napkins are available in peach, indigo, and cream, and Curtiss says they "feel like a playful nod to cocktail hours of summers past — and look like an heirloom from the rich great-aunt you never had."
Best splurge-worthy cloth napkins
At a certain point, especially with products like napkins, the more you spend isn't going to change how well they function — just how nice they look or feel. That's why, if you're looking to really invest in a pair for your home or as a gift, Khederian likes this set of linen ones from Matouk, a brand that tops our list of cool-person-approved bedding. In fact, these napkins share the same scalloped edge as that very bedding — a detail that Khederian says is "almost impossible not to smile" at. He adds that the napkins "have just enough personality to be different without being so trendy that you'll worry about needing to replace them in a few years." As the image shows, you can get them with one of eight different border colors.
Griffin is another fan of Sferra's napkins, calling this set of white linen ones embroidered with a border of navy diamonds "lavishly crisp." She recommends pairing them with white dishware and black cutlery, but the simple-enough design would lend itself to lots of other table-scapes.
Best individually sold cloth napkins
If you'd prefer to mix and match your napkins — or only need one or two — you can always buy them individually. This simple gridded napkin is a favorite of architecture critic Alexandra Lange, who says the material "washes really nicely and is soft and absorbent even after repeated washings." If you like the sound of it but not this exact look, she says they come in various colorways (some of which are more in stock than others) that are just as versatile. This selection also allows you to "make a pretty mixed set in different tones," notes Lange, who adds that she likes the napkins so much, she got a set for her mom as a gift.
For a bolder grid-patterned napkin sold individually, Viñas likes this hand-printed cotton one. "I can only imagine what you could do with these and a dramatic centerpiece using a white tablecloth and black table settings."
While some of the napkins on this list may recall those used at a French brasserie or farmhouse, Spina recommends these linen serviettes from Paris home-goods store Merci to anyone looking for napkins with a true French pedigree. Shown in an azure blue, she notes that there are plenty more colors to consider. "There are so many options that it's hard to choose," Spina says.
[Editor's note: Merci lists prices in euros, so the price shown for the napkin is an approximate conversion in U.S. dollars.]
Hawkins New York's solid-colored linen napkins are another style that's made for mixing and matching, according to Curtiss. "I love that these napkins are sold separately," she says. "It allows you to mix the 18 different color offerings to match your table-scape to a T." If you're unsure whether to go light or dark, she prefers darker-colored napkins "so I never have to shy away from serving marinara and red wine."
Griffin says the (Missoni-esque) print on this cotton napkin "looks like the color-blocked love child of Bauhaus and Art Deco." She calls the pattern "unabashedly bold, but sweet enough that you wouldn't mind using the napkins for breakfast with the kids."
On the opposite end of the spectrum is this minimalist napkin recommended by Goerzen, who likes how its "subtle modern stitching adds a special — and somewhat surprising — touch." Made of a linen-cotton blend, she adds that "the neutral hue and material make it easy to mix and match."
Like some of the windowpane-grid-patterned napkins on this list, this linen napkin's herringbone pattern recalls that of textiles used in menswear suiting, according to Elena Frampton, a principal at Frampton Co interior-design studio and art advisory. "With these, there's that opportunity to push the balance between masculine and feminine without being too overt," she says. And like any good suit, she notes that the herringbone napkin is versatile "and can be very easily dressed up or down" depending on your flatware, dishes, and other tabletop décor.
While these are admittedly pricey at $26 a napkin, you could call them small works of art. Each of the ombré-style linen napkins is handmade, according to Karina Lameraner, a creative stylist at online interior-design service Modsy, meaning no two are identical. The dip-dye effect, she adds, results in "a warm and eye-catching textile to elevate everyday dining." (You can also buy these in sets of four and six, but there doesn't appear to be any discount in pricing for buying in bulk.)
Another splurge at $26 a napkin, these, says Lameraner, could be nothing less than "the central focus of a table-scape" thanks to the linen napkins' bright color and poppy pattern. "These are beautiful and have a fun print to help bring a bit of visual interest to your everyday — or special occasion — table," she says.
The Strategist is designed to surface the most useful, expert recommendations for things to buy across the vast e-commerce landscape. Some of our latest conquests include the best acne treatments, rolling luggage, pillows for side sleepers, natural anxiety remedies, and bath towels. We update links when possible, but note that deals can expire and all prices are subject to change.