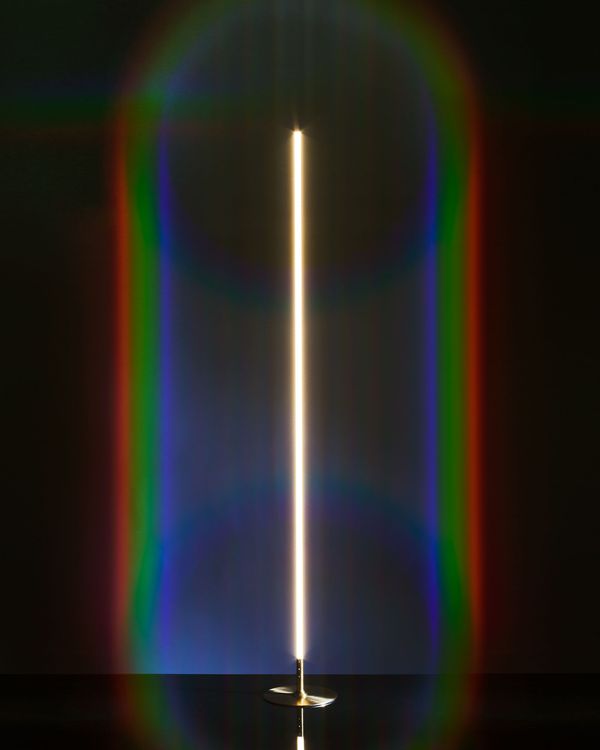 During these short, dark pandemic days, the need for proper lighting has never been more pressing. To that end, we've surfaced a selection of floor lamps. In order to ensure there's something for every type of person, we scoured the market — getting input from set designers and shop owners, unearthing reviews, polling our fellow shopping-consumed Strategist editors, and partaking in some serious internet snooping. Our recommendations range from one made from orange sheet metal that triples as a lamp, bookshelf, and stool, which Hood Century's founder, Jerald Cooper, calls "genius," to the elegant vertical LED light seen here (it was discovered by shoe designer Alice Wang), which goes for only $123 at Home Depot.
Ask a Cool Person: A More-Expensive-Than-It-Looks LED Lamp
Photo: Hannah Whitaker
While it's "nothing fancy," Alice Wang loves this "tall vertical LED bulb on a metal base," she says. It casts a bright (not headache-inducing) glow and looks practically like something you could pick up at design studio Fort Makers.
Expert-Approved: An Entirely Unobtrusive Lamp
Photo: Retailer
Lora Appleton, founder of design studio Kinder Modern, says this affordable brass-finished lamp from Article is "easy-peasy, discreet, clean-lined, and classic."
Expert-Approved: A Surprisingly Unobtrusive One
Photo: Retailer
Appleton recommends this lamp from Crate & Barrel for kids' rooms. "It has great design lines and will stay useful even as they get older," she says.
Snooping: I. M. Pei's Flattop Floor Lamp
Photo: Courtesy of Christie's International Real Estate Credit URL
Last year, the late I. M. Pei's Sutton Place townhouse — which he designed with Tasmanian-oak floors and an oblong skylight — went on the market for $8 million. In the corner of the living room, we spotted a handsome flattop disc lamp. While this Artemide lamp isn't the same one, it's comparable. Discs make up the base as well as the lamp head, and the entire slender thing is made of aluminum.
Ask a Cool Person: The Brand-New Status Lamp
Photo: Retailer
Two tasteful folks told us about new kid on the (floor-lamp) block Ryan Preciado. According to brand consultant Emma Holland, his playful lamps — which, he tells us, are made "out of turned poplar and painted with car paint" — are the status ones right now; Hood Century's Jerald Cooper agrees, saying, "Ryan's lamp really reminds me of the big kid in me."
Expert-Approved: A Tripod Floor Lamp That Looks Like an Alien
Photo: Retailer
Designer Courtney McLeod loves the Moresby by Aerin, calling it "a personal favorite." It has a leaflike shade and a tiny tripod base and, she says, "so much personality — like a chic little alien landed in your living room and joined the party."
Snooping: Julio Torres's Living-Room Lamp
Photo: Max Burkhalter
We spotted a yolk-yellow tubular lamp in the corner of former SNL writer and comedian Julio Torres's Williamsburg apartment after it was shot for Architectural Digest. While Torres got his from Bi-Rite Studio, we think this one from Koncept is a pretty good stand-in. It's not in that cheery yellow (though the red is a nice alternative), and it's not tubular per se (bear with us), but it really captures the spirit of the vintage lamp's minimalist silhouette with its angled, elongated head.
Snooping: A Circular Floor Lamp Like the Many Charli XCX Has
Judging from a recent Charli XCX Instagram post, the singer's apartment is filled with globular floor lamps of various sizes. If you'd like to emulate her approach, two interiors experts suggest placing some circular lamps either on the floor or propped up on a stack of books. Shannon Retseck, the owner of home-goods brand Cuttalossa, likes Artemide's globe lamps, which are made of handblown glass and come in mini, small, medium, and large sizes. If well placed, Retseck says, they will "bring a serene diffused light," and a "cluster of
a few different sizes will break up all the straight lines of your space."
The Noguchi: The Go-to Noguchi
Photo: Retailer
"For new lamps, we think it's hard to top a Noguchi lamp," say Meghan Lavery and Daniel King, owners of vintage-furniture and design store Home Union in Brooklyn. "They fit with anything and give the nicest glow."
The Noguchi: Our Writers' Favorite Noguchi-Esque Option
Photo: Retailer
Strategist writers Liza Corsillo and Kayla Levy both own this column lamp with a rice-paper shade that reminds us of one of Noguchi's Akaris. Like those, this one gives off a "nice glowy light," says Corsillo.
Ask a Cool Person: The Best Pendant Stand-in
Photo: Retailer
Carrollo recommends using this lantern lamp if, for whatever reason, you can't have an overhead light fixture. She particularly likes the "airy and ambient" vibe of this one.
Ask a Cool Person: A Mildly Kitschy Lamp
Photo: Retailer
Carrie Carrollo, a home decorator, stumbled on this lamp "probably 200 pages deep in a search through my go-to affordable online décor sources." She had sought a three-globe light in an eye-catching style, "and this spiral brushed-steel design caught my eye right away. It's quite modern."
Expert-Approved: A Chunky, Fabric-Covered Lamp
Photo: Retailer
Recommended by interior designer Tiffany Thompson, this lamp has a tapered shade and a body covered in linen. "I know minimal lights are in," she says. "But this brings a weighted quality to a room."
From the Movies: The Swing-Arm Lamp From Eyes Wide Shut
Photo: Warner Bros.
The opening scene of Stanley Kubrick's 1999 film follows Tom Cruise and Nicole Kidman around their sprawling Upper West Side apartment as they get ready for a night out. It starts in the dressing room, where Kidman's character slips out of her dress in front of a simple but handsome swing-arm lamp. This one, like in the movie, from Wayfair has a brass base and a cotton shade.
Trend-Spotting: Young Ceramicists' Lamps
Photo: Retailer
Ceramic lamps are everywhere right now: There's Eny Lee Parker's U-shaped ones, Casa Veronica's colorful checkerboard pieces, and Episode's coil-built bases. (Anthropologie has even started to sell a table lamp with a terra-cotta base.) Thompson's favorite take is this lumpy Hebe Large ceramic base, which can be customized with any shade.
Designer-Recommended: A Fun-House Lamp That Two Designers Love
Photo: Retailer
Two designers recommend the — per Appleton, "unbelievably exciting" — flocked-plywood-and-brass Calenda Lamp by Rebecca Claire Ford.
Designer-Recommended: The Simple Lamp a Set Decorator Relies On
Photo: Retailer
Set decorator Kimberly Fischer says this unassuming West Elm lamp is one of her go-tos. "I've used it many times. It's classic, and the shade isn't too white-white."
Ask a Cool Person: A Lamp-Stool-Bookshelf
Photo: Retailer
The Selah Lamp 1.0 is by Nigerian industrial designer Nifemi Marcus-Bello, who was inspired by a local factory that produces metal casings for electrical-power generators. It's made from a bent piece of sheet metal and can double as a stool or a bookshelf, which Cooper says is "genius."
DIY: The Best Wooden Lamp Base for Custom Shades
For small spaces, "another option is a super-simple wood floor lamp, which takes up only a little space and offers flexibility in the styling," says author Laura Fenton, who recommends this base, which is made of acacia. The best part about something like this is that you can customize it to your liking. "It gives you the opportunity to buy your own shade so you can find something you really like," she says. "Right now, I am loving marbleized-paper shades or a Matilda Goad–esque scalloped shade. Etsy is a great place to look for fun shades." We suggest a pleated cream one from Etsy shop LeKrazyHorse, which has an average of 824 five-star reviews.
People's Choice: The Mid-Century Modern-esque Globe Lamp With the Best Ratings on Amazon
Globe lamps suspended on a gracefully arched stem are not in short supply, but we're fond of this $90 one, which Carrollo first told us about, for its marble base and chrome finish. It's available in gold or rose gold, and if you prefer something matte, it comes in a black finish as well. Plus it's approved by the people, with an average of 4.4 stars by 797 reviewers on Amazon.
Ask a Cool Person: A Brass Reading Lamp Best for Small Spaces
Photo: Retailer
You can't go wrong with a classic library-style reading lamp, says Fenton, especially for small spaces. When positioned next to a sofa, they take up almost no floor space. The look might be a little traditional for some, she says, but she appreciates that it can work in a variety of décor styles. This one from Lamps Plus is inexpensive and well reviewed.
Snooping: The Twiggy Floor Lamp in the Obamas' White House
Photo: Michael Mundy/2016
A peek back into the Obamas' private White House quarters reveals a stately floor lamp with a muted drum shade and a golden stem fashioned like a tree branch. While the exact model — the Baker Arbor Floor Light — is now discontinued, you can achieve a similar look with this number from Safavieh.
Quick Pick: Best Floor Lamp After a Strategist Writer's Hour of Research
Photo: Retailer
Our writer Lauren Ro has long coveted the Danish '70s Mads Caprani lamp, with its curved bentwood spine and pleated shade. But, she says, they're too expensive (over $2,000) and so popular they sell out as soon as they go on sale. After sleuthing, she decided this is its nearest dupe. The arched rattan neck makes it more like the Caprani than any (affordable) lamp out there.
*A version of this article appears in the January 4, 2021, issue of New York Magazine. Subscribe Now!
The Strategist is designed to surface the most useful, expert recommendations for things to buy across the vast e-commerce landscape. Some of our latest conquests include the best acne treatments, rolling luggage, pillows for side sleepers, natural anxiety remedies, and bath towels. We update links when possible, but note that deals can expire and all prices are subject to change.