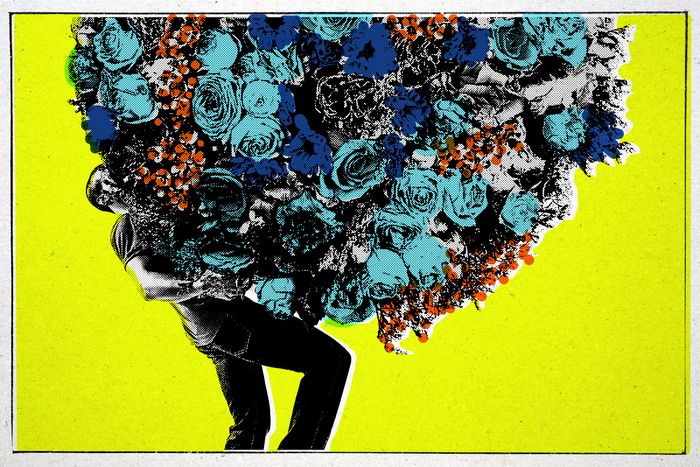 Photo-Illustration: Curbed; Photos: Getty
Dutch Flower Line, 150 W. 28th St.; dutchflowerline.com; 212-727-8600
This 36-year-old shop is known for its wide-ranging selection of flowers from around the world — including Japanese ranunculus that set designer Noemi Bonazzi calls "exquisite" and "the size of your hand," peonies from New Zealand, and cherry-red tulips shipped directly from Holland. Set designer Julia Wagner worked with DFL exclusively to create the floral backdrop for Alexandria Ocasio-Cortez's December Vanity Fair cover. "Dutch Flower Line is my most trusted vendor," Wagner says. "I have a guy there, Chris DeMeo, who I text whenever I need something truly special. He sourced these amazing wild roses for her shoot and cut all of them from the bush the day before we photographed her." New York design editor Wendy Goodman likes to "go in there and just inhale," she says. "They have just such a massive amount of fresh flowers it feels like a garden. I revere every one of the holdouts on 28th Street."
For
Spotting
Anna
Wintour's
Interns
For Spotting Anna Wintour's Interns
Miho Kosuda, LTD., 310 E. 44th St.; 212-922-9122
"I used to go to Miho's in Anna's Town Car every week to pick up arrangements she had ordered," a former intern recalls. "The shop is on a tiny side street by the U.N. — you'd miss it if you were speed-walking — and the flowers are absolutely insane." The shop — founded by floral designer Miho Kosuda and her daughter Carol — is also a longtime favorite of Carolina Herrera. It's not surprising that Miho's arrangements (from $150) tend to be on the extravagant side, like hundred-flower bouquets featuring one color scheme and one bloom, such as roses, tulips, or anemones. (She once created an arrangement for designer Bill Blass consisting of 660 mango-colored calla lilies.)
For
Bodega
Roses
That
Will
Last
Two
Weeks
57 Market, 363 W. 57th St., No. 1; 212-586-3066
There's probably no other city in the world where it's easier to find a cheap bouquet — the challenge to buying bodega flowers is keeping them alive for more than a couple of days. 57 Market in Hell's Kitchen sells flowers that are both cheap and long-lasting — remarkably so. A bouquet of a dozen roses costs a mere $20, and people who live in the neighborhood swear they last a solid two weeks. "Listen, this is the most basic corner market," says Hell's Kitchen resident Tessa Connelly. "And for whatever reason, it has amazing flowers." There are a few theories as to why that is. For one, they're not displayed in direct sunlight (which can make them wilt), there are no errant leaves floating in the water of the display buckets (which make bacteria grow), and the blooms don't come from very far away: 57 Market gets fresh bunches of roses, chrysanthemums, and tulips weekly from cut-flower wholesalers in New Jersey and Pennsylvania. "Customers come to the store weeks after purchasing to tell us how amazed they are that they lasted so long," says Joe, the owner.
For
Sunday
Bouquet
Delivery
Starbright Floral Design, 140 W. 26th St.; starbrightnyc.com; 212-229-1610
Rachel Alonso-Mendoza, who has chaired multiple galas in her roles at El Museo del Barrio and the Cuban Artists Fund says, "Starbright is my go-to. They have donated beautiful arrangements for several of my events," including ones with white Asiatic lilies and potted echeveria succulents for winter parties and tulips, ranunculus, and hyacinths for springtime events (from $75). "Nic, the owner, loves to give back to the community, and they deliver on Sundays." Says another longtime customer, "The Sunday delivery is key — and was something my now-husband was very happy to find out about the day after our first date."
Floresta, 51-02 Vernon Blvd., Long Island City; florestanyc.com; 347-642-8108
Residents of Long Island City say walking into this small family-owned business is "like entering a magical little wonderland." Says Hillary Blick, a longtime customer, "I buy bouquets at Floresta on my way home from work, and I hired them for my wedding." Although Floresta's bouquets are pricier than deli flowers (people tend to spend between $70 and $150), you're paying for the expertise and creativity of the three generations of floral designers who own the place. A typical springtime bouquet has golden ranunculus, Queen Anne's lace, and "Franz Kafka" dahlias (two-to-three-inch blooms with tightly cupped petals that resemble pom-poms). "Shopping there is a true boutique experience in that the owners make you feel so valued as a customer," says blogger Austen Tosone. "They go above and beyond to wow you, and they're on top of the same-day delivery," which is available in all five boroughs.
For
Inexpensive
Marigolds
Luna Family Farm, instagram.com/lunafamilyfarm
When Popupflorist founder Kelsie Hayes shops for flowers for her apartment, she heads to Tompkins Square Park on Sundays. "In the summer and early fall, they have gorgeous zinnias and dahlias. In the winter, fresh evergreens and wreaths." The Luna family, who joined the city's Greenmarkets in 2018, grows more than 40 flower varieties in Burlington County, New Jersey, and brings them by the bucket to Union Square every Wednesday and Saturday, the Columbia Greenmarket on Thursdays, and the Stuytown and Tompkins Greenmarkets on Sundays. Luna sells huge bouquets of marigolds for $10 and Latin American vegetables and herbs like papalo, serville, and pepicha.
For
Single
Stems
to
Stick
in
Mailers
Brooklyn Blooms Floral Boutique, 433 Nostrand Ave., Bedford-Stuyvesant; brooklynblooms.com; 347-378-2114
When you walk into LaParis Phillips's Bed-Stuy flower shop, you'll find chocolate sunflowers, hand-painted palm fronds, dahlias, "Lucky Bamboo" shoots, and likely several "PR girls digging around for flowers to put in their mailers," says longtime beauty publicist Jaime Maser Berman. (Recent customers have included Maison Margiela and Mejuri.) Phillips learned the trade while working at a flower shop in college and uses her Instagram account to break down barriers for Black people who think being a florist isn't an option for them professionally; she hires Black staff and interns and posts photographs of herself frequently. "LaParis designed the flowers for our wedding, including for the reception, Tayo's boutonniere, our jumping broom, and, of course, Cynthia's bouquet," say Tayo and Cynthia Giwa, founders of Black-Owned Brooklyn. "We trusted her artistry and just asked for something 'colorful and loose,' and she delivered a stunning mix of textures, shapes, and exotic flowers that was beyond anything we could have imagined." Designer-arranged bouquets start at $40, but you can get a stem of a standard rose, spray rose, or stock flower for $4.
Sunny's Florist, 102 Second Ave; 212-473-0185
Numerous people we spoke to raved about this teensy shop ("Basically a stand built into a wall," says one) owned by Sunny Hwang and her son, Eddy. Lines on holidays — Valentine's Day and Mother's Day in particular — can stretch for blocks. "When I lived across the street, the line at Sunny's reminded me to text my mom on Mother's Day more than once," says designer Sydney Friedman. But the wait is worth it for the owners' patience and knowledge ("Sunny and her son were always exceptionally patient with me when I asked them questions, like how to make their ranunculus or alliums last as long as possible," says Friedman), low prices (premade bouquets go for $14, or you can design your own for $16 to $20), and hours (the shop often stays open until 10 or 11 p.m.).
Sunny's is temporarily closed.