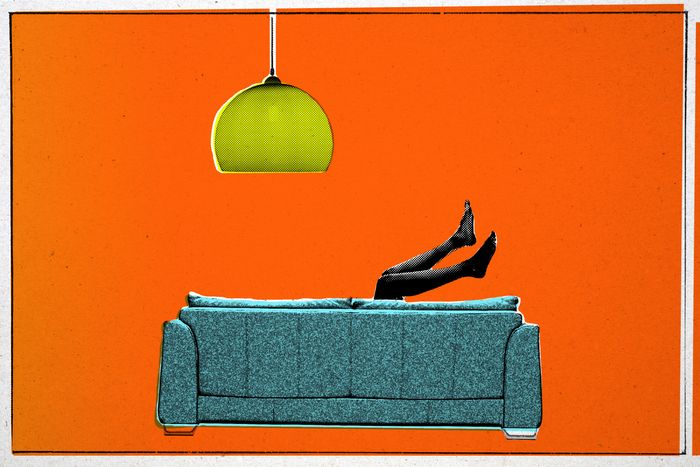 Photo-Illustration: Curbed; Photos: Getty
For
Fly
Rods
and
Cesca
Chairs
Dream Fishing Tackle, 673 Manhattan Ave., Greenpoint; instagram.com/dreamfishingtackle
As the name suggests, Dream Fishing Tackle was a place for anglers to buy new rods and bait when Robert Piskorsa opened the Greenpoint shop in 1994. And while the original awning remains the same, over the past three decades Piskorsa's daughter Barbara has transformed the inside into an overflowing (some admirers say "overwhelming") supply of Art Deco and postmodern furniture — along with plenty of records, vintage posters, and chandeliers, too. "It's very narrow and has so much stacked on top of each other that you have to stare for a few minutes to decipher what you're seeing," says Passerby magazine founder Clémence Polès, who found her prized Marcel Breuer Cesca chairs there "for $80," as well as a "weird sculpture that looks like Noguchi might have made it" for $60. Brand consultant Isabel McWhorter-Rosen is another regular, and calls the experience "an adult IRL version of an eye-spy book." And there's still a "rather legit assortment of hooks, lures, and custom bait bags in the back," according to communications strategist Charlotte Morse — but she stops by for "lucite dressers and massive arched lamps."
For
Danish
Design
at
West
Elm
Prices
Van der Most Modern, 159 Troutman St., Bushwick; vandermostmodern.com
While this Bushwick showroom specializes in Danish mid-century pieces, owner Gijs Van Der Most isn't obsessive about keeping the inventory uniform. Anna Brettschneider and Garrett Albury, editors of the coolstuff.nyc newsletter, first discovered the shop when they spotted a "giant, human-size crayon" in the window in the perfect shade of blue ($1,800 for a set of five). On a recent visit, they even found a wooden chair with two cartoonish dog heads on each armrest ($800). Still, the main focus is mid-century: Albury says there's always "a couple of teak bookshelf units, and lots of these vintage Dutch bedside sconces in tons of colors, for just over $100 a pair." Arjan Singh, co-founder of beauty and wellness brand Jolie, gets most of his furniture from the shop, including "a beautiful 1950s John Stuart black maple wood dining table, a teak dresser by Danish designer Kai Kristiansen, and a Danish pendant light that's on a pulley system." Furniture designer Ben Kicic appreciates how Van Der Most does a lot of the restoration work himself, right in the back of the shop — which is probably partly why prices are "weirdly low, almost in line with West Elm or CB2." He remembers losing out to Van Der Most on an auction of two "Perriand-esque" Dutch schoolboy sconces, and finding them in the store three weeks later with only a slight mark-up.
For
African
Stools
From
Someone
Who
Actually
Knows
Their
History
Of The Cloth, 1134 President St., Crown Heights; ofthecloth.us
Founded by antiques collector Tion Trice, the Crown Heights shop sells "vases, daybeds, plates, candleholders, quilts, cloths, stools, in styles you may never have seen at a store before," says fashion consultant Abe Santana. "It's a lot of makers and indigenous products from Africa, with some Latin American and European pieces, too — things you'd be more likely to find at old churches." Trice is able to find these rarities — a green antique Tibetan chair ($1,195), a pair of checkered wood stools ($1,145), a handblown cloche ($245) — because he has, per Santana, an "amazing network of people who've worked on all sides of the design and art world." Trice put those connections to work recently for interior designer September Banks, who was decorating a Harlem brownstone and needed help making it "less fussy, with handmade textiles, artwork, and accessories to give the space a softer feel." She found Trice, who eventually helped her make a custom coffee table, to be a "master at sourcing things. He immediately knew where to go for everything I needed through his relationships with textile and rug mills all over the country as well as showrooms in Paris and also gave me five other options for each at better price points." And brand consultant Kapil Sehgal appreciates that Trice is helpful when it comes to thinking about where a piece will fit in a customers' space: "There's something to be said about a place you can walk in and connect with an owner who knows all the ins and outs. If you're tinkering with your home, talking to him is always a worthwhile conversation."
For
a
Reasonably
Priced
Vintage
Sofa
Lichen, 564 Woodward Ave., Ridgewood; lichennyc.com
Nine people told us that visiting Lichen — whose founders met on either end of a Craigslist sale and whose new, expanded location stocks a rotating assortment of muted designer furniture and décor — is the best way to experience the opposite of the gatekeeping that goes on in much of the design industry. Artist Hassan Rahim says that's in part because of its welcoming staff but mostly because of its deliberately non-egregious pricing. "I saw a perfect dark-gray discontinued BoConcept love seat, thought, Watch, this will be $3,000, flipped the label, and saw that it was $650," says Rahim. Designer Wesley Scott, who grew up in the furniture industry, says he has seen "chairs there selling for a fraction of what the very same ones go for in other stores."
In April, Lichen is reopening at a new brick-and-mortar location in Ridgewood, but it won't be a store in the traditional sense of the word. Browsing (and purchasing) is best done on the Lichen website or Instagram Stories. There will eventually be limited IRL hours at the new space, which will function as a showroom-slash-workshop.
Nalata Nalata, 2 Extra Pl.; nalatanalata.com
"It's not the same owner as Tortoise General Store on Venice Boulevard in Los Angeles, but Nalata has an overlapping selection," says designer Mary Ping of her go-to home-goods store, which is located in a spare space on Extra Place, around the corner from the Bowery, and is stocked entirely with Japanese and Japanese-inspired design. Nalata Nalata has a knack for curating functional-but-beautiful pieces — like a walnut-and-maple clothes hanger by Koizumi Studio ($65), butter-yellow enamel soupspoons by Noda Horo ($15), and Akita-cedar-and-cherry-bark bento boxes ($190). And much of its inventory can't be found anywhere else in the country — such as its delicate paper fritillaria, white jasmine, pink poppies, and blue Muscari ($70) by Onao Co., one of Japan's oldest paper manufacturers.
For
Brimfield-Quality
Quilts
Stella Dallas Living, 281 N. 6th St., Williamsburg; instagram.com/stelladallasliving
Williamsburg's Stella Dallas and its sister store, 10ft Single by Stella Dallas, are both known for their abundant offerings of vintage Levi's and deadstock cowboy shirts. But the real reason to visit, according to Engel-Bradley, is the expertly sourced collection of blankets, quilts, coverlets, and bedspreads. "Stella Dallas's collection is primarily textiles from the late 19th century to the mid-20th century," says Engel-­Bradley. "I would call it somewhat Americana in style, but they also carry beautiful Moroccan woven cushion covers as well as French deadstock upholstery," she adds. The textiles are tucked away in rustic cubby­like shelves, giving Stella Dallas Living the feel of an eclectic upstate shop crossed with any Bode fan's ideal linen closet.
For
Whole
Housefuls
of
Staten
Island
Stuff
Every Thing Goes Furniture, 17 Brook St., Brighton Heights; etgstores.com
Thrice recommended by stylish Staten Island locals, Every Thing Goes Furniture is not your typical secondhand shop. For one, it is run by the Ganas Community, a 42-year-old Staten Island commune of about 75 people. It's the place to go when you're in the mood to dig: "I've found some special lamps on occasion, but it's a real hunt," says writer Molly Bruce Barton, CEO of Serial Box. "My understanding is that they get housefuls of things, so there's an awful lot to comb through to find good things." Meghan Joseph, the exhibition curator and marketing manager of Staten Island Arts, says she found a "gorgeous mid-century credenza" at the shop and that the store is stocked with "mid-century pieces, ornate antique mirrors, and eclectic chairs." Prices are inordinately low: $60 for a wooden chest of drawers, $45 for a TV stand.
For
Kantha
Pillows
and
Ugandan
Baskets
Peace + Riot, 401–3 Tompkins Ave., Bedford-Stuyvesant; peaceandriot.com
Owned by couple Achuziam Maha-Sanchez and Lionel Sanchez, Brooklyn and Bronx natives respectively, Peace + Riot's selection is inspired by the owners' African and Caribbean heritages. "Everything in this shop feels thoughtfully chosen — I've had my eye on these baskets from Uganda for weeks and need to get one before they are gone," says Janine Biunno, archivist at the Noguchi Museum. (Also currently for sale: handwoven cotton and wool kilim poufs for $369, Kantha pillows made from upcycled sari fabric for $65, a wood bead chandelier for $399, and striped seagrass baskets for $118.) "It's my go-to gift shop, pick-me-up shop, browse-because-I-am-bored shop — it just feels good in there."
For
Young
Chinese
Designers
Chop Suey Club, 81 Hester St.; chopsueyclub.com
"When I'm in Chinatown, I make sure to stop by Chop Suey Club to check out super-unique pieces by Chinese contemporary designers," says curator and writer Kiara Cristina Ventura. "Each piece in here is a work of art — it's always a vibe." Located on the corner of Hester and Orchard, the second-floor space was known in pre-pandemic times for its packed ­Chinese New Year and Mooncake parties. Now, you can still shop for 3-D-printed plaster vases by artist Joey Yu (from $245), a pomelo-scented red-dragon candle by Shanghainese label Yueqi Qi ($70), and pieces by Chop Suey Club's own line, including a ceramic incense holder shaped to look like a lotus flower ($38). There's one wall, called the "Dollar Store," devoted to particularly inexpensive items, like classic Chinese-restaurant tip trays with gold "Thank You" lettering ($5).
Chop Suey Club's storefront is temporarily closed, but online shopping is available (with the option for local pickup).
Design Within Reach Outlet, 219 36th St., Bldg. 3, Sunset Park; dwr.com
Situated between a rather drab Restoration Hardware outlet and an ABC Carpet & Home outlet (and a Petco and a Costco) in the designer-at-discount emporium that is Sunset Park's Industry City, the two-story, 40,000-square-foot Design Within Reach outlet — one of only a handful in the country — carries returned, overstocked, and slightly damaged pieces by the same designers as the standard store at a fraction of the price. Slightly damaged can mean anything from a small paint blemish, to a previously opened box, to light scratches. According to artist Marcus Jansen, the selection of couches stands out: like the tubular Vienna (previously opened), which retails for $5,000 and goes for $2,500 at the outlet, and the three-seat leather Muuto, which retails for nearly $7,000, selling for $4,600 (it has some scuffs on the bottom from packing issues).
For
Bright
and
Wiggly
Things
Coming Soon, 53 Canal St.; comingsoonnewyork.com
"So many stores learned how to do it from Coming Soon," says Singer of this Lower East Side spot founded in 2013 and known for its giftable home décor and custom furniture upholstery in bright colors and unorthodox shapes. ("Totally bonkers" was how one person described its inventory.) Even though its typical wares — which Zoe Report fashion editor ­Aemilia Madden tells us range from bright velvet chairs ($550) to crazy glass straws ($28) to a giant marbled-concrete bowl ($850) — aren't serious per se, bookstore owner Leigh Altshuler says they're all still adult (and that her customers keep trying to buy the water carafe she once bought there out from under her nose). And Todd Heim, who goes by the drag name Steak Diane, tells us that its recent move to the corner of Orchard and Canal, incrementally closer to Dimes Square, "has made it a true 'clubhouse for the neighborhood.' " Speaking of its new location: It's slightly larger, meaning room for more of the vintage furniture, like a Milo Baughman love seat ($3,500) and a '70s Italian marble coffee table ($3,200) that it also sells in its fifth-floor showroom around the corner on Allen Street.
Home Union, 319 Graham Ave., Williamsburg; homeunionnyc.com
While home union is perhaps best known for its crayon-colored Memphis Group–inspired inventory — Sottsass Mandarin chairs ($550) and lemon-yellow Kartell stools ($365) — several people told us it's as much worth visiting for its consistent supply of mid-century designers like Gae Aulenti, de Sede, Paul Mayen, and Martin Visser. Rahim, for instance, recently purchased a Massimo Vignelli sofa at the store. While a few fans — from Altshuler to stylist Natto Balladares — say it's a little expensive, all said it's still an "aspirational" destination that, in the words of Bombas co-founder Randy Goldberg (who picked up a George Kovacs Umbrella lamp there), "feels like someone went around and stole one amazing thing from the 20 coolest apartments in the city." And Sky Ting co-founder Chloe Kernaghan, who says her home is full of Home Union (including a Percival Lafer love seat that was sold with a matching chair and ottoman), tells us that built into those higher prices is a full-service refurbishing of (most) items done to the highest standard.
For
an
Erwin
Lambeth
Slipper
Chair
The Somerset House, 1025 48th Ave., Long Island City; thesomersethouse.com/shop
Owned by former fashion designer Alan Eckstein, this Long Island City showroom sells meticulously maintained, often rare vintage pieces, from a Eugenia Butler oak puzzle chair ($2,800), to a pink Fritz Hansen lamb-shearling three-legged stool ($395), to a bentwood Danish ottoman reupholstered in Schumacher leopard-print fabric ($850). The inventory goes far beyond seating, though: The two-story space has vases, couches, coffee tables, consoles, and photography prints. And Scott says the "inspiring" way Eckstein stages it all — for example, "sitting the colorful pieces that pop against worn, weathered woods that prevent it from feeling as kitschy, or '90s-dorm-room-esque, as other stores" — has influenced his own apartment's design. Plus the variety, Scott says, is just plain fun: He once spotted, in a single corner, a pattered grasshopper chair on a cowskin rug beside a white sofa with pink pillows. Jill Singer, editor of online design magazine Sight Unseen, who lives nearby, was struck on her first visit by the "entire vintage car in the showroom" (a BMW Isetta, situated between Snaka Waka sculptures).
For
Embroidered
Tablecloths
Corona Plaza, 40-04 National St., Corona
"When I need anything here in New York, my first instinct is to buy from street vendors, who have been left out of pandemic relief," says Elena Ketelsen González, assistant curator at MoMA PS1. She tends to make her way to Corona Plaza in Queens, an open-air commercial hub just off the 103rd Street 7-train stop, where, seven days a week, from early morning to late into the night, vendors sell fruits, food (tamales, elote), flowers, and home goods. "You can pick up everything from embroidered Mexican tablecloths to colorful aprons," says González, who frequents vendor Don Vincente. (If you're in the market for pottery, González says that, not too far away, she finds brightly colored hand-painted earthenware vases made by street vendor Gregoria Alvarez and her son.)
For
18th-Century
Ceramic
Parrot
Lamps
Saved, New York, 72 Irving Pl.; saved-ny.com
A tiny shop tucked away on Irving Place, Saved New York has an Instagram following that includes Marc Jacobs as well as various design editors, florists, and artists. Brooklyn designer Sean McNanney founded the shop in 2015 after working in interiors at Ralph Lauren. The focus of Saved is its house line of handmade Mongolian-cashmere blankets, pillows, and tapestries — though designer Renea LaRiviere says that where the shop truly excels is in its assortment of antiques (like a pair of candlesticks shaped like cobras and an Art Deco mirror by Max Wiederanders) and, especially, "the lamps, which I just love." Recent lamps for sale: a pair of three-armed Dutch wall sconces ($1,800) and some 18th-century Chinese turquoise ceramic parrot lamps ($2,800) with handmade silk shades.