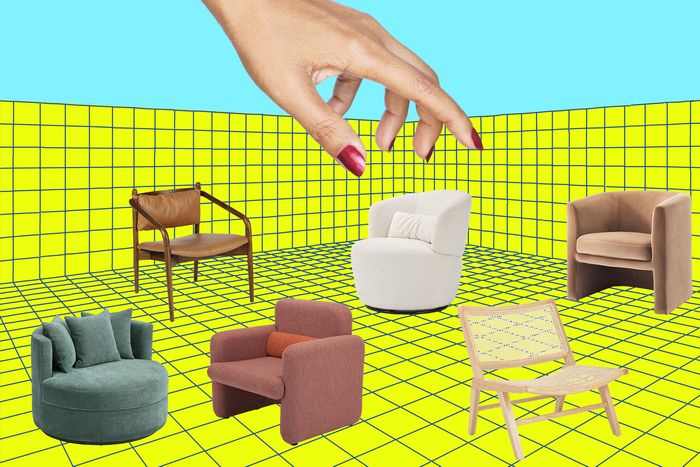 Photo-Illustration: Curbed; Photos: Retailers/Getty Images
For architects, chairs are a microcosm of architecture. A chair, like a building, requires considerations of structure, form, proportion, texture, and aesthetics. A great chair, like a great building, is beautiful, well balanced, sturdy, and, above all, suited to the human body. Designers return again and again to the chair as a fertile testing ground for materials and concepts (our fascination with the furniture is perhaps best demonstrated by the abundance of courses, exhibitions, and books on the subject).
I am a collector of chairs. In my house, for four people and a dog, I have 28 chairs: outdoor chairs, stacking chairs, dining chairs, and, my favorite, side chairs. Side chairs are the workhorses of the house. For those of us with limited space, side chairs can serve as a lounge chair in the corner, be pulled up to the table as a dining chair in a pinch, and be an all-purpose place for a stack of laundry or a nest for a sleeping pet.
Below are a few of my favorite affordable side chairs. These are all visually interesting enough to anchor your interior space, but flexible enough to work in a range of contexts.
Lately we love to design rooms with varying shades of a single color. After putting together the details for a room in shades of terra-cotta and cinnamon, our client mentioned she had an Urban Outfitters chair she wanted to tuck into the corner. I grimaced, but was delighted when she unpacked this. UO quality can be hit or miss, but this piece has clean, straight seams and sturdy construction. This is great in pairs but is bold enough to sit on its own and hold down a corner of a room. With a vibrant vermillion velvet upholstery and sharp geometry, it's perfect to cycle in with an existing neutral furniture set if you're looking to make an easy and high impact change.
I'm not ready to give up on the cane trend quite yet! I grew up in my parents' restaurant, where every table had a set of caned Marcel Breuer Cesca chairs, and today I live down the street from a fantastic social enterprise that teaches chair caning as hands-on learning for differently abled artists. To me, the material is timeless.
There are lots of variations on this chair out there, but I've used this one in multiple projects because if its sturdy base design and its hard-to-beat price. Just yesterday I installed a pair of these chairs with a tambour coffee table and leather poufs in a dark-wood-paneled Victorian house.
My colleague Emilia loves this chair so much she tries to sneak it into every project we do. It's a classic barrel chair with simplified geometry, and it comes in great colors like white sherpa and butterscotch velvet. We've used much more expensive and refined barrel chairs from Trnk and Future Perfect when the client has the budget, but this beauty does the trick on most projects. I have one at home in our library on a wild oriental rug next to a disorderly bookshelf.
This chair is compact enough to sit at a dining table but strong enough to anchor a living room. I've seen this affordable chair reupholstered in luxurious mohair or wild Schumacher chinoiserie prints and staged among higher end pieces — its shape and its structure are just that good.
Everyone loves a swivel chair. You might not even know that about yourself yet, but as soon as you're in one, you can't help but joyfully push yourself around. As soon as our design studio closed for the pandemic, I sneakily brought our swivel chairs home, where they became my children's favorite rides.
It's hard to find a swivel chair under $500, let alone one with a great shape and distinctive color. This one is compact at just about a 37-inch diameter, but it's pretty great for curling up with a book and a cat.
A cousin to the popular CB2 Gwyneth chair, this chair is a great neutral in a unique shell shape. These chairs go well in pairs in a living room with a dark couch, or in a simple white boucle can fit in well in a bedroom. At 23-inch seat depth, it's compact, so you can squeeze it along with a cocktail table in those corners you never know how to style.
This piece reminds me of Herman Miller's legendary (and recently reintroduced) post-modern Chiclet chair, but isn't quite as elemental or bold. This chair found me through Wayfair's clever algorithm, and I love its offbeat rust and turquoise colors. Its strong geometry feels well balanced when paired with a round side table.
You've certainly seen this chair everywhere. We keep two of these in our storefront studio, and people frequently stop to ask about them. I've had these for several years now, and I still love looking at the linked rounded rectangles of its geometry and the sharp contrast of black and tan. My only word of warning: They look great, and sit well, but when getting in and out, they tip easily (but sometimes style is worth the compromise!)
This chair is as fun and as fresh as when it was first popular in the 1950s. It is surprisingly comfortable, and I've placed this piece on outdoor terraces and San Francisco startup offices. My favorite one is from Innit designs, where it's made of flexible vinyl cord and comes in a rainbow of colors.
Photo: Home Threads
This teak piece works for indoor and outdoor lounging, and with its open lacy woven seat, it's a light and airy addition to a living room or patio. It has a summery feel, but in colder seasons I add on a saffron velvet cushion or a very fluffy gray sheepskin.
Article carries a lot of solid and inoffensive basics, but once in a while they have some pieces with unique and inspired designs that feel like they could have been sourced from 1stDibs or Brimfield (the epic New England flea market frequented by Martha Stewart). I'm a big fan of this leather Lento chair in a dark walnut frame and pale cognac leather. It has some great details: a unique arm shape that curves into a front leg, a soft back cushion attached with loops, and an arc-shaped back. It's not the most comfortable for extended lounging, but it's a great accompaniment to a soft curvy sofa.