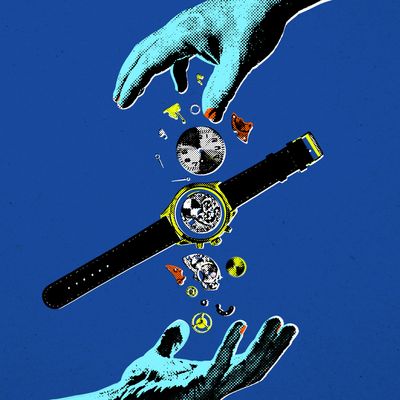 Photo-Illustration: Curbed; Photos: Getty
Greenwich St. Jewelers, 93 Reade St.; 866-985-0921; greenwichjewelers.com
When publicist Shannon Comstock got engaged in 2017 and needed to resize her fiancé's grandmother's silver wedding band, she scoured online reviews and found Greenwich St. Jewelers was particularly well known for the service. She went to the family-run Tribeca shop and was immediately struck by the Art Deco interiors, velvet stools, and warm lighting. "It's an elevated experience versus just walking into a chop shop," she says. The band was inscribed with her grandparents-in-law's initials and wedding date, and on top of the resizing, Comstock had the same details engraved for herself and her fiancé. "I was afraid it'd get damaged," she says, "but they somehow packed everything in." Vintage reseller Elias Marte adds that the shop has a special knack for resizing while preserving the structural integrity of ring designs, which he learned after having a gold ring with channel-set emeralds, rubies, and sapphires serviced — a difficult job, as taking the size down means the stones could fall out. "They're so meticulous," Marte says, "and in two weeks it fit perfectly."
The Laser Booth, 44 W. 47th St., Ste. C-01; 212-382-2299; thelaserboothfinejewelry.com
This past summer, Ashley Davis, an editor at the trade publication National Jeweler, needed clasps repaired on some solid-gold mariner-chain anklets — quickly. David Hakimian, who owns a jewelry consulting company, sent her to the Laser Booth, which sits on the lower level of the Diamond District's IGT Jewelry Shopping Mall. Davis arrived at the shop before it opened to find a small line of people, but the jewelers at Laser Booth still replaced the broken chains on her anklets in two days, charging $22 for each. She's since gone back to have a vintage 14-karat-gold pendant soldered onto a necklace ($35) with the same two-day turnaround and says the team there has been a helpful resource for other niche projects of hers, even referring her to another vendor for services like replacing colored rhodium plating. Hakimian visits the shop almost daily on behalf of clients who need clasps adjusted and diamonds replaced in pavé rings. Once, a few hours before an event, Hakimian's girlfriend's gold hoop earrings wouldn't close. He took them to Laser Booth, which fixed the hoops (for around $60, Hakimian recalls) in time for the party.
For
Email
Updates
on
Your
Rolex
Watchmaking Project, 244 Madison Ave., Ste. 401; 718-281-6611; watchmakingproject.com
"Usually, you bring a watch in to an authorized dealer or boutique and the repair process is a total black box," says Hoboken attorney Gregory Wirtz. That's not the case at the Watchmaking Project, where managing director Henry Ly emails customers photos of their watch parts laid out with highlighted notes explaining what needs to be fixed or replaced. Since meeting Ly at a watch-enthusiast event hosted by RedBar Group in 2018, Wirtz has taken Patek Philippes, Rolexes, and an Audemars Piguet to the Watchmaking Project for servicing; most recently, he brought in a 1980s Rolex Day Date with a cracked calendar wheel. Ly emailed back with options for replacing the broken part plus his advice on what to do. (Ly ultimately had the part laser welded together, and Wirtz says the watch is now "technically stronger than ever.") Kathleen McGivney, CEO of RedBar Group, had a similar experience when she took two vintage watches to Ly for some updates. "It's such personalized service," she says of the information he sent her within just a few hours.
For
Replacing
Clasps
and
Stones
Oro Latino Jewelry Inc., 82 Bowery; 212-925-1538
Casting director April Chin started visiting Oro Latino, a family-run jewelry shop in Chinatown, to peruse its selection of name plates and chains, which is how she learned that Tom Fung, the shop's owner and main jeweler, has a breadth of knowledge on vintage jewelry. "You can show him a link, and he can name it off the top of his head," she says, which is why "he's the only person I trust" to clean a vintage gold S-clasp necklace Chin inherited. (Fung also cautioned her to be careful with the clasp, now that it's being phased out.) "I've tried other jewelers, but I was never sure if I was getting a fair rate," says Louise Lund, a creative producer who went to Oro Latino on Chin's recommendation eight years ago. "Tommy always explains the cost of everything." Last year, Lund lost an emerald on an early 1990s Cartier ring and asked Fung if he could source a new one that would match the original. Within a week, he texted stone options to Lund, and they decided on a Brazilian natural emerald, which he replaced for $150. When Lund picked up the ring, she says "the gold was polished, and the stone was glimmering."
For
Vintage
Heuer
and
Omega
Grand Central Watch, Grand Central Terminal;212-685-1689; centralwatch.com
Housed between tracks 38 and 39 in Grand Central Terminal, Grand Central Watch has been servicing timepieces since 1952. Ben Clymer, founder of watch-news site Hodinkee, first visited 15 years ago, when he brought in a 1950s Heuer Camaro bought at auction, even though it was in "really rough shape and hadn't run in probably over 30 years," says Clymer. "It's the equivalent to servicing a 1950s automobile." Grand Central owner Steve Kivel, the grandson of the shop's founder, prescribed a full overhaul — oiling and lubricating, cleaning the dial, and replacing the watch's mainspring and strap — and had it ready in four months. Clymer, who recalls paying around $350 for the upkeep, adds, "Out of all the facilities in the country, this is the place you want to take a handed-down watch." That's exactly what photographer Dennis Tejero did when he brought in a 1970s Omega Genève passed down from his grandfather in the Philippines. Grand Central did a complete restoration, cleaning out the rust and replacing the balance and dial for $500 — a third of the $1,500 quote Tejero received from Omega.