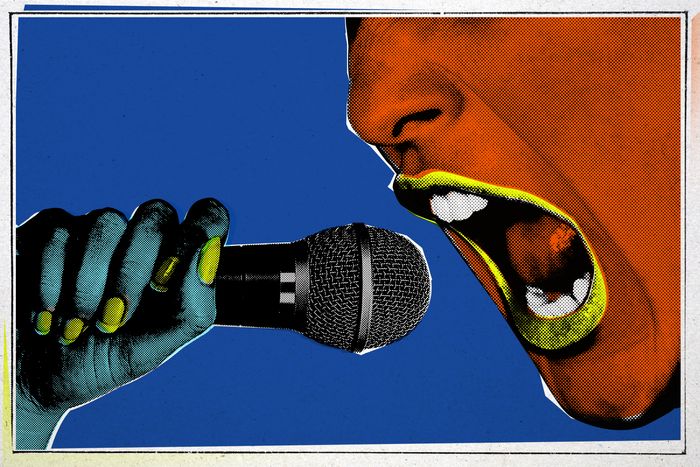 Photo-Illustration: Curbed; Photos: Getty
Gagopa Karaoke, 28 W. 32nd St., third fl.; gagopakaraoke.com
Gagopa is in a nondescript building in Koreatown with spare signage and a few string lights. Inside: a mirrored, disco-lit, linoleum-floored karaoke fun house. "Life these days is so driven by trends. Gagopa seems more than happy to simply be itself," says Tae Yoon, the New York editor of Thrillist, who has been going out in Koreatown since the late '90s. Gagopa offers private rooms for groups of up to 40 people (from $9 an hour per person) and is especially beloved for its BYO-friendly attitude. (For those who don't plan ahead, Gagopa keeps a fridge stocked with $4 beers and bottles of wine and soju.) The staff provides buckets of ice to keep drinks cold and will bring takeout orders directly to your room, or you can bring your own spread. Alyse Whitney, a food editor who has been a Gagopa regular since 2012, says her friends have brought everything from homemade crab rangoon to Murray's cheese boards to — once — three slow cookers full of hot dip. "The staff was like, What is she doing?" Whitney says. "But they allowed it."
Dr. Clark 104 Bayard St.; drclarkhouse.com
When Japanese restaurant Dr. Clark opened in 2020, it took over a space on Bayard Street formerly occupied by Winnie's, the karaoke dive that closed in 2015 after a 28-year run. (It reopened in 2019 on East Broadway.) "We started getting these OG Winnie's customers, Chinese people from the neighborhood, gallery people," says Yudai Kanayama, a co-owner of Dr. Clark. "For us, it was very important to keep the legacy of Winnie's alive." So the owners started hosting outdoor karaoke during the summer of 2020 ("It got almost too crazy — we started packing the whole street," says Kanayama"), eventually moving the whole thing inside when indoor dining returned. Now, on Mondays at 11 p.m., a server turns on the screen (tucked between hanging dried plants from Green River Project, which did the interiors) and people sing in English, Japanese, and Mandarin between shochu highballs and Sapporos. "It's a chill vibe and then it's just, like, party time," says actor and philosophy grad student (and regular) Billie Alexopoulos. "Everybody joins in, and it's rowdy, it's crazy, it's a transformation." ("I saw Lorde there once," says Vanity Fair art columnist Nate Freeman. "I think she was a little surprised when karaoke started going down.")
For
Spotting
Broadway
Singers
RPM Underground, 246 W. 54th St.; rpmunderground.us
RPM Underground opened in 2019 after Raj Banik and his business partners noticed a lack of large-scale karaoke-party venues. They decked out the space with contents of one owner's collection of records, Pop Art, and Beatlemania ephemera, making it "one giant time capsule of why people love music," says Broadway actor (and regular) Syndee Winters. RPM's 18 private rooms (from $50 an hour) fit between five and 40 people and are decorated according to themes such as The Avengers and '70s soft-core porn. The soundproofing is especially stellar, meaning even rowdy parties won't hear one another — a bonus for Winters, who has gone to RPM with other Broadway singers to take a break from musical theater. "Sometimes you want to try new material without an audience," she says. "You just want to let loose. It's like therapy." And for those who don't mind singing to a bigger crowd, RPM's larger rooms connect and can hold parties of over 200 people.
For
an
Extensive
'90s
Hip-Hop
Catalogue
Rosa's at Park, 2568 Park Ave., the Bronx; rosaatpark.com
Rosa's at Park is a Latin-fusion restaurant inside the Bronx's Wingate, a new Wyndham hotel half a block from Grand Concourse. Every other Thursday at Rosa's, After Work Karaoke takes over. Starting at 7:30 p.m. — with happy hour and dinner service still in full swing — the Bronx-based music and comedy duo the Range Brothers start taking names and songs. After Work Karaoke started only in January but already has regulars like City Councilmember Althea Stevens, who says the crowd is young, largely from the Bronx, and there to sing hip-hop and R&B; oft-requested songs are by Busta Rhymes, Biggie, and Blackstreet and from Jay-Z's '90s catalogue. For the typically microphone-shy, it helps that Rosa's extends the happy-hour menu of $7 mojitos and $5 shots until the singing stops at 10:30 p.m. and that the hosts sometimes hop on an additional microphone, hyping up members of the crowd to make sure they sing along with the chorus.
For
Scream-Singing
Evanescence
Alligator Lounge, 600 Metropolitan Ave., Williamsburg; alligatorloungebrooklyn.com
On Thursdays, Fridays, and Saturdays, a messy, strictly after-midnight karaoke scene takes over the back room at Alligator Lounge. "It's when the creatures come out," says longtime visitor Emily Vanderpool. Fueled by $7 Booty Shakers (Tecate and a tequila shot) and the free personal pizza that comes with every drink, patrons take to the stage to scream-sing emo and pop-punk from the late 1990s and early aughts, like Green Day, Evanescence, and My Chemical Romance. The clientele often leans more college age and band-tees-and-beanies than, say, the crowd at Bushwick's Cobra Club, which rivals Alligator Lounge in intensity but skews more toward true DIY punk. For sheer emo nerve, Vanderpool says Alligator Lounge is hard to beat: On two separate nights, after particularly passionate performances of Fall Out Boy and Blink-182, she has seen the singer crowd-surf the room. "I don't know if any other places really bring that 'I'm gonna pick this dude up and carry him around' vibe," she says. "The bouncer did not love it. But nobody got kicked out."
Sid Gold's Request Room, 165 W. 26th St.; sidgolds.com/new-york
In 2015, Paul Devitt of Beauty Bar and pianist Joe McGinty of the Loser's Lounge (as well as the Psychedelic Furs) opened Sid Gold's Request Room, which forgoes a karaoke machine in favor of a live pianist. Every night (except Sundays and Tuesdays) in the back room, behind a thick velvet curtain, a piano player takes requests for everything from Sinatra and Frankie Valli to ABBA and Britney Spears. Guests watch from rounded velvet booths, under a pressed-tin ceiling, and scan QR codes to pull up the song list. The regulars, per Sara, who has frequented Sid's for six years and had her engagement party in the piano room, are often genuine talents. "It's just a hidden gem," she says. "All of a sudden, it's like Broadway level." There's no cover or song charge, but Sid's does have a two-drink minimum. (The menu includes something called an After the Gold Rush — a gin drink with lemon, lime, honey, and gold glitter.)
Branded Saloon, 603 Vanderbilt Ave., Prospect Heights; brandedsaloon.com
The weekly "Jared Michael Gniewek Karaoke Warzone" night at the honky-tonk-ish gay bar Branded Saloon has a group of unusually devoted regulars: Pre-pandemic, the event was so important to videographer Don Calva that he would rearrange his work schedule to accommodate it. "And I'm not the only one who did that," he say. "I met everybody I live with through karaoke night here." Gniewek, the DJ, says regulars send him their song choices days in advance so they can practice at home, and he sends weekly emails with updates on new songs added to the catalogue; the night of, guests submit paper slips and sometimes wait two hours to sing. Song choices range from '90s pop-punk nostalgia to Weird Al to Limp Bizkit to Rent. ("Basically the entire crowd is queer," says regular Kat Rejsek. "The song choices reflect that.") Throughout the night, Gniewek keeps one slip from everyone who sings, and at 11 p.m. whoever happens to be on the mic picks a slip from the pile for "Robyn Roulette." Whoever's name gets pulled sings "Dancing on My Own," "whether they know the words or not," Gniewek says.
For
Old-Timers
Singing
George
Michael
Montero, 73 Atlantic Ave., Brooklyn Heights
Montero, with its flickering neon sign and glass-brick façade, opened on Atlantic Avenue near the waterfront as a longshoreman's bar in 1938. It's still well known for its maritime ambience (model ships, lifesavers, and framed photos of sloops abound), but since 2007, the place has become equally popular for its rather rowdy karaoke nights, run by host Amethyst Valentino. On Thursdays through Saturdays, get a paper slip at the bar when you buy a drink, fill it out, and give it to Valentino, who will gladly suggest other songs if yours is taken. Expect to hear the Eagles, Céline Dion, Billy Joel, Queen, and Sinatra. (Cristina Martin, a regular for almost a decade, recalls one especially notable rendition of "The Lord's Prayer.") Montero gets its share of young professionals and students, but Martin says the old-timers are the heart and soul of the place, including "Bob. Whenever I see him," Martin says, "I know he's going to sing 'Careless Whisper' and bring the house down."
For
Juan
Gabriel
and
Agustín
Lara
Sing-Alongs
Fajitas Sunrise 59-24 Myrtle Ave., Ridgewood; fajitas-sunrise-restaurant.business.site
Karaoke Nights at Fajitas Sunrise, a pink-and-orange-walled Mexican restaurant in Ridgewood, start off low-key: A man the staff calls "the mariachi guy" sets up his equipment in the corner and sings an old bolero or two before passing the microphone off to dinner guests. Eventually, says Litzy Confesor, a server at the restaurant, people forget about their plates and start dancing between the tables. Latin songs from the past 50 years or so are the focus: Think mariachi, bachata, and everything from Mexican pop from the 1980s to reggaeton from the 2010s. "It's the songs we grew up with," says Mariano Morán Ventura, a data analyst for the city who is originally from Veracruz, Mexico. Karaoke at Fajitas — which starts around 7 p.m. on weekends — is like being transported to a wedding back home, Morán Ventura says: "It's a place where you can sing and get emotional to songs that may not even have a deep lyrical meaning, but you just end up singing along because you share the same culture."