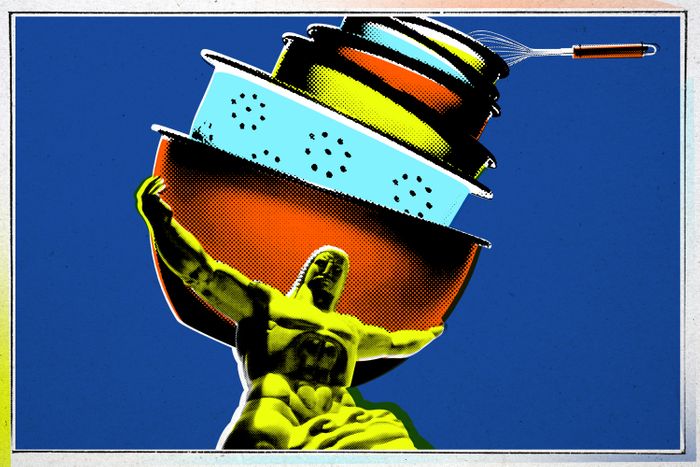 Photo-Illustration: Curbed; Photos: Getty, Wikipedia
For
Copper
Pans
and
Kunz
Spoons
JB Prince, 36 E. 31st St.; jbprince.com
Over the years, JB Prince has retained its reputation as the city's go-to shop for serious cooks, in part, says Veranda chef George Mendes, for often being the first to stock ahead-of-the-curve products like sous-vide machines (when they were first introduced) and disposable bowls made of sugarcane (these days). This is essentially how the store started in 1977, when Judy Prince began importing molds, knives, and pasta-making equipment from Europe to sell out of her Brooklyn attic. Today, JB Prince is on the sixth floor of a midtown office building, where it remains a staple for chefs from Eleven Madison Park, Jean-Georges, and Atomix as well as for younger chefs like cookbook author Andy Baraghani, who calls it "a toy store for cooks." Mendes started shopping at JB Prince when he worked at Bouley in the late 1990s and points out that the store is still the exclusive producer of the Kunz tasting spoon, which, he says, "has to be the single most significant contribution to our toolbox."
For
a
Jumble
of
Everything
Tarzian West for Housewares, 194 Seventh Ave., Park Slope; tarzianwestforhousewares.com
Tarzian's housewares shop opened 45 years ago and is one of the last of the city's catchall kitchenware emporiums. Like Broadway Panhandler (which closed in 2016) and A Cook's Companion in Brooklyn Heights (shuttered in 2018), Tarzian sells everything from boning knives to SodaStream canisters (staff will happily sharpen the former; the latter they'll recycle). "It's a great source for basics but also curated," says private chef Olivia Williamson, who stops into the Park Slope shop regularly for necessities as varied as an eight-inch Wüsthof chef's knife ($170) and a Silikomart silicone mold ($40) for French pastries. Irene Khin Wong, who owns the catering company Saffron 59, has shopped at Tarzian for a decade. "The staff are very knowledgeable," she says. "Recently, they helped me find carbon-steel pans light enough for me to lift but that still retain the right heat."
SOS Chefs, 104 Ave. B; sos-chefs.com
Walking into SOS's Alphabet City shop is a "full-body experience," says Ayesha Nurdjaja, executive chef of Shuka and Shukette. "Their selection is really unmatched," says Hillary Sterling of Ci Siamo, adding that even among the city's specialty spice shops — a cohort that includes Kalustyan's and Sahadi's — SOS Chefs is known for carrying especially niche, small-batch ingredients. For Sterling, that means the shop's Kampot and Tellicherry peppercorns, used in her rigatoni alla gricia, and a chile powder she calls "the secret ingredient that completes our tagliatelle." Atef Boulaabi, the store's owner, "makes a kumquat koshu that is mind-blowing," Nurdjaja says of a citrus-peel, chiles, and olive-oil paste. "I used it to dress a fluke crudo and even added a teaspoon to a gin-and-tonic." For something even more specific, Boulaabi can make custom blends on the spot; when Nurdjaja came in with an idea for a leg of lamb, Boulaabi created a new mix with juniper, Kashmiri chile, Malabar pepper, and wild rosemary.
Korin, 57 Warren St.; korin.com
Korin remains unrivaled as the city's best shop for knives, for which credit goes to its owner, Saori Kawano, who opened the store in 1982 and still helms the showroom today. "She is extremely meticulous," says L'abeille chef Mitsunobu Nagae. "If I ask her for a knife to cut vegetables, she asks how I hold my knife, what kind of vegetables, what products I have used before — all kinds of questions I hadn't even considered myself." From there, Kawano guides shoppers through styles that go beyond multipurpose gyuto and santoku knives to include salmon, sole, tuna, and blowfish specialty knives. Korin pieces can cost up to $5,000, in part, its longtime customers say, because of the investment: Eric Ripert calls them "very beautiful but also incredibly practical," and Akshay Bhardwaj, the chef at Junoon, says, "You will have that knife for a majority of your life." Plus, Bhardwaj adds, "you can drop knives off with the master sharpener, Vincent, and he'll make them better than when you first bought them."
For
Sheet
Pans
and
Plastic
Quart
Containers
Rainbow Kitchen Supplies, 272 Bowery; 212-966-2895
The stretch of Bowery below Houston has long served as the city's restaurant-supply district, but amid the array of storefronts — and in light of the 2020 closure of Bowery Kitchen Supplies, an institution — Rainbow Kitchen Supplies stands out for its vast number of sturdy basics. "Imagine a neighborhood hardware store doubled in size in every direction," says Ali Slagle, author of I Dream of Dinner (So You Don't Have To), who has visited Rainbow over the years, first while stocking a test kitchen with pans, then more recently to load up on plastic quart containers and baking sheets for developing her cookbook recipes. Food artist Alix Lacloche wandered in years ago and wound up returning the next day: "I was going back to Paris and managed to stuff a few aluminum sheet pans in my suitcase since we don't have them in France."
Balady Home & Décor, 7118 Fifth Ave., Bay Ridge; baladymarket.com
Halal supermarket Balady started importing Middle Eastern cookware 20 years ago and in 2016 opened this stand-alone extension, known for "a range of difficult-to-find items that separates it from the pack," says Mike Farah, owner of Nabila's in Cobble Hill. Farah has shopped there for years, ever since tracking down baking pans to replace the ones his mother brought from Lebanon and used for knafeh and kibbeh sanieh: "We look for round molds with a specific diameter and height that cook evenly and have the right nonstick surface to flip once cooled." Also at Balady: conical clay pots for braising a Moroccan tagine, stainless-steel pressure cookers used in Syrian cuisine to make stuffed grape leaves, and Turkish copper pots for roast-meat dishes — tools that are "virtually impossible to get in the U.S., and I've tried," says Farah.