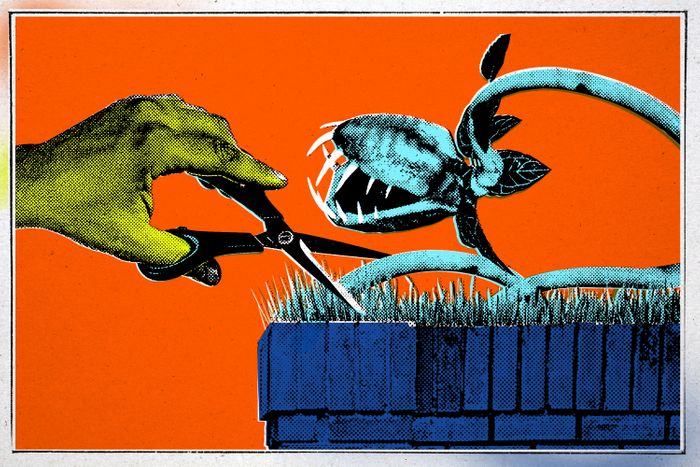 Photo-Illustration: Curbed; Photos: Getty
christygardens, christygardens.com
In 2013, landscape designer Christy Dailey was hired to oversee the installation of the Piet Oudolf–designed roof gardens at David Zwirner's West 20th Street gallery. She managed the placements for more than 1,000 plants so deftly that she was asked to work on his townhouse gardens — front and back yards, plus a bedroom terrace filled with Christmas ferns, Solomon's seal, and toad lilies. "She planted each in such a way that each season has a distinct quality — my favorite being early fall, when the plants are mature, tall, and a bit wild," says Zwirner. According to her clients, Dailey brings that wild quality to every space she works in, no matter the size. When a Cobble Hill couple asked her to fill in border gardens in the 20-by-40-foot space behind their brownstone, she "made it feel huge by using color and texture. She planted daffodils, tulips, firethorn and a magnolia tree, and several climbers. In early May, we consistently get emails from neighbors saying, 'Oh my God, I'm overjoyed it's wisteria season again.' " (Maintenance, from $4,500; design services from $1,500.)
For
a
Transformed
Terrace
DiMastery, dimastery.com
Eva and Matthew Seminara's 400-square-foot terrace in Carroll Gardens was little more than a dreary stone slab when they moved in. It took Dimastery, whom the couple heard about through their broker, less than two months to turn it into an inviting, handsome, and functional without feeling overfull space — Dimastery's strong suit. Dimastery owner Dima Rumiantcev managed to squeeze in a gas grill, refrigerator, bar cabinet, stone countertop, custom dining table, and cedar pergola anchored by grasses and limelight hydrangeas that bloom well into fall. "He blends the indoor and outdoor perfectly," says Eva, down to the flowers and branches she was able to cut to bring inside the apartment. "As soon as we get into bed, all we see is a full wall of greenery" (From $30,000.)
For
Fiddle-Leaf-Fig
Maintenance
Plant Specialists, plantspecialists.com
Plant Specialists offer a relatively rare service in the city: For an hourly fee (from $95), they'll look in on (water, fertilize, and just generally keep alive) houseplants, whether that's a massive Monstera collection or a single orchid. Kerry Repaci, who lives in a Fort Greene duplex, has entrusted her seven-foot-tall fiddle-leaf-fig tree to Plant Specialists for nearly eight years. "I wasted so much money trying to care for my plants myself," she says. "Everything I bought would die and need replacing every six months." Since the fiddle-leaf is now flourishing, she's recently been able to confidently expand her collection — the company now cares for her snake plant, pinstripe plant, silver-splash pothos, calathea medallion, and ZZ. "They come in every two weeks, water, feed, deadhead, and turn each of the plants. I recommend them constantly," she says.
For
Rooftop
Calabrian
Chiles
Brooklyn Grange, brooklyngrangefarm.com
When haven's kitchen founder Alison Cayne decided to add an edible garden to her West Village townhouse — she wanted quicker access to fresh produce — she immediately called Brooklyn Grange, an outfit she'd heard about while studying food policy at NYU. The rooftop-farming company is responsible for Vice's Munchie's garden and the one atop Rosemary's restaurant in the West Village. (The latter's 1,000-foot space produces tomatoes, which, per owner Carlos Suarez, go straight into its seasonal cavatelli, and Calabrian chiles, a major component of its rigatoni alla Arabbiata.) Brooklyn Grange quickly filled Cayne's top-floor terrace and backyard with garden beds planted with spring greens, strawberries, snap peas, Sungold tomatoes, baby eggplants, and some 30 different types of herbs. The company made a point of adding a bevy of water-absorbing plants on the roof — succulents from edge to edge — to "slow the rain down and better insulate the house." Ever since, she says, the place "stays cooler in summer, warmer in winter, and requires less energy." (From $15,000.)
For
Attracting
Mourning
Doves
Edible Petals, edible-petals.com
Lighting designer Lindsey Adelman discovered Marie-Helene Attwood through her friend the architect Elizabeth Roberts. Attwood had done Roberts's front yard (per Adelman, "a beautiful, natural, and unmanicured" assortment of Venus dogwood, boxwoods, and lilyturf and daffodil bulbs) and decided to go to her for her own 90-foot-deep Brooklyn backyard. There, Attwood planted native ferns, hydrangeas, an Orange Dream maple, Japanese grass, blueberry, red-currant bushes, and enough peonies that Adelman can now cut her own bouquets. Many were intentionally planted to attract birds. "We now see sparrows, robins, wrens, cardinals, mourning doves, and blue jays out our window," says Adelman. Attwood's team set up a simple irrigation system for the garden to minimize maintenance. "They are realistic about how much time city people can actually spend on their gardens," she says. Attwood is also highly adept at transforming even the grimmest of spaces, says client Sara Kate Gillingham. For her 20-by-40-foot Bed-Stuy backyard — previously a "dirt pit" — she created a lush space filled with ferns, astilbe, and a Chinese dogwood that attract dragonflies and butterflies galore. (From $15,000.)
Dana Bee Plants, danabeeplants.com
For the past six years, Dana Boyd has worked a city niche: installing front-step planters and window boxes to dramatic effect. For one Cobble Hill resident, she plants tulips and daffodils for the spring and mums in the fall and uses magnolia leaves, evergreen, eucalyptus, and red berries for the winter. The turnaround time is exceedingly speedy. "Dana comes in the morning, and planting is done within a few hours," says the client. "The holiday decorations" — garland twisted around handrails, sprigs of eucalyptus, and branches of cedar and juniper berries along the front stairs and in window boxes — "take a few more hours but are still always a same-day situation." Boyd is so adept at zhuzhing up the front of homes clients seek her out before putting their places on the market. One Brooklyn brownstone owner called a few weeks before her open house, and Boyd quickly designed two window boxes with hanging fishhook succulents, trailing tradescantia, salvia for height and summerlong blooms, and a couple of large terra-cotta planters for the stoop. (From $800).