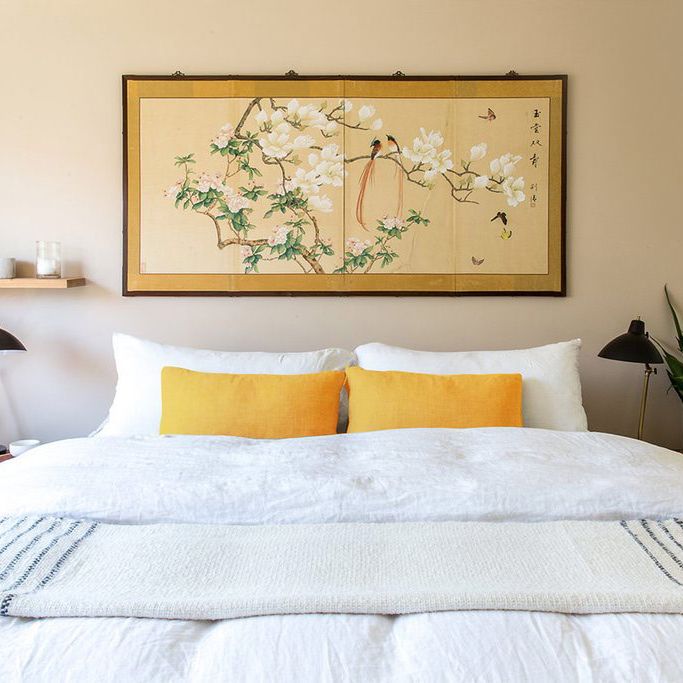 Excellent sheets, by Morrow Soft Goods.
Photo: Morrow
Over the past couple of years, Strategist editors have developed a fixation with linen sheets. New and must-try brands keep coming to our attention, especially in the direct-to-consumer space — even Casper got into the game for a while, and although they've since dropped out, mostly the boom continues. Another mattress start-up, Tuft and Needle, launched linen sheets in 2018 alongside more artisanal brands like the sustainability-focused Citizenry and the U.K.-based Piglet, which expanded to the U.S. in 2019. In total, we've now had the chance to collectively test nearly 20 different versions of this old-world bedding, many of them during quarantine, when we've become closer than ever to our sleep spaces.
Of course, the universal draw of linen, which is derived from the flax plant, is its inherent temperature regulation, keeping you sweat-free in the summer and cocooned when it's cooler. But beyond this general quality, we also gained an appreciation for how nuanced the material can be — some iterations stand out for their softness, others for their heirloom-quality heft, others for simply coming in a unique range of colors (not just the traditional shabby-chic neutrals). We've grouped them accordingly here, with some of the options in each category being much splurgier than others (although linen, on the whole, tends to be a bigger, longer-term investment than, say, your typical percale cotton). And speaking of cost, you'll see that most prices listed are for a full-size set that includes a fitted sheet, flat sheet, and two pillowcases; some brands, however, only offer dimensions for queen beds and up, and/or they sell by the piece. This à la carte option, we learned, has its merits — sometimes just a single layer of linen atop or below your body is all you need to transform your night.
If
you
want
linen
sheets
that
are
especially
soft
These sheets are the softest I've ever slept on. Even after being put through a harsh industrial laundromat dryer, they roll out of there just as ripply, breezy, and structurally sound as they day I first unfurled them. They appear built to last, with all the virtues that everyone praises about linen: substantial enough to use on their own, a breathable solution for sweaty summer nights, a warming cocoon for when it gets cold. (Snowe is one of those start-ups that work with European factories to source the same materials as high-end names and sell them for less.) A note about sizing: It is generous. If you have one of those super-tall mattresses, it won't be an issue — but I do find myself cinching up excess fabric underneath the mattress so they feel more taut. Snowe's palette is also limited to just three shades: white, gray, and pale blue. The final verdict, though — considering they're only a smidge pricier than your West Elms and Brooklinens — is that if you're into linen feeling soft, buy these. — Simone Kitchens, former senior editor
These are phenomenal; soft in a downy way. As Jean Godfrey-June told us, "I've never felt anything so comfortable in my life." I got them in greige, and that was so much nicer than other regular cream-colored sheets I've slept on in the past. I like that flaxen, undyed look. I also really like that they come in just one full set with the fitted and top sheets and pillowcases, because a lot of other places sell the sheets piecemeal. (Then again, my best friend hates top sheets, so for her to buy linen sheets from one of these other companies and save almost $100 on the top sheet is a deal.) Anyway, I love a top sheet and give props to Morrow for selling one sack of linens — exquisite linens —one and done. — Margaret Rhodes, former senior editor
Brooklinen made me fall in love with linen sheets. They're so light, it's almost like you don't feel them. They just brush against you when you sleep. If you've only used cotton or whatever, you can't even compare it to the feel of these linen sheets; it's like an angel's kiss. They come in a range of neutrals and earthy tones including a petal pink and navy chambray; as long as you're not looking for a bright color, buy these.
— Lauren Levy, former senior staff writer
I knew that linen sheets were supposed to be breathable and durable, but I did not expect them to feel so sumptuous. These were like dozing off in silk — airier than the Eileen Fisher ones I tried — but not at all flimsy. Bella Notte's sheets have been sewn and hand-dyed to order by local makers in Northern California since 1996 — and, as I learned when my first pair of sheets were delivered to our abruptly closed office back in March, and trapped in our mailroom, this is not just marketing-speak. Before the company could send another set to my apartment, where I was sheltering in place, they first had to dye them for me. They are pricey (sold by the piece, they're $222 for the flat sheet alone), but I expect them to, as the brand claims, "stand the test of time." — Casey Lewis, senior editor
Beyond the really nice weave of these sheets — they feel like a gently worn-in chambray shirt; soft and not at all scratchy — they stand out for their unique snapping system. I had to watch the video on their website twice to understand how the top sheet connects to the duvet cover, but I eventually did and it indeed makes straightening up the bed much easier: You only need to pull up and fluff the duvet each morning, and the top sheet neatly comes along with it. The main downside to the innovative design, though, is that you can't easily toss off the duvet cover if you get warm during the night. (I should note that this wasn't a problem for me, even though I sleep hot; I suspect this has something to do with how well linen regulates temperature.) And at $449 for a full-size sheet set (including the duvet cover), they're not cheap. But as a lazy person, the faster bed-making has undeniable appeal. — Karen Adelson, senior writer
If money were not an issue, I would choose Matteo sheets above all the rest because they're so light. They feel like a thin nothingness that's also incredibly soft and cozy, whereas the other linen sheets I've tried have a heavier quality. Matteo makes the closest thing to a Status Sheet, among the brands on this list; the company has been around for a while, and the fabrics are woven in Italy and sewn in Los Angeles. It shows up in the price, though — you might want to wait for them to go on sale or put them on a registry and hope you get lucky. — L.L.
If
you
want
linen
sheets
with
heft
The Citizenry
Launched by the global-artisan-centric brand The Citizenry in 2018, these sheets are made from stonewashed French flax linen and woven at an old family-run mill in Portugal. Out of their matching linen sack, they're soft but lean more on the sturdy side. They also have that classic baggy look — the fitted sheet is designed for up to a 15-inch-deep mattress, which mine is not. The first few nights I tried them, they didn't feel particularly luxurious, but my appreciation built over time; they are the coolest sheets I've ever slept on — this was made even more clear when I went back to my old sweat-inducing sheets while these were in the wash. Speaking of which: The description warns that they might shed after the first few launderings, which is expected with natural fibers, but I haven't experienced that. There's also been no pilling, and the eyelet stitching around the top sheet and pillowcase have remained perfectly intact, as has the color (I went with the rich olive). — Jenna Milliner-Waddell, junior writer
Piglet
Piglet launched in the U.K. in 2017 with a line of stonewashed, all-French flax linen bedding that hit the United States in 2019. It's remarkable how well my Piglet sheets have held up since I started sleeping on them back in September — gauzier than ever but not at all worn down. Regarding aesthetics, there are no eye-catching embellishments or exceptional stitching details. They are all-white-only and also drapey — I have a full bed, and Piglet's sizing often starts at queen; though the fitted sheet cinches over my mattress perfectly, the top sheet hangs down to the floor. Another quirk to keep in mind: Most of the bundles don't come with flat sheets. The starter sheet set, for instance, just includes a fitted sheet and two pillowcases. If you're willing to splurge, go for the bedtime bundle, which also mixes in some more color options, like a deep teal and not-too-nautical pinstripe. — Maxine Builder, managing editor
There is a tactile-ness to good linen, which is one reason I love Parachute. And the price is right: Even though I would have bought Matteo from the jump, I wasn't ready to spend $430 on sheets. Parachute, in my opinion, is the best all-around option, factoring the middle-of-the-road price, the substantial feel of the linen, and the cool-placid-hazy bed environment you can create with the color options — I bought the sheets in coal and the duvet cover in fog. — L.L.
I hadn't considered linen sheets until I came across interior designer Tiffany Thompson's Instagram story, where she convinced me that I needed them in my life — in particular, I needed a set from home-goods brand Hawkins NY, which are Thompson's favorite. It's easy to see why: Made from Belgian linen and then stonewashed in Portugal, they have this automatically lived-in look, soft and rumpled and ultraluxurious (this shows up in the price; $198 for the flat sheet alone). They got even softer once washed. But what I liked best about this set is that there's so much material to work with. I have a 12-inch-thick Allswell Luxe mattress, which means I normally spend a lot of time making and remaking my bed to keep from naked bits of mattress getting exposed, but not here; the generous amounts of fabric are easily tucked in. I got them in basic white (even though there's a range of 17 color options), but they still managed to elevate the look of my existing, mostly white bedding, which was somewhat sterile before, but not anymore. — Tembe Denton-Hurst, staff writer
Imagine being swaddled in Eileen Fisher all through the night. The linen of these sheets is more rough hewn than other linen sheets I've felt. It has serious heft; maybe that's because it's pure linen made from French flax, which is said to be extra-durable. It's almost nubby in feel, like a (very touchable, very fancy) burlap. And though I can't speak to how they stand up to a washing machine — I don't have one in my apartment and, due to our current circumstances, haven't been able to properly do laundry in weeks — they do come prewashed "for an exquisite hand and ideal for comfort all year long," which, I think, speaks to how they'll hold up to future washes. And maybe also speaks to the price — like the Bella Notte offerings I tried, they're sold by the piece, rather than in sets, so if you want both a flat and fitted sheet and two pillowcases, you're going to end up toward the more expensive end of the linen-bedding realm. — C.L.
Though these sheets come prewashed, they were still fairly stiff as I took them out of their beautiful linen drawstring storage pouch with an included lavender sachet. About a week in, the sheets did soften up, but they didn't lose their grainy texture. This company, as the name suggests, is not like other brands just doing linen sheets as part of a larger repertoire of different fabrics; their specialty is very much linen everything — linen napkins, linen curtains, linen duvet covers — all handcrafted in California. Despite the unfamiliarity of their subtle scratchiness, I did actually have an easier time falling asleep with these sheets than I do my cotton ones, with their better breathability and temperature-regulation. I can't speak to how much softer they get with each wash, since I unfortunately had only a limited amount of time to test them before I had to leave the city to shelter in place somewhere else. But if you're willing to invest in a break-in period, along with a higher price point relative to the other brands on this list — a full-size set usually starts at $382, though they are on sale right now — you can think of these sheets almost like a form of self-care. — Leah Muncy, editorial intern
Upon unboxing these, they immediately felt heavier and more like the idea of an heirloom sheet than any other I've encountered. A lot of other brands do an enzyme prewash to give sheets a lived-in feel before that's actually true — Linoto doesn't. (They're all made in upstate New York, and I recommend checking out Linoto's website for a wealth of information about the mills and lack of chemicals they use.) I actually got to talk to the founder about the best ways to break in the sheets, and besides just regular washing and time, he recommends adding a little hair conditioner to the wash in lieu of fabric softener. Anyway, these have the right ratio of soothing to crisp qualities, and the sheets hold their shape. It's hard to imagine they won't last for ages. — M.R.
If
you
want
linen
sheets
that
come
in
standout
colors
Photo: Copyright 2017. All rights reserved.
I wanted to try bedding from this company, which is based in Ukraine, for two reasons: (1) They sell products in absolutely beautiful colors, particularly this emerald green, and (2) the price point is a smidge lower than some other start-ups, and accessibility matters. I wasn't able to test the actual fitted and top sheets from Sea Me, but I did get to check out the duvet cover and shams, so can comfortably, assuredly say that the hand (and body) feel of their linen is nice: sturdy, which is now the way I prefer linen. No scratchiness. I'd compare this to the other hefty sheet-makers like Linoto and Parachute. These pieces are sold separately, so those who don't like a top sheet can skip it and save $95 (on the other hand, since shipping is $40, because Sea Me is international, it might also be wise to buy a full set and make it worth it). — M.R.
Cultiver is an Australian brand that's sort of a peer to Parachute and Brooklinen but is further along in terms of the breadth of home products they offer. It should be noted that they're on the pricier end and only come in queen and king sizes, but they turned out to be lovely — with a softness and bagginess akin to that of Morrow (they do not run on the hearty-textured side, like Linoto and Parachute). But I think Cultiver most stands out for having lots of colors and for mixing those hues so carefully. Like, it's one thing to sell purple linen sheets and another thing entirely to sell a berry-stained color that could somehow pass as a very interesting neutral. — M.R.
If
you
want
dip-your-toe-in
linen
sheets
One of the first direct-to-consumer mattress companies, Tuft & Needle launched in 2012, and, as of late 2018, they introduced linen sheets. Best I can tell, what distinguishes them is that these are sort of linen sheets for people who don't like linen sheets — you're getting a prewashed, non-scratchy, non-wrinkly take on the fabric. Which I realize may put off true linen aficionados, but for me, they were an ideal compromise: In the past, I've been disappointed by the look of other linen sets (including these Eileen Fisher ones) — more sloppy than tastefully lived-in. These drape smoothly as percale cotton over the bed. Sleeping under them the first night, my husband said they felt "exfoliating" — but they also had the crispness of hotel bedding. Although we unfortunately left the city due to the coronavirus outbreak before I had a chance to wash them, I can say that even after several nights, the sheets still didn't look wrinkled at all. — K.A.
These felt a little crisper than the other linen sheets I tried — just enough that they had a bit more of that just-washed-sheets effect. They were still softer than the regular percale Casper sheets I've been sleeping on but definitely had a cleaner feeling as far as linen goes. In other words, this is dip-your-toe-in linen. Also, the elastic on the fitted sheet was a lot tighter than other linen sheets I tried, so it snapped under my mattress in this very satisfying, at-attention way. I'd recommend them for the guest bed in the house. — M.R.
Coyuchi is a California company that started in the '90s and is focused on sustainability. But with the new wave of interest in bedding, they've tried to reinvent things with a subscription model — you can sign up to pay as little as $19 a month for these organic linen sheets and get new ones in 24 months (or for less commitment, $77 per month for a six-month subscription). When you return them, they upcycle the old ones; they use all kinds of crazy machinery and liquefied carbon dioxide at some factory and then "refresh" the fabrics. (I read that in Fast Company, not just on their website, so I don't think it's just marketing.) These felt great, too. Sturdy, substantial, and soft enough out of the box that I'm sure they'll get even better. Just as good as Parachute and West Elm. The top sheet also has a really subtle but really nice stitching detail on it: tiny contrast stitches across the top. Also, Moon Juice founder Amanda Chantal Bacon recommends this line because they hold up well over time. If that makes you want to go full force and invest outright in a complete set, just know that the sizing starts at queen and the investment is steep. — M.R.
The Strategist is designed to surface the most useful, expert recommendations for things to buy across the vast e-commerce landscape. Some of our latest conquests include the best women's jeans, rolling luggage, pillows for side sleepers, ultraflattering pants, and bath towels. We update links when possible, but note that deals can expire and all prices are subject to change.
Every editorial product is independently selected. If you buy something through our links, New York may earn an affiliate commission.