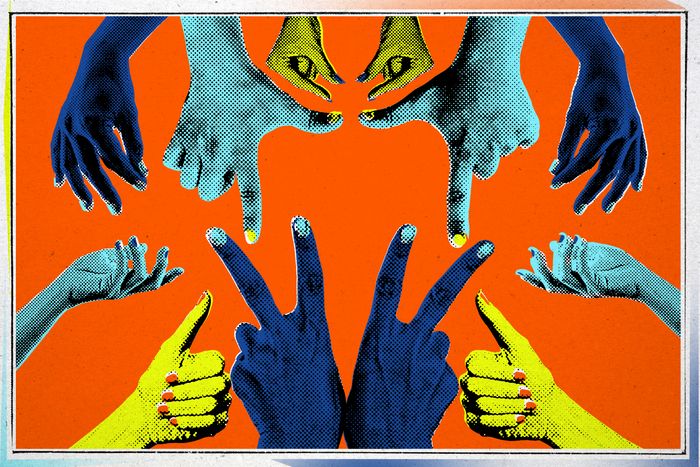 Photo-Illustration: Curbed; Photos: Getty
For
Dorinda
Medley's
Gel
Manicures
Olivier Nail Spa, 1324 Lexington Ave.; 212-289-7175
This tidy Lexington Avenue mainstay has a straightforward slate of offerings: manicures, pedicures, waxing, and foot reflexology massage. The clientele is, per regular Dorinda Medley of The Real Housewives of New York City, "All Upper East Side gals. The women that live on Park Avenue." She stumbled upon the place about 20 years ago and has booked with it almost every week since for gel manicures ($46) and every two weeks for a separate pedicure (from $39) with callus removal (an additional $18) and a 20-minute chair-massage appointment ($32). Olivier's technicians do a consistently solid job, says Medley, but the main draw is the privacy and quiet: It's always calm, and patrons are tacitly encouraged to stay off their phones. "I love it because you can't talk and you're not listening to other peoples' conversations," she says. "It's my time to check out."
For
Cheetah
Prints
and
Googly
Eyes
Vanity Projects, 99 Chrystie St.; 646-410-2928
For the past decade, Vanity Projects has been hidden away on the second floor of a Chinatown building, the entrance to a narrow stairwell marked only by a neon NAILS NAILS NAILS sign next to a metal door. Behind that door is a slate of unusually talented nail technicians, each with their own specialty, from hand-painted designs to nail piercings. "There are nail salons in New York you can go to for the style of the month," says creative director Mariam Farooq. "That is not Vanity Projects, which is why I go. I don't want anyone to have the same nails as me." As a monthly customer, she has gotten hard-gel nails (from $65) ranging from crystal-embellished sets to designs incorporating googly eyes. Influencer Tefi Pessoa says each technician is an expert at taking a general idea or thought and turning it into a specific design. She once went in asking for "very rock-and-roll" birthday nails and came out with snakeskin and cheetah-print nails with decals that spelled out SPOILED BITCH. "I was very happy," she says.
For
Complimentary
Scrub
and
Sunscreen
The Laq Lab, 41 Fifth Ave., Prospect Heights; 347-227-7673
Upon entering the recently opened Laq Lab, customers are offered water or a Bellini, then ushered to a row of cushioned pink armchairs separated by sheer white curtains. "It's very much giving luxury experience," says executive recruiter Brittnee Rock, who has been making the monthly trek here from East Harlem for the past six months. Her first Aprés Gel-X set (from $100) was an astrological theme with stars and gold flecks. She was impressed by the design and shaping as well as the extra care she received — each technician finishes every manicure with a special housemade coffee scrub and a coat of Black Girl sunscreen to moisturize and protect the hands. Brooklyn Blooms owner LaParis Phillips has been going to the salon since it opened in July. Extras aside, she likes that it carries a wide variety of polish colors, including chromes, and glitters for her "funkier" requests — and can accommodate most any design she comes up with. She recently asked for a mix of solid-green chrome nails and blue- and red-tipped nails with jewels to match a bouquet she was offering at her flower shop. It came out just as she had hoped.
For
Weak
and
Damaged
Nails
Sweety Salon NYC, 39 W. 32nd St., No. 902; 347-978-1003
Very few salons in the city carry a wide variety of Korean and Japanese gels: less-toxic, long-lasting polishes that are purported to promote nail growth. Sweety Salon — a small nail shop on the ninth floor of a Koreatown office building — happens to have over 600 color options of both. Which is why Pink Moon skin-care brand founder Lin Chen made the trip there for a manicure a few years ago when her nails were left "pretty destroyed and super-brittle" after months of regular gels. Since switching to Sweety, she says her nails are now substantially stronger and smoother. She goes about every two months, and the nails rarely chip or break in the interim. Sweety's prices are also excellent, she says. Her sets typically cost $80, including removal of the last set — she has paid upwards of $120 for the same level of design at
other spots.
JINsoon Hand & Foot Spa, multiple locations in Manhattan
JINsoon, started by celebrity nail artist Jin Soon Choi, has four locations across the city, and each looks more like an all-day café than a salon. Wooden partitions separate the manicure station from the pedicure area, which has hand-painted ceramic basins for foot soaks. Those are a particularly popular treatment (one involves a clay mask; another, French lavender), but the real draw is JINsoon's long-lasting 21-free polishes, formulated without the chemicals, like formaldehyde, typically found in other lacquers. Alicia Yoon, CEO and founder of the skin-care brand Peach & Lily, is a JINsoon loyalist for manicures ($24) and pedicures ($36). No other spot in the city has such a wide range of clean, nude colors, she says, in several shades to match a variety of skin tones. Freelance beauty writer Sable Yong says her manicures from JINsoon last weeks longer than those she gets at other salons and the polish just goes on better.
Orchard Nail & Spa, 165 Orchard St.; 646-461-3953
even the most anonymous salons can be hard to stop into without an appointment on weekends or after work — not the case at Orchard Nail & Spa, a basement-level spot on the Lower East Side. According to writer Vivien Lee, Orchard can always squeeze her in at a moment's notice, including during the lunch rush and on weekends. Recently, she had a little over an hour between meetings and decided to do a walk-in gel manicure (from $37) and pedicure (from $43) at Orchard. She was seated immediately and finished with time to spare. Animation director Lena Greene, a regular for the past five years, typically calls day-of for appointments after work and has never waited longer than 20 minutes for a walk-in. The job is done fast and well: Her monthly SNS-dip-powder manicures take just an hour, compared with two at other places.