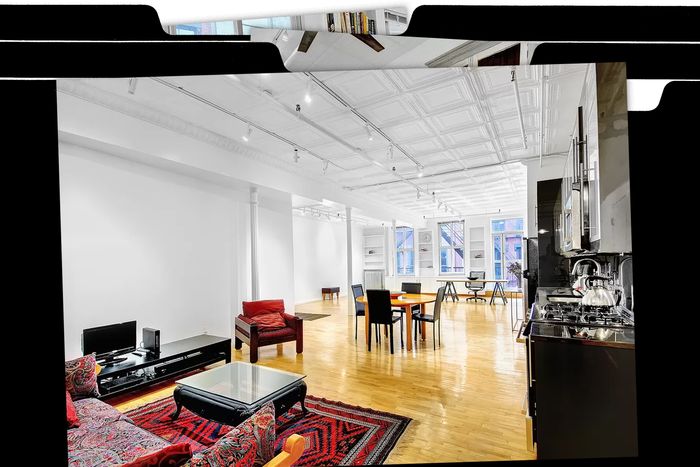 Photo-Illustration: Curbed; Photo: Douglas Elliman Real Estate
Listen — it's not like getting an apartment in New York has ever been easy. But one could probably argue that it has never been harder than it is right now. The most god-awful studios are regularly renting for thousands and thousands of dollars with lines of interested tenants out the door. Here, we'll find the actually worth-looking-ats, actually worth-the-costs, and affordable-for-those-parquet-floors from all around the internet. 
This week, we tried something a little different. We searched several neighborhoods using the same price filters — from $2,000 to $12,000. What we found? A glut of floor-throughs in Bed-Stuy, and a dearth of anything worthwhile anywhere else. Tribeca looked particularly grim.
Soho
$8,250, 2-bedroom: A nice 1,565-square-footer. Another loft, another day.
$9,950, 2-bedroom: Similar loft, similar square footage (1,550 feet), less charm, more money!
$3,450, 1-bedroom: Nothing like a good old aluminum kitchen ceiling to distract from an otherwise underwhelming one-bedroom.
$749,000, 1-bedroom: Some charming details (like a white-painted decorative fireplace and white-painted exposed brick) in this co-op prewar building. Kitchen is ugly, but salvagable.
Tribeca
$9,950, 2-bedroom: An unfussy loft-lite two-bedroom with wraparound windows in the living room that look out onto Washington Market Park (which is a real park; we Googled it).
Brooklyn Heights
$11,500, 3-bedroom: Our favorrrite find of the day! A spacious duplex decked out in custom maple built-ins at every turn. Plus: a working fireplace on the lower level. All in the heart of Brooklyn Heights!
$4,500, 1-bedroom: What we like here: the casement windows! The building itself! The washer/dryer in the unit! What we don't like: the bathroom — don't get us wrong, it's fine, but it is not, as the listing describes, "a sanctuary of charm."
$4,500, 1-bedroom: Same building, similar listing. Grab your best friend and head over for a double viewing!
$6,600, 2-bedroom: On second thought, maybe not. But maybe! If you're desperate!
$12,000, 3-bedroom: Couldn't resist shoving this puppy in there. It's like if Edith Wharton went to a party at Grand Prospect Hall.
Cobble Hill
$1,595,000, 2-bedroom: Gorgeous, nicely maintained two-bedroom on the second floor of a CH brownstone. Expensive for only a floor, but this is still special.
$1,750,000, 2-bedroom: Spacious duplex in former church — notable details include laid brickwork in the living room, a well-maintained courtyard, and, well, the whole "living in an old church" thing.
$3,700, 1-bedroom: Slim pickings on the rental front in Cobble Hill, but we found this one-bedroom charming. If you live here, you get to: live above a sweet storefront in a historic building, enjoy the teal tile backsplash in the kitchen, and do your laundry in the basement!
$3,900, 1-bedroom: Straightforward floor-through in Brooklyn brownstone. Ignore the detritus and odd spatial reasoning of previous tenants, and you're looking at a one-bedroom with potential!
Bed-Stuy
$2,755, 1-bedroom: Less bang for your buck than the above, but it's sweeter and better maintained. We'll let you be the judge.
$2,695, 1-bedroom: Another one(-bedroom in a brownstone)! This one is painted in a butter yellow. To Janovic we go!
$3,000, 1-bedroom: Renovated garden-floor apartment in Bed-Stuy townhouse. The kitchen is well done (though they could have swung for a metallic fridge …). IF you choose to live here, you're not far from Home Depot! So that's a plus, we'd say.
Prospect–Lefferts
$4,700, 4-bedroom: Color us INTRIGUED. We think this one could be it, you guys. Fusing charm and restored details with modern updates to the kitchen and bathroom — all at a very affordable price? Take us to Prospect–Lefferts Gardens!