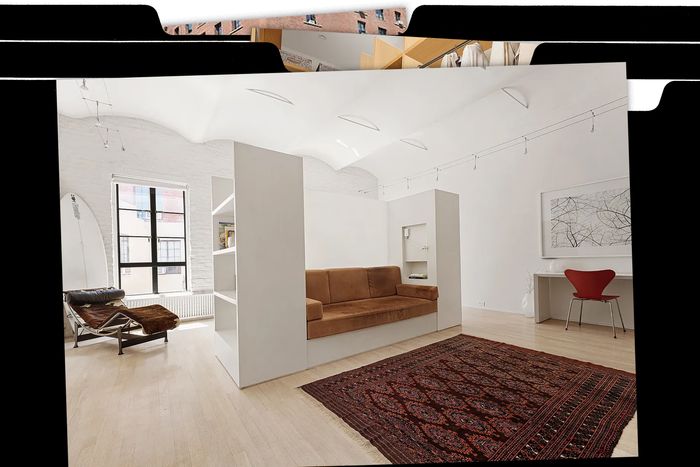 Photo-Illustration: Curbed; Photos: Compass
Listen, it's not like getting an apartment in New York has ever been easy. But one could probably argue that it's never been harder than it is right now. The most god-awful studios are regularly renting for thousands and thousands of dollars, with lines of interested tenants out the door. (Meanwhile, the average price of a one-bedroom has shot up to $5,100.) So we're rebooting a weekly series that's been on hiatus for a little while to help out — Listings Edit. Here, we'll find the actually-worth-looking-ats, actually-worth-the-costs, and surprisingly-affordable-for-those-parquet-floors from all around the internet. 
We continue to be shocked by the prices in Clinton Hill. And the prices in general! However, we found not one but two rentals with slanted skylights this week, both for under $4,000. And an under-a-million loft in the West Village with eight-pane windows and a dreamy built-in situation.
West Village
$925,000, loft: To us, she's perfect. A loft in Greenwich village with a built-in that features a coffee-colored velvet couch on one side, and your bed on the other. Plus eight-pane windows that let in tons of natural light and Danish-style acrylic kitchen cabinets.
$3,795, one-bedroom: Something very special about this white-brick, lofted one-bedroom, the bedroom of which has a slanted skylight. (This also, surprisingly, has a dishwasher. And a little outdoor space.)
$3,600, studio: Pretty sweet for the price and the neighborhood with a fireplace and subway tile in the bathroom.
$6,450, two-bedroom: Yes, the proportions are a bit strange (the dining room is a sliver of a space), but God this is nice.
Financial District
$5,650, loft: A gem. Wide-open loft space, vaulted wood-beam ceilings, a Corinthian column that isn't tacky and all at the slightly steep price of $5,650 a month … we would recommend (always) painting over the exposed brick and keeping the space open, '90s-rom-com style — functionless but chic.
$6,495, two-bedroom: Maybe? Seems so expensive. Nothing wrong with it. Except for the price. $6,495 two-bedroom. Tons of natural light, walk in closet, a doorman…could be worse if you have the dough!
$5,250, one-bedroom: Again, maybe you want more of a loft-like feel, and are willing to compromise on things like bedrooms. $5,250 for what's listed as a 4-room, one-bedroom. Beautiful building with finished roof – views of the Brooklyn bridge!
$3.495 million, three-bedroom: If you're looking to buy, this nearly $3.5mm loft in a co-op building in South Street Seaport could definitely be in the running. With vaulted, undulating ceilings, four by four windows and yet another 80s-era bathroom renovation, there's a lot to love here.
Clinton Hill
$5,425, two-bedroom: A little less buck with a similar amount of underwhelming bang in Clinton Hill. This four-bedroom, two-bathroom apartment is one of only four others in the building. Which is…something. No but in all seriousness: it's also well-located, has beautiful floorboards and a washer-and-dryer in unit.
$3,800, three-bedroom: I know what you're thinking: this is slightly horrifying. But take a moment to reimagine the powder blue walls painted in white, burn the existing curtains and you have a very-affordable apartment in the heart of Clinton Hill with distinguishing built-ins and a decorative fireplace. It's advertised as a 3-bedroom, which would be GREAT, but we're only seeing evidence of one, so you'll have to check it out yourselves and get back to us.
$6,500, three-bedroom: Heated bathroom floors in a prewar building? You read that right. A tastefully renovated three-bedroom co-op with a nicely updated kitchen, hardwood floors, and enough space to, well, live. Imagine???
$3,300, studio: Intrigued! A semi-affordable industrial loft with central AC/heating as well as a roof deck — and the listing says it's five minutes from Wegmans!
$7,200, three-bedroom: Three-bedroom, 1.5-bath duplex on a tree-lined Clinton Hill street. Some of the renovations are a bit off (overscrubbed oak-plank floors, gaudy light fixtures) — but besides that, this seems like a sun-filled, spacious option for those who can stomach the price tag.
$4,795, one-bedroom: We normally wouldn't in good conscience suggest renting a one-bedroom at this price point in a sterile amenities building, but this one has a pool on the roof. That's an outdoor pool, people!
$6.5 million, seven-bedroom: Have you ever wondered what it would be like to live in the Morgan Library? If you have $6.5 million, this could be your chance. Designed by architect Montrose W. Morris in 1889, this Beaux-Arts brownstone boasts carved-wood craftsmanship in its two libraries and six bedrooms.
Park Slope
$2,600, one-bedroom: Another completely harmless one-bedroom Park Slope apartment.
$4,695, one-bedroom: Hate to hit you guys with another 1BR, but this one really caught our eye and feels like you could stretch it to 1.5 BRs. It has a special, cozy, almost British feel? The kitchen and bathrooms are NOT updated, but they are beautiful — with pale-pink tiling, a chic '50s-style (or '50s era) fridge that our grandmothers might have called an icebox, and parquet floors.
$9,950, three-bedroom: A tastefully renovated three-bedroom apartment with its very own elevator. What stuck out to us: the cherrywood-lined picture windows, the cherrywood built-in in the living room, and the disappearing fridge. Chic but not cheap by any means.
$2,500, one-bedroom: Leaving this here because it also has a special skylight. Besides that, this is another 1BR in Park Slope with a shiplike slant that reminds us of Copenhagen or some such city.
$5,995, one-bedroom: A pretty whatever three-bedroom with not a lot of personality but a lot of natural light. Perfectly nice, if it's in your price range! With all the amenities, kitchen and bathroom updates, and gray floors galore.
$4,000, three-bedroom: Get your rollers out! It's time to paint. This 3-bedroom, broker-fee-free apartment on the outskirts of Gowanus has potential. With original moldings, hardwood floors and a decent bathroom renovation, this apartment balances new and old nicely.
Flatiron
$6,950, A giant, unique, Art Deco window defines the space in this otherwise somewhat underwhelming loft apartment. But the window! Is great. The listing suggests renters convert the space, but we strongly urge you do the opposite.
$4,750, one-bedroom: A sort-of-uninspiring renovation of a 1BR, $4,950, well-located apartment in Flatiron. Some attractive details include a nicely done kitchen renovation, shutter windows that provide a modicum of charm, and a waterfall showerhead. All in all, this apartment is generally inoffensive.
$7,950, two-bedroom: Sort of into this loftlike, Patrick Bateman–esque two-bedroom. Beware of the glass siding in the kitchen and an under-renovated bathroom — but besides that, this is a suitable option for a couple of 20-somethings seeking a city dwelling.
$8,500, two-bedroom: Do yourself a favor and don't ask how far the price of this spacious two-bedroom, two-bathroom apartment in a boutique condo building would get you in Tulsa. Just rent it!
$3.25 million, loft: Apologies for all the LC (loft content) this week, but they just don't make 'em like this anymore. The listing says bring your architect and your imagination, but we say bring a mattress and just lean into the LL (loft lifestyle).