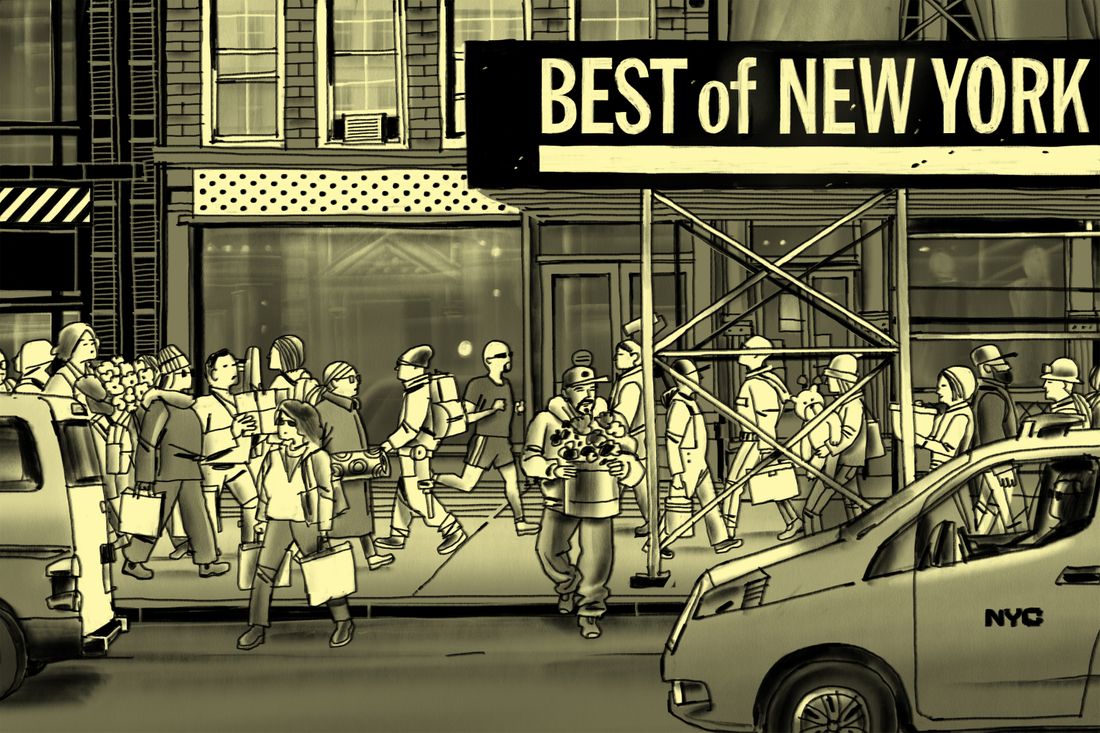 Illustration: by Jorge Colombo
Since 1985, our annual "Best of New York" issue has named standout services, unique shops, and special spots in dozens of categories. Now that Curbed is part of New York's digital family, we have decided to reimagine "Best of New York" as an online project — an ever-expanding resource that could rival Yelp in usefulness but feels more like a secret Google doc that gets passed among friends. We decided to double down and expand the number of entries we consider "best," since the ideal upholsterer for fixing up a Craigslist sofa on the cheap is very different from the one for detail work on a rare Jean Royère Polar Bear sofa. Plus, in a year when more than 3,000 small businesses have closed in New York, many of them permanently, why not include as many painstakingly vetted listings as possible? To find the places recommended on these lists, which we will be extending in the weeks and months ahead, we polled hundreds of stylish and savvy New Yorkers — set designers, curators, architects, and Scarlett Johansson among them — and begged them to tell us their go-tos. The result: our own Yellow Pages, containing only excellent places.
The hidden shop by the U.N. where Anna Wintour sends her interns ("I used to go to Miho's in Anna's Town Car every week to pick up arrangements she had ordered," one says), a Flower District mainstay with tulips shipped directly from Holland, the family farm that sells $10 bouquets of marigolds, and more.
Not-too-gentle prenatal yoga (author Jia Tolentino says it "hit a sweet spot — therapeutic but challenging, a slow but rewarding burn"), the former Rockette who helped Gagosian gallery director Sarah Hoover lose 70 pounds, and body-positive vinyasa flow ("The transition to virtual training has not limited the teaching in any way," says one client).
A tarot reader not afraid to give direct advice (you can book sessions through Instagram), a startlingly accurate psychic preferred by C-suite types, and a healer who'll do aromatherapy or acupuncture while balancing your chakras (and can incorporate microneedling and cupping into sessions, too).
From a Mediterranean café that has "single-handedly fed the entire circus-performance community in Bushwick" to a West African spot that serves platters of beef skewers with suya spice and cocktails of bissap and lime to a chef that "blends Indian spices with other cuisines, like Middle Eastern, Italian, and Greek."
For shiny, jet-black bobs, orange (or bubblegum-pink) buzz cuts, hand-painted individual box braids, and bright blonde highlights by the person responsible for Scarlett Johansson's ("She thinks about where the sun would hit and creates highlights depending on the time of year," Johansson says).
A rat scientist's go-to for referrals (the company recently handled a major mice issue plaguing some high-profile residences near Central Park), Chloe Sevigny's cockroach guy (Neil Patrick Harris and Ellen Barkin call him too), and the company the city hired to keep pests out of the emergency tents during the pandemic.
A nine-time recommended Williamsburg shop with intentionally affordable vintage furniture (one customer found a dark-gray discontinued BoConcept love seat for $650), a Corona Plaza vendor a MoMA PS1 curator frequents, and a vintage-clothing shop with surprisingly excellent 19th-century quilts.
A Harlem fixture owned by a former schoolteacher (the store carries STEM toys, puzzles, art supplies, and beyond), the Lexington Avenue spot Upper East Side parents consider "an essential stop en route to birthday parties," and the packed-to-the-gills one in Cobble Hill author Emma Straub calls "perfect."
An architect favorite who has been likened to Jackson Pollock ("He is one of these people we never speak about but is integral to our practice," says one architect), a downtown go-to with a knack for color combinations (and can double as a contractor), and a perfectly reliable, always precise touch-upper.
Whether you want a Judd-like plywood bench with light-pink '80s-style seat cushions, a full wall of bookshelves made of rift-cut oak, or just some simple, inexpensive cabinets ("You don't get a lot of shops who can do a range of work and have it be consistent at all price points," says an interior designer).
From the 25-year-old shop that remains a "cult figure among interior designers" for their tight handiwork and especially low prices, to the single-man operation who prefers upholstering unusual items — including speakers, bedroom doors, and, for artist Laila Gohar, the legs of a dining room table.
Giant geodesic climbing nets that's like Mt. Everest for Tribeca grade-schoolers, ravines full of sprinklers, and a variety of slides (one designed to look like an industrial pipe, another that's 14 feet and drops from a wall of stones into a sandpit, and then there's the scalable pirate ship where kids can whiz down a twisting slide).
Sometimes the person you most trust for a recommendation isn't someone with whom you want to share a therapist. We asked 31 notable New Yorkers (including actor Parker Posey, CEO Kevin Liles, editor Mickey Boardman, and more) about their therapists and are publishing their referrals in their own words.