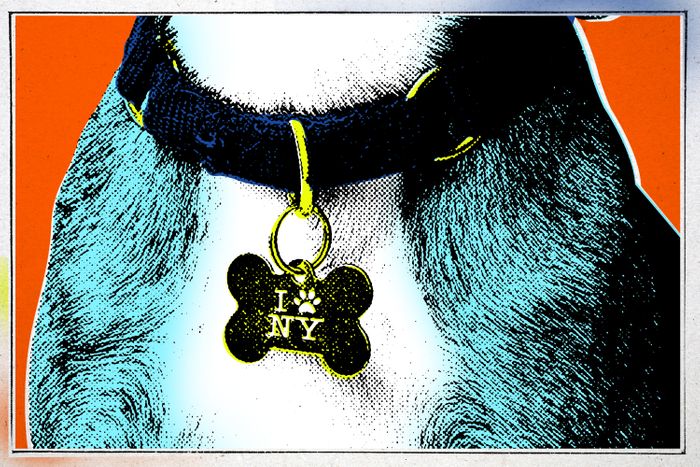 Photo-Illustration: Curbed; Photos: Getty
For
Every
Kind
of
Apartment
Pet
Petqua, 2604 Broadway; 212-865-7500; petqua.com
Shoppers entering Petqua, a 20-year-old UWS pet shop, are greeted by the resident parrot, Panama. In back, they'll find George the tortoise eating mixed greens. In between, "it has the most extensive variety of things," says animal trainer Lydia DesRoche, owner of a parrot, Guillermo; a dog, Grace; and three bunnies, Asaka, Ti Moune, and Armand. In addition to the usual supplies, Petqua stocks crickets and roaches to feed geckos, cages for parakeets, hay for rabbits, and aquariums filled with red-eyed tree frogs and royal pleco fish. And in the rare case its shelves come up short, Sam and Ed, who run the store, step in. "Whenever I've said, 'Oh, I'd like to try this,' they'll order it," DesRoche says. "Like when the Nina Ottosson dog puzzles came out, they were like, 'Oh, we'll get them.' Whatever I want them to get, they get."
For
'Chewy
Vuiton'
Dog
Bowls
Canine Styles, 1195 Lexington Ave.; 212-472-9440; caninestyles.com
The windows of this dog-apparel and grooming shop are filled with puppy mannequins in gold-accented Italian-leather collars and lavender-plaid horse-blanket coats. Inside, the shelves are stacked with faux-python
dog carriers, ceramic food bowls, and plush toys emblazoned with CHEWY VUITON. "If you wear Brunello Cucinelli and want your dog to match, you can find a version at Canine Styles," says freelance interior designer Karen Elizabeth Marx. Whenever she visits, she "gets white-glove service" (an employee, in a glance, pinpointed the right-size sweater her Norwich terrier, Willie Nelson, needed). Former cosmetics executive John Demsey's eight dogs — two goldendoodles, three pugs, and three French bulldogs — often dress in the shop's 100 percent cashmere sweaters.
Nature's Reef and Reptile, 124-11 Jamaica Ave., Jamaica; 917-300-2293; naturesreefandreptile.com
Billing itself "NYC's only exotic reptile store," Nature's Reef and Reptile stocks everything from tank heaters to terrarium plants and feeder insects, like the crickets, mealworms, and roaches that forensic photographer Jolene Lupo buys her two leopard geckos. Live fish are for sale as well as snakes, geckos, and the popular bearded dragon. Store owner Naz Rhiman, who breeds the animals himself, guarantees they come with a clean bill of health. With its burbling blue aquariums and shaded, leafy enclosures, the store doubles as a shooting location for Starz's Power Book III: Raising Kanan, a crime drama about drug smuggling. "In the show, it's supposed to be a front," Lupo says. The store closes during filming, so check out its Instagram
(@nature_reef_reptile) before you go to make sure it's open.
For
Sustainably
Made
Dog
Gear
Gone to the Dogs, 103 Seventh Ave., Park Slope; gonetothedogs.co
In 2021, Santos Agustin and Jennifer Wong opened a brick-and-mortar location of Gone to the Dogs after years of selling handmade goods at pop-ups. As you enter, you'll see a Polaroid wall of puppy patrons and, in the back of the workshop, a neon sign reading DOG GOODS THAT DO GOOD (the sustainable merchandise is by female artisans from low-income and immigrant communities the world over). The shelves are filled with compostable felt toys, dog-bed baskets made of elephant grass, and leashes upcycled from rock-climbing ropes, which are made in house. Photos of the craftswomen are on display above kente bandannas and chew toys shaped like onigiri and piña​tas. Go Kasai, a PR consultant, and his Yorkie, Leonidas, first encountered Gone to the Dogs at a Fort Greene farmers' market. He recently bought Leonidas a pretzel-shaped toy; after his Yorkie destroys it, Kasai plans to return the remnants to the store, which will recycle the scraps and give him a discount on a new one.
Pacific Aquarium, 46 Delancey St.; 212-995-5895
Being inside Pacific Aquarium is like being underwater: Upon entrance, there's a waterfall; the walls are painted baby blue. It features an entire aquatic-plant section, aquascape materials, and aquariums filled with dwarf pea puffers and angelfish. The 41-year-old establishment is an "eclectic cave of wonder" where every "square inch is maximized with fish tanks, plants, or supplies," says architectural designer Madeleine Eggers. "You don't see any sad snails or nearly dead shrimp in hiding. They're all happy." Eggers visited the shop after two failed attempts at setting up a freshwater tank for her pet shrimp. The owner, Chi, explained "everything that was wrong with our previous aquariums," she says. "He was like, 'Oh, you didn't have enough good bacteria. Don't change the water all at once.'" He sent her off with three shrimp and a pet snail; a few months later, she had 18 baby shrimp and the vegetation in the tank was flourishing.
Pet Ark, 3458 Broadway; 212-368-8200; petarkharlem.com
Pet Ark's narrow storefront, sandwiched between a grocery store and a wire-transfer chain, is easy to miss. But in an area where there are few pet-supply shops, the Harlem emporium is well appreciated. The store focuses on dogs, cats, and fish but also has a "thoughtful" bird selection and plenty of bunny and reptile gear, according to Caroline Biggs, a market editor at Business of Home, who used to live across the street. She owns two rabbits, Dennis Hopper and Daffodil, and first stumbled into Pet Ark "in a bind, panicking," because she had trimmed a bunny nail too short. She walked out with styptic powder (used to stanch bleeding), Timothy hay, and healthy rabbit treats. "It's a mom-and-pop store that covers every pet out there," she adds. Since moving farther away, Biggs takes advantage of Pet Ark's speedy same-day-delivery service (available to clientele in Harlem and the Bronx) to get fresh bales of hay dropped at her door — her order usually shows up about half an hour after she's placed it.