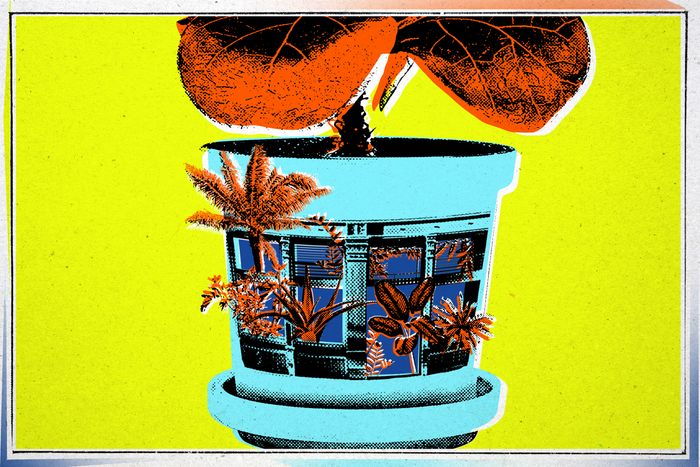 Photo-Illustration: Curbed; Photos: Getty
Dahing Plants, 289 Grand St.; dahingplants.com
On a busy corner in Chinatown, Dahing's vast inventory, which includes monsteras, philodendrons, and strings-of-pearls, pours onto the street. Everything is unusually well priced — a medium-size neon pothos, which goes for $48 on the Sill, is $21, and the anthuriums are $30 ($80 on the Sill). Author Alessia Resta recently bought some gigantic snake plants there for $40 each. "They were a steal. They were humongous and so inexpensive," she says. And they're hardy, even when cared for by someone with little to no plant-tending experience. New to plant ownership, rug designer Anna B. Albury picked up a pilea and a few fiddle-leaf figs from Dahing when she moved to town, and now, six years later, "they're still thriving," she says. "I've propagated so many cuttings off that one pilea I now have five different ones."
For
Plant-Placement
Advice
Tula House, 59 Meserole Ave., Greenpoint; tula.house
Ivan Martinez and Christan Summers started Tula as a plant truck, hauling begonias and bromeliads all over the city. Now, they've set up shop in Brooklyn, where the plants are divided between an arid room, with monkey-tail cacti and flowering succulents, and a tropical room, home to ZZ plants and Alocasia azlanii. They sell their own soil mix and pest solution and carry a range of handsome gardening tools from Niwaki. Illustrator Laura Supnik says that while the store's aesthetic drew her in (including the red-wine walls and colorful ceramic tiling), the highly knowledgeable staff is what has kept her coming back. Employees don't just sell you a plant — they explain exactly where it should go, its watering schedule, and whether or not it's a good match for your lifestyle. One such conversation led Supnik to purchase a bird-of-paradise for her south-facing window; it has thrived. Omonefe Sokol, who owns more than 100 plants, says Tula is flush with hard-to-find cacti, though she mostly shops from its tropical room. She has gotten two calatheas and is considering picking up an African milk tree soon.
Lucky Flower, 36-53 Main St., Flushing; nyluckyflower.com
Known for bouquets and boutonnieres, Lucky Flower also carries plants considered auspicious in Asian culture, like jade succulents, delicate orchids, and mini bamboo stalks. It was, however, the "big sidewalk display of giant beautiful lemon and citrus trees" that attracted writer Max Falkowitz. The shop stood out to Falkowitz because of its "aggressively vigorous" selection and the trees' "cartoonishly large" leaves. His first Lucky Flower purchase was a calamansi tree — "I recently harvested my first crop of calamansi limes from it, and they were really delicious," Falkowitz says. He's now embarking on clipping back a "healthy, vibrant" money tree from Lucky Flower and has his eye on a seven-foot-tall umbrella tree.
For
Seedlings,
Shrubs,
and
Soil
Chelsea Garden Center, 444 Van Brunt St., Red Hook; chelseagardencenter.com
A block from Brooklyn's waterfront is Chelsea Garden Center, a sprawling, 10,000-square-foot emporium of seedlings, shrubs, and soil. Walking inside is a "magically transporting experience," says writer and illustrator Alex Testere. Even when Testere has no specific gardening needs, he'll stop by just to wander its massive grounds. The center stocks an extensive collection of indoor and outdoor plants, from tropical houseplants; to native flowers, perennials, and annuals for your stoop or backyard; to small trees, bushes, and shrubs — and a seriously robust selection of gardening supplies, from $17 Hoffman perlite soil conditioner, to $6 Fiskars trowels, to a whole wall of planters and trellises for as cheap as $4. When Testere was cultivating a mini-garden on his fire escape with tomatoes and beans and flowers, he used the center's local delivery service to get a large order sent straight to his door. "That was a lifesaver because we didn't have a car, so there was really no other way to get multiple bags of topsoil and heavy terra-cotta pots home with us," he says.
For
Jurassic
Begonias
and
Pink-Lady
Philodendrons Foliage Garden, 120 W. 28th St.; foliagegarden.com
Out of all the shops in Manhattan's Flower District, 40-year-old Foliage Garden — the market's oldest plant store — has the rarest offerings. You can get a philodendron Jose Buono and a ficus shivereana, all grown at its Long Island nursery. It's clothing designer Tyler McGillivary's destination of choice if she's "looking to spend money on a rare and beautiful plant." In the past, she has encountered "a ghost cactus, unusual orchids, pink-lady philodendrons, and fan palms." Thomas Little, founder of Urbangreen Gardens, says his latest fascination at Foliage Garden are its Jurassic begonias, which have "amazing fractal-like patterns," and philodendrons "that have chartreuse shot through the leaves and the veining." Since the store's nursery is only an hour's drive away, stock is replenished daily.
Cactus Store, 5 Essex St.; cactus.store
In a tiny greenhouse on the Lower East Side, squeezed between an empty storefront and a luxury condominium, you can find green-and-yellow two-tone cacti, succulents shaped like sea urchins, and orchids that smell like a piña colada — so long as you visit Thursday through Sunday, between 11 a.m. and 7 p.m., and only from May to September, when Cactus Store opens for the season. Originally based in Los Angeles, Cactus Store established a New York outpost in 2017 and is run by "a group of guys who have a wealth of knowledge about plants," says freelance photographer Phoebe Cheong. Every season, they go on a buying trip through the Southwest, picking up cool cacti from different nurseries along the way. The result is a curated collection of rare plants, which they bare-root and ship to New York. "It feels like you're walking through a gallery of plant art pieces," Cheong says of the pop-up. She purchased a coconut orchid, two-tone cactus, and unicorn-horn-shaped cactus — though, of course, rarity commands an attendant price tag (a Pelecyphora strobiliformis, for example, a cactus that slightly resembles an artichoke, sells for nearly $500).