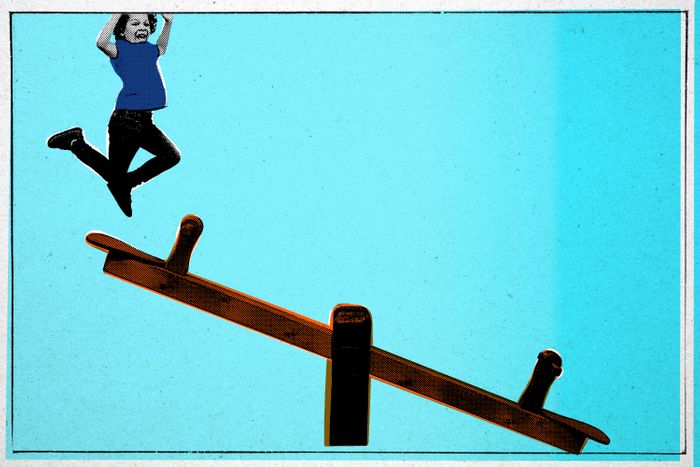 Photo-Illustration: Curbed; Photos: Getty
Adventure Playground, Central Park West and 67th St.
Adventure Playground — which sits just north of the West 67th Street entrance of Central Park — has long been considered practically a piece of the city's architectural history. Built in 1967 by architect Richard Dattner (with funding from the Estée and Joseph Lauder Foundation), it's comprised of linked pyramids, mounds, and other structures built of concrete and stacked cobblestones designed to let kids determine how they're going to play — which is what made it a go-to spot for architect David Rockwell when his two kids were young and inspired his design for Imagination Playground in the South Street Seaport. "With its clever use of shapes, textures, and colors, it manages to be visually stimulating without being overwhelming," says Rockwell. "But what I love most is how it encourages experimentation by allowing kids of all ages to manipulate their surroundings and create their own worlds." A pyramidlike structure with a slide down the center is situated between a volcano on one end of the playground and a stepped amphitheater on the other, and there is no shortage of high vantage points, from climbing poles to a massive tree house. A water feature feeds a shallow canal that runs through the middle of the sandy playground; it's messy, and kids love it.
LeFrak Center at Lakeside, 171 East Dr., Prospect–Lefferts Gardens
Our pick for "Best Kids' Cooldown" in 2015, this Prospect Park ice-skating rink transforms into the mega "Splash Pad" in the summer, offering — as we put it then — "the most refreshing, free, full-body soak this side of a public pool" to kids under the age of 12. It remains a favorite: "The whole facility is such a gift for Brooklyn and so well designed," says Adam Ganser, the executive director of New Yorkers for Parks. The pool's 41 jets go off unpredictably — which Ganser says makes the experience "immense and overwhelming for kids in a perfect way. My daughter couldn't contain her pure joy when we first visited."
For
Aspiring
American
Ninja
Warrior
Contestants
Pier 25 Playground, 227 West St.
Brianne Manz, the blogger behind Stroller in the City, says the playground at Pier 25 in Tribeca is her family's "favorite destination" for its sheer variety. The park has cabled climbing structures, water features, a large sandpit, and swings for kids big and small. The showstopper is the giant geodesic climbing net that's like Mt. Everest for Tribeca grade-schoolers. "The pier has the added bonus of several other fun features, like mini-golf, a skate park, volleyball courts, and more, to make a day of it," says Manz.
Stuyvesant Square Park, Rutherford Pl. and E. 15th St.
There's no actual playground equipment in Stuyvesant Square Park, a scenic spot with picturesque flower beds and plenty of paved walking paths that spans East 15th to 17th Streets, but it's still educator Jane Racoosin's favorite place to bring her students. "It's our go-to spot," says Racoosin, the director of Beginnings Nursery School, which encourages children to interact with their environment. Children often clamber up the park's many trees, including an English elm near the western gate that the Parks Department suggests may have been there since the early 1800s. In the warmer months, vibrant tulips and a host of wildflowers are great fodder for budding naturalists to observe and draw, says Racoosin. There are also circular fountains to run laps around.
Playground for All Children, 11101 Corona Ave., Corona
Built in 1984 in Flushing Meadows–Corona Park (near 111th Street and Corona Avenue), the Playground for All Children is a "prototype for playgrounds that serve children of all abilities," says Heather Lubov, executive director of the City Parks Foundation. The paths leading to the play equipment are blind-friendly and have handrails that can be grasped by children who use crutches, canes, or wheelchairs. And the features are delightfully varied, including full-body swings, a 12-foot-long suspension bridge, and a sprinkler (plus basketball courts with adjustable hoops and, next door, ball fields with golf programming run by the CPF since the area doesn't have a course of its own).
Teardrop Park, River Terr. and Murray St.
Designed to feel like you've stepped into a glen in the Catskills, Teardrop Park in Battery Park City is lush with trees and woody shrubs (most of which are native to New York State) lining the meandering paths. A 27-foot-tall wall of jagged bluestone evokes a mountainside, and the other rock formations dotting the park are perfect for young climbing enthusiasts. "The primary focus of the design is not to give children a bunch of colorful playground challenges but to submerge them in a natural environment to explore," says Mark Reigelman, the Brooklyn-based artist and designer of Domino Park Playground (see "For Getting Lost," below), who counts Teardrop Park among the best in the city. There are also limestone boulders to climb over, a boggy marsh, a ravine full of sprinklers, and a 14-foot slide that drops from a wall of stones into a sandpit.
For
a
Jungle
Gym
Inspired
by
a
Revolutionary
War Fort, Fort Greene Playground, St. Edwards and Willoughby Sts., Fort Greene
The bilevel playground in the northwest corner of Fort Greene Park is great "for engaging children's imaginations, because you really feel like you're in a magical place," says Monika Stanislawek, who teaches at the Brooklyn Waldorf School in Bed-Stuy. The main attraction is a huge forest-green-and-peach-colored jungle gym, dubbed "New Fort Greene" and inspired by the park's role in the Revolutionary War. There are other nods to the historic fort that predated the park, but you don't need to have a doctorate in American history to enjoy the slides, ramps, monkey bars, and separate toddler area. "Some playgrounds have bright colors, and there's all sorts of crazy things, but this one just gives you a beautiful basic framework so the child's imagination goes wild," says Stanislawek. When you're done playing, check out the 13 stone pillars with bronze plaques that identify the state trees and animals of the original 13 colonies.
Domino Park Playground, 300 Kent Ave., Williamsburg
Perched on the edge of the Williamsburg waterfront, Domino Park Playground offers striking views of the Manhattan skyline, particularly at sunset. It's one of several reasons why Ilana Wiles, a momfluencer and the author of the popular blog Mommy Shorts, says it's a favorite play spot for her daughters, ages 8 and 11. The playground consists of a series of mini industrial structures — the Sugar Cane Cabin, which is made with reclaimed wood from the original refinery walls, the Sweetwater Silo, and the Sugarcube Centrifuge — that take kids on a journey through how sugar was refined at the old Domino factory. "If you are the kind of parent who needs to follow your kid around on the playground, you are going to lose them in that convoluted structure fast, which is exactly why my kids love it," says Wiles. And even if kids aren't aware or don't care that the stainless-steel slides mimic industrial pipes, they'll be thrilled that they are some of the fastest slides around.
Bloomingdale Playground, Amsterdam Ave. and W. 104th St.
Formerly named for P.S. 145, the school-adjacent Bloomingdale Playground received a $7 million overhaul that's not even two years old. Its new jungle gym is an expansive web of fire-engine-red bridges and tunnels for kids to explore. It's wheelchair accessible, with a series of ramps that go all the way up the play structures, and it has inclusive features, like spinning color wheels and xylophones, at wheelchair level. Reigelman calls it "a small but beautifully designed playground" that ranks among his favorites.
For
a
Scalable
Pirate
Ship
Main Street Playground, Main and Plymouth Sts., Dumbo
On the outskirts of Brooklyn Bridge Park in Dumbo (around the corner from the West Elm), this playground was built in the park's early days, before some of the newer, flashier additions (Slide Mountain, Swing Valley, Sandbox Village) opened. This means the park's centerpiece, a scalable pirate ship, is less crowded, and there's plenty of room for kids to climb the towering masts, peep through portholes, and whiz down a twisting slide. "It's got all these fun levels, so there's a lot for kids of different ages to engage with," says Stanislawek. A rowboat-shaped sandbox provides another spot to play, and you can watch Q trains crossing the Manhattan Bridge, which looms above it.
Jacob K. Javits Playground, Inside Fort Tryon Park
There may be no playground in the city with a better view than Jacob K. Javits Playground — elevated on the ridge of Fort Tryon Park, it overlooks the Hudson River and New Jersey's Palisades (to be fair, Pierrepont Playground, from which you can clearly spot the Statue of Liberty, may give it a run for its money). The playground recently received a $3.1 million makeover after 28 years of neglect, and the facilities now match the scenery. Dattner calls the reconstruction "spectacular." Toddlers and young children have their own aquamarine jungle gyms; older kids and adults can enjoy new basketball courts, exercise equipment, and climbing walls.