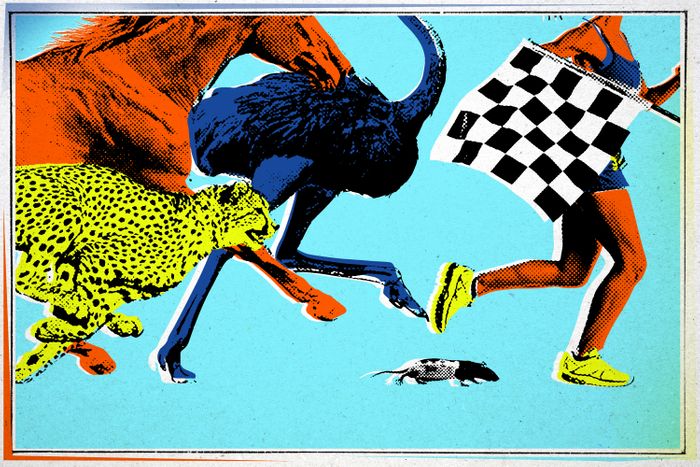 Photo-Illustration: Curbed; Photos: Getty
Brooklyn Running Company, 480 Bergen St., Park Slope; 347-916-1173; and 222 Grand St., Williamsburg; 718-782-7866; brooklynrunningco.com
Those who are clueless about what they want or need may find Brooklyn Running Company a good place to start. "When you walk in, they try to help you, but they're not pushy," says Maria Wong, co-founder of Queens Distance Runners and a BRC regular who buys packets of energy gel there. The store has a "small-shop feel," she says, with photos of the associates on the wall listing their hobbies and favorite sneakers. And the staff are happy to talk through your running goals and explain the difference between carbon-plated racing shoes and daily trainers. There are also on-site treadmills so the staff can assess your foot strike and gait and recommend a shoe that accommodates them. Victoria Lo, the founder of Chinatown Runners, heads to BRC on Bergen Street every time she wants to test a new brand of sneakers and has stopped at the Grand Street location when on a Williamsburg Bridge run: "It's great if you're running to Brooklyn and need an emergency gel or have a gear malfunction."
Super Runners Shop, multiple locations; superrunnersshop.com
Each location of Super Runners Shop has a gizmo that scans your foot. It creates a 3-D image showing where you naturally apply pressure, which lets the staff recommend a pair of shoes that best fits your foot shape. The scan also gives an accurate size reading that can indicate whether one foot is a half-size smaller than the other, as it did for this writer. Keep the Pace Run Club founder Kyle Bergman says the shop is good for intermediate runners looking for an upgrade. "I'd send any of my clients there for a fitting," he says. It's where he bought his current pair of Saucony racing shoes (the Endorphin Pro 2). "It's great for people who are still trying to establish proper running mechanics and looking to get a mid-level shoe," he says.
Fleet Feet, multiple locations; fleetfeetnyc.com
Everyday trainers (from Hoka, Altra, and Brooks) are available at Fleet Feet, along with an assortment of gear (from Feetures, Vuori, and Garmin), but most regulars go there just to hang out. Triathlete Beverly Gantt got fitted for her first pair of running shoes at Fleet Feet back in 2021 and is now in the store all the time. "I meet my friends and teammates here," she says, simply to chat about running and training. "It really feels like a community center." The stores host weekly group runs across the city, and the Columbus Circle and Upper West Side shops offer free bag storage, which is particularly useful for runners in Central Park. Alysia Dusseau, a director of the Central Park Track Club and its women's masters captain, says the lockers come in handy for her team's weeknight practices in the park. "It's a really nice feature for someone who doesn't live close by," Dusseau says. The employees are also extremely knowledgeable, especially when it comes to the often confusing world of energy gels. Thanks to an employee recommendation, running coach Simone Sampaio recently found a gel made with natural ingredients that works for her, as did Hector Santana, the founder of running group NYC Dragons, who says a Fleet Feet staffer convinced him to add a gel from Maurten to his hydration regimen — a tip that helped him shave 90 seconds off his half-marathon mile splits.
Tracksmith, 147 Wythe Ave., Williamsburg; 201-208-2665; tracksmith.com
You've probably seen Tracksmith's signature collegiate-looking singlets, adorned with a subtle hare logo, around town. After years of holding pop-ups, the popular running-gear line just opened a proper shop in May. Logan Yu, a member of North Brooklyn Runners, has been wearing Tracksmith since 2017 and is loyal to his base-layer top. "I have two of them, and I basically spend whole winters alternating between them," Yu says. Dusseau of Central Park Track Club says her Tracksmith socks have held up to miles of abuse: "This is the first time I've had socks for over a year and haven't gotten a hole in them." With the opening of its permanent location, Tracksmith organizes group runs twice a week, typically a speed workout on Wednesday nights at McCarren Park and a longer Saturday loop around various neighborhoods in the city. They are led by the brand's NYC community manager, Erica Stanley-Dottin, and Jeggi Elinzano, the store's general manager — both of whom are members of the elite racing group Black Roses.
For
Somewhat
Sleeker
Gear
Bandit Running, 37 Noble St., Greenpoint; banditrunning.com
In December, Bandit opened its Brooklyn shop, and the industrial-looking space is lined with minimalist, mostly slim-fitting running clothes designed with fashion in mind. Journalist and running coach Ashley Mateo describes it as "an edgier Tracksmith," while Chris Chung, a running-and-fitness-content creator, says, "It's clear they focus on the design and performance of the actual pieces." The tops and bottoms are lightweight with extra pocket space for a phone and gels. A $125 annual Bandit membership gives runners early access to events (like neighborhood group runs) and local races (like an 800-meter relay in Greenpoint), a heads-up for limited-edition apparel, and a standing 10 percent store discount.
For
the
Latest
Salomon
Drop
Extra Butter, 125 Orchard St.; and 22-03 Jackson Ave., Long Island City; 917-722-6578; extrabutterny.com
You won't find moisture-wicking singlets and hydration belts at Extra Butter, a sneaker shop with locations in Queens and on the Lower East Side, but you will find a great array of Salomon, New Balance, Saucony, and ASICS. "Extra Butter has a really, really good selection of functional, comfortable running sneakers that happen to be fresh," says Benny DiMirco, a health-and-wellness professional. Extra Butter is how he finds out
about sneaker releases from running brands such as Diadora and Hoka. The Long Island City shop — where the staff of Bandit Running (see above) can often be found shopping for sneakers when they're not at their own store — has 12 vintage theater seats with an overhead projector for film screenings plus a hidden speakeasy accessed through a door-size mirror.